Home » World Maps » Australia » Tonga
Tonga Map and Satellite Image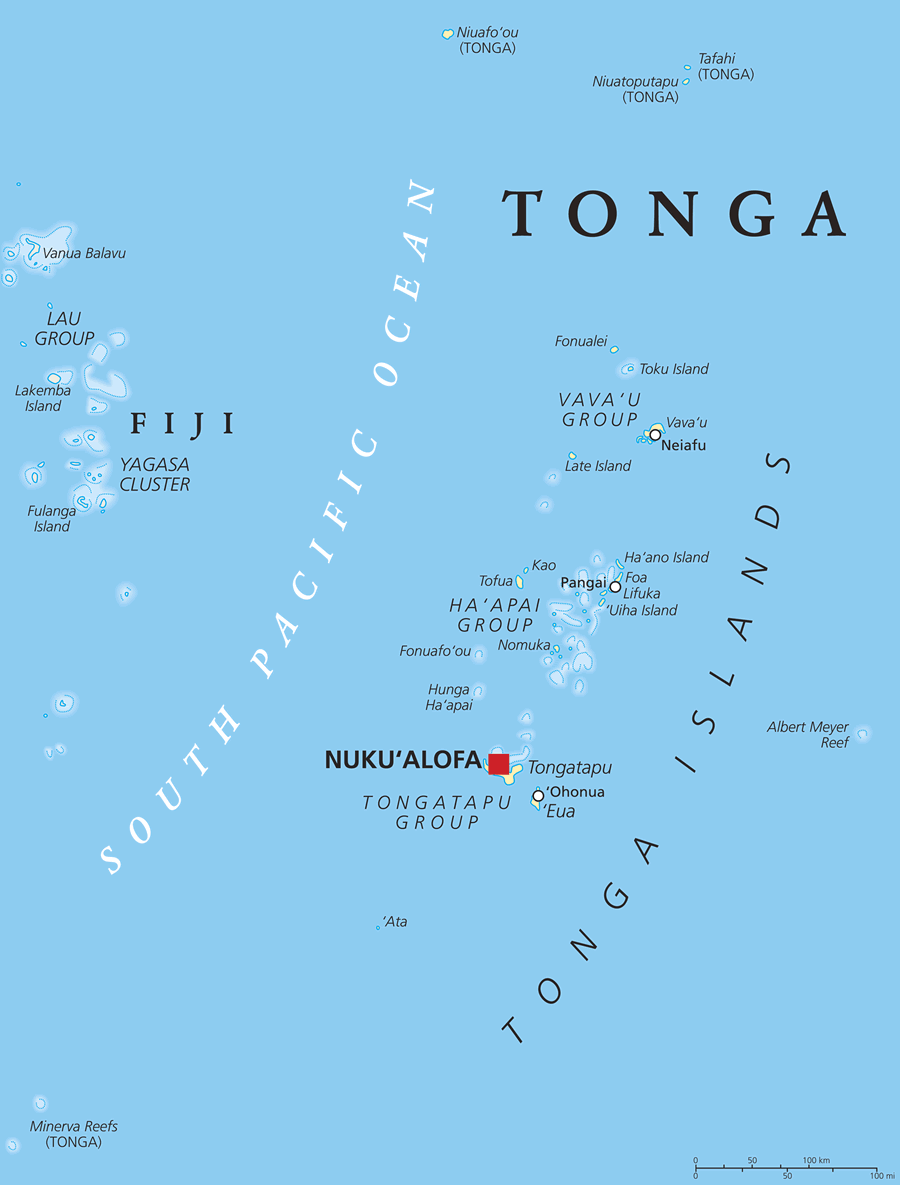 Tonga is an island country located in the South Pacific Ocean. The main island of Tongatapu is about 500 miles southeast of Fiji. Currently, there are about 171 islands in the archipelago, only 45 of which are inhabited. The 2021 census of Tonga reported a population of 100,209 people, and the majority of the population (over 66%) lives on Tongatapu.



Tonga's neighboring island groups include: Fiji (an independent state and archipelago of about 110 inhabited islands, about 220 uninhabited islands, and over 500 islets approximately 500 miles to the northwest of Tongatapu); Niue (a tiny island nation about 375 miles to the east); Wallis and Futuna (a French island collectivity to the north); Samoa (an island country of two main islands and several small islands and islets, located to the northeast of Tonga); and, American Samoa (a United States territory of five main islands and two coral atolls, just southeast of Samoa).

The western islands, which comprise the Tongan Volcanic Arch, were produced by volcanic eruptions. Niuafo'ou is the most active volcano in Tonga, and its eruptions have damaged local communities, most recently in March of 1985. The island of Fonualei is the peak of an active volcano that last erupted in 1957. Historical eruptions have occurred at Fonuafo'ou, Late, and Tofua. Image by PeterHermesFurian / iStock Photo.
Tonga Neighboring Island Groups:
Fiji
, Wallis and Futuna, Tuvalu,
Samoa
, Niue, Cook Islands,
Vanuatu
,
New Caledonia
,
New Zealand
Regional Maps:
Map of Australia
,
Map of New Caledonia
,
World Map
Where is Tonga?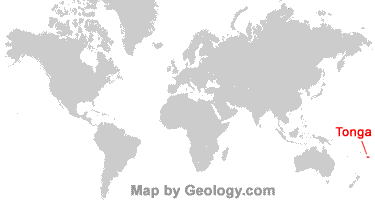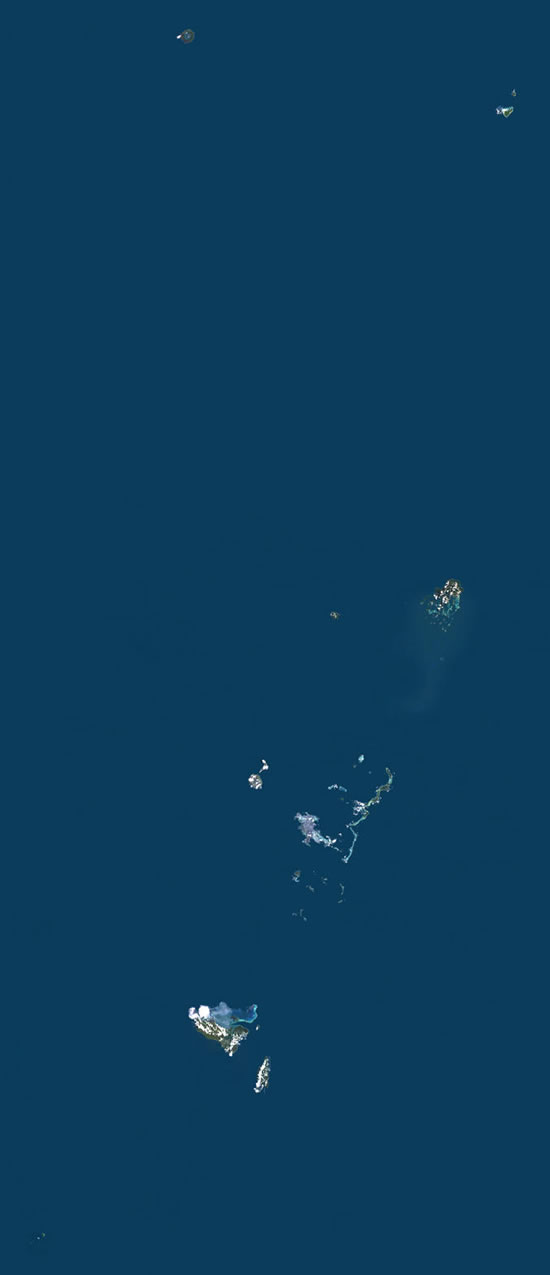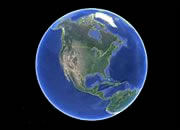 Google Earth is a free program from Google that allows you to explore satellite images showing the cities and landscapes of Tonga and all of Oceania in fantastic detail. It works on your desktop computer, tablet, or mobile phone. The images in many areas are detailed enough that you can see houses, vehicles and even people on a city street. Google Earth is free and easy-to-use.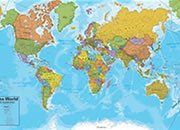 Tonga is one of nearly 200 countries illustrated on our Blue Ocean Laminated Map of the World. This map shows a combination of political and physical features. It includes country boundaries, major cities, major mountains in shaded relief, ocean depth in blue color gradient, along with many other features. This is a great map for students, schools, offices and anywhere that a nice map of the world is needed for education, display or decor.

Tonga Cities and Towns:
Neiafu, Nuku'alofa, 'Ohonua, Pangai.

Tonga Named Islands:
Niua Group: Niuafo'ou, Niuatoputapu, Tafahi. Vava'u Group: Fonualei, Late, Toku, Vava'u. Ha'apai Group: Foa, Fonuafo'ou, Ha'ano, Hunga Ha'apai, Kao, Lifuka, Nomuka, Tofua, 'Uiha. Tongatapu Group: 'Ata, 'Eua, Tongatapu. Minerva Reefs.

Tonga Locations:
South Pacific Ocean.

Tonga Natural Resources:
Arable land and fish.

Tonga Natural Hazards:
Tonga experiences cyclones, particularly from October through April. Several of Tonga's islands are historically active volcanoes, with the last major eruption occurring in 1985. There are several submarine volcanoes in the area as well.
The most notable recent submarine eruption occurred at Hunga Tonga-Hunga Ha'apai on January 14-15, 2022. The Surtseyan eruption on January 15 produced an ash plume that rose at least 20 kilometers high and 600 kilometers in diameter, along with a tsunami that traveled across the Pacific Ocean. Shock waves created a sonic boom that was heard as far away as Alaska!
Interestingly, the two islands of Hunga Tonga and Hunga Ha'apai were joined by a 2015 eruption that added landmass in the middle to connect them. The violent explosion in 2022 obliterated this bridge, leaving behind two separate islands once again.

Tonga Environmental Issues:
Environmental issues pertaining to the land in Tonga include deforestation and soil exhaustion. Water salinization and water pollution due to sewage and toxic agricultural chemicals are a problem. Coral reefs and marine populations are also threatened due to human activity.

ADVERTISEMENT