Home » About Geology.com
About Geology.com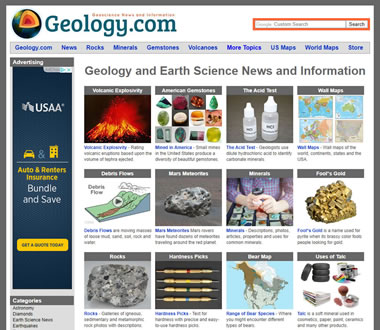 What is Geology.com?
Geology.com is one of the internet's leading websites for earth science news and information. Every day thousands of people visit Geology.com to read about rocks, minerals, geologic hazards, oil and gas, gemstones, meteorites, and many other topics. Geology.com also connects visitors to earth science news and content on other websites with daily posts on the right side of our homepage.
Who Visits Geology.com?
Most of the people who visit Geology.com arrive through a search engine after querying a topic that is featured in one of our articles. Some of these visitors are geologists, a larger number are students, but most are people who were simply curious about a topic, went to a search engine, and encountered our article.
Another group of visitors come directly to our site to check the news on our homepage or use resources that they are familiar with from previous visits.
About one-third of our visitors are located outside of the United States. Many live in countries where access to geology textbooks is limited because of cost or language differences. Websites are often the only source of basic geological information that these visitors have.
Who Runs Geology.com?
Geology.com is operated by a staff of four people. We write most of the articles, post daily news, take most of the photos, prepare most of the graphics, tend a server that transfers terrabytes of data each month, and do the work needed to run the Geology.com store.
We acquired the Geology.com domain from a petroleum consulting company in 2005. Since then we have produced the content that you see today. Hobart King (Ph.D., M.S. Geology, West Virginia University; B.S. Geology, California University of Pennsylvania) writes most of the articles and selects the daily news items. Bradley Cole (B.S. Mapping Technology, Mansfield University, 2006) serves as webmaster, photographer and graphic artist. Angela King (B.F.A. Indiana University, A.J.P. Gemological Institute of America) serves as editor and graphic artist. Laura Rittenhouse (an ecommerce professional with over a decade of experience) serves customers who purchase through the Geology.com store. A few guest authors with expertise in specific areas have contributed articles to the website.
Who Sponsors Geology.com?
Geology.com is not financed by companies, special interest groups, or contributions from anyone. It is financed by advertising revenue, the same as most newspapers and their websites. We also make a small profit from items sold in the Geology.com store.
We do not sell ads directly to anyone. The ads that appear on our website are purchased by advertisers through the Google Adwords program and the Exponential ad network. These ads are then transmitted directly to our website by Google and Exponential. This allows us to spend our time creating content for our visitors. Allowing others to take care of the ads allows us to spend more time on what we do well and provides separation between the content that we write and our sources of advertising revenue.
If you see an ad on Geology.com that does not mean that we endorse the company or have any direct relationship with them. We have little control of the ads but we do block ads that we believe are inappropriate for our audience or that are annoying. As an example, we use filtering provided by Google to keep ads related to gambling and a few other topics from appearing on the website.
How You Can Help Online Publishers
Today, many online publications are teetering on the edge of profitability because more and more people use ad blocking software. In 2010 very few people used ad blockers. As we write this in early 2016, over 250 million people are using ad blockers and that number is growing at a double digit annual rate. This is rapidly depriving publishers of the revenue that supports their businesses. Many publishers have reduced staff, reduced the number of articles that they publish, or now cover only the inexpensive topics. They are going out of business rapidly.
Ad blockers do a great job of blocking ads and killing website publishers.
Our salaries and survival depends upon ad revenue. We spend a five digit number per month on salaries, rent, utilities, servers, bandwidth, technical support, license fees, and other costs. If our ad revenue is turned off we will have to fire our staff, close our office and close the website. We can't even leave the website up untended because the cost of hosting, bandwidth and technical support is a five digit number per year. We recently discovered that ad blocking software was hiding 30% of our ads and much of the content that we work hard to produce. You can read about it here.
If you enjoy the news and articles that we publish we hope you will consider whitelisting Geology.com if you use an ad blocker. That will allow the ad revenue generated by your visit to support the costs that we incur to produce and deliver it to you.
Many websites charge visitors to view their content. We don't want to take that route because every day thousands of students and people in countries where access to science textbooks is limited visit our website. That's why we are on the advertising-supported path. We are not cutting our staff or content budget yet, but we would appreciate it if you would allow the ads on our site to support the cost of your visit. Other websites that you visit would appreciate that too. Thank you.
More From Geology.com:
| | |
| --- | --- |
| | Ant Hill Garnets - tiny garnets that ants haul to the surface and discard on their anthill. |
| Hardness Picks - Mohs hardness testing with precise and easy-to-use hardness picks. | Spinel: The gemstone that was confused with ruby and sapphire for over 1000 years. |
| | Expansive Soil: Causes more damage than floods, hurricanes & tornadoes combined. |
| Geology of Gems - The first comprehensive book on the geology of gem deposits. | Apatite produces gemstones with vivid colors and is popular with collectors. |