Fire Agate
A phenomenal agate with iridescent red, yellow, orange and green flash.
Author: Hobart M. King, PhD, GIA Graduate Gemologist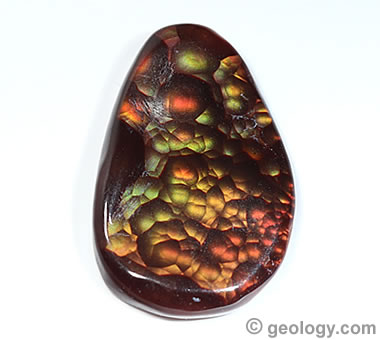 What Is Fire Agate?
Fire agate is a rare and interesting gem of unusual beauty. It is a brown agate that reflects bright flashes of iridescent yellow, red, orange and green from hemispherical surfaces within the stone. These hemispherical features are a characteristic crystal habit of agate known as a "botryoidal habit".
Fire agate is a phenomenal gem. In gemology, a phenomenal gem is one that reacts with the light that enters it to produce an interesting optical effect. In fire agate, the phenomenon is the iridescent colors. They change as the gem is moved, as the light source is moved, or as the head of the observer is moved. The phenomenon of fire agate is reminiscent of the play-of-color of precious opal, yet it is completely different. The name "fire" is used, but the color is not caused by dispersion - the phenomenon that causes the "fire" seen in diamond.
Fire agate is all about the dynamic iridescent colors.
In fire agate, the botryoidal habit was built as many ultra-thin layers of agate were deposited, one upon another, to produce the unusual shapes that you see in the gem today. Some of these layers of ultra-thin agate were coated with tiny particles of goethite, an iron hydroxide mineral. The colorful "fire" is thought to be produced by interference between light rays as they are reflected and refracted by the ultra-thin layers composed of goethite and agate. [1]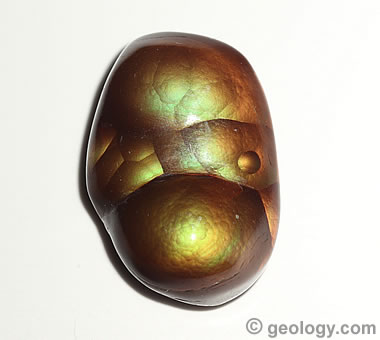 Gemology of Fire Agate
Fire agate is not a widely known gem. This is because it is a rare material that has never been heavily promoted to the public. Each stone cut from fire agate is different. The size and shape of each stone is dictated by the properties of the rough.
The people who cut fire agate study the rough material, then do their best to produce an attractive gem. Because of this, fire agate is not a gem suitable for manufacturing thousands of identical pieces of commercial jewelry. Instead it is a stone that is set into jewelry by a person who will craft a special setting for each and every stone.
Fire agate is most often found in custom and designer jewelry shops that are located in the same regions where the agate is mined. There it is sold as a locally produced gem - and many people buy it for that reason. Fire agate is a gem that is known and purchased by local people, visitors to the area, and collectors who want piece of jewelry with a rare, beautiful or unusual gemstone.
Fire agate has a Mohs hardness of 7, which makes it suitable for most types of jewelry. Large cabochons make beautiful pendants and pins. Smaller matched pieces make unique earrings. Many men like the brown color and wear fire agate in rings and tie tacks. Spectacular specimens find their way into museum collections and the collections of gem and mineral collectors.
Fire Agate Information
[1] "Dragon's Eye" Fire Agate, by John I. Koivula. An article published by the Gemological Institute of America in Gems and Gemology, Volume 51, Number 4, page 441, Winter 2015.

[2] Fire Agate, the guide page for fire agate on the mindat.org website. Accessed in May 2019.

Sources of Fire Agate
Fire agate is rare and has only been found in commercial quantities in a few locations. These include sites in the states of Aguascalientes, Chihuahua, and San Luis Potosi in Mexico; and, the states of Arizona, California and New Mexico in the United States. The largest number of reported fire agate localities is in Arizona, where the material has been popular with jewelry designers, lapidaries, gem collectors and mineral collectors for about fifty years. [2]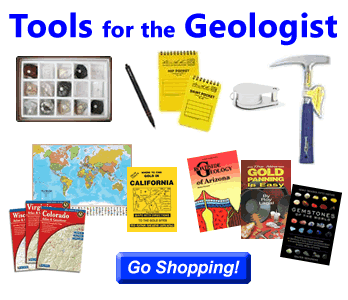 Find Other Topics on Geology.com:
| | |
| --- | --- |
| Rocks: Galleries of igneous, sedimentary and metamorphic rock photos with descriptions. | Minerals: Information about ore minerals, gem materials and rock-forming minerals. |
| Volcanoes: Articles about volcanoes, volcanic hazards and eruptions past and present. | Gemstones: Colorful images and articles about diamonds and colored stones. |
| General Geology: Articles about geysers, maars, deltas, rifts, salt domes, water, and much more! | Geology Store: Hammers, field bags, hand lenses, maps, books, hardness picks, gold pans. |
| | Diamonds: Learn about the properties of diamond, its many uses, and diamond discoveries. |