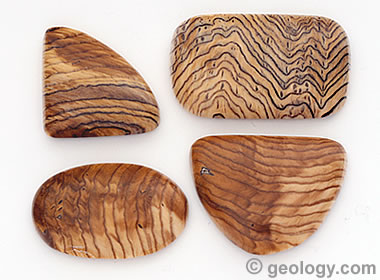 What Is Opalized Wood?
Opalized wood is a type of petrified wood that is composed of opal rather than chalcedony or another mineral material. It almost always consists of common opal, without play-of-color, but rare instances of petrified wood composed of precious opal are known.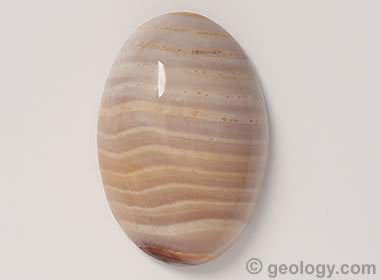 How Does Opalized Wood Form?
One of the most common and best geologic environments for the formation of petrified wood is a forest buried by a volcanic ashfall. In this situation the ash buries the plants and protects them from decay and insect attack. The ash also serves as an abundant source of easily dissolved silica, which will be carried into the wood by moving groundwater where it precipitates in cavities and replaces the solid woody materials. Large deposits of petrified wood in Arizona, Oregon, Wyoming, Indonesia, Russia, Mexico, Brazil, and other parts of the world have formed in this environment.
In most situations, the petrified wood found in these deposits today is composed of chalcedony, but in some situations the wood is composed of opal. Both of these varieties of petrified wood often occur in a single deposit. Because they are both formed from dissolved silica, they are often called "silicified wood".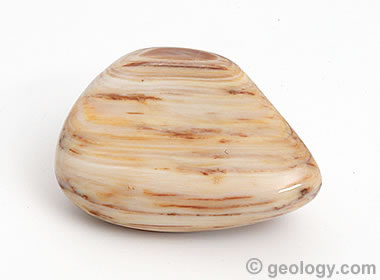 How To Identify Opalized Wood
Silicified woods composed of opal can easily be distinguished from those composed of chalcedony by three physical properties. In many instances, the less-common opalized wood is not recognized because most people assume that it is chalcedony and testing is not done. Opal has a lower specific gravity, a lower hardness, and a lower refractive index. Any one of these can be used to separate opal from chalcedony.
| | | |
| --- | --- | --- |
| | Opal | Chalcedony |
| Specific Gravity | 2.04 to 2.23 | 2.59 to 2.61 |
| Mohs Hardness | 5.5 to 6 | 6.5 to 7 |
| Spot Refractive Index | 1.39 to 1.48 | 1.53 to 1.54 |
Opalized wood can be just as beautiful as petrified wood composed of chalcedony. However, opalized wood has durability differences and is less suitable for some jewelry and lapidary projects. Opalized wood has a lower hardness and is more easily damaged by abrasion. It also has a lower tenacity and is more likely to break upon impact or exposure to stress.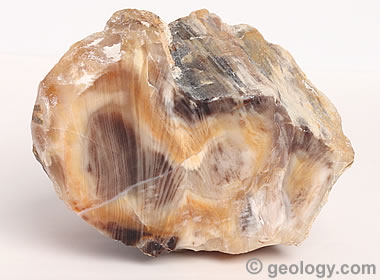 Is Opalized Wood More Valuable?
Some people might hear the name "opalized" wood and assume that it is more valuable than other types of petrified wood. That would be definitely be true if the opal is "precious opal" and exhibits a fine play-of-color. Wood petrified by precious opal does exist, and fine specimens can sell for extremely high prices.
However, most opalized wood is common opal, and the seller often does not know that it is opal (rather than chalcedony) because testing was not done. An argument can be made that opalized wood should sell for a lower price because of its potential durability issues.
As with most gems, color, pattern and beauty are typically what determines value. If an especially beautiful specimen of opalized wood is found and made into a pin, pendant or other item of jewelry where durability is less of a concern, it could justifiably be sold for the high price that its beauty deserves. Beautiful specimens of wood petrified by precious opal are known to sell for very high prices. They have both the beauty of precious opal, plus the interesting aspect of being an organic gem.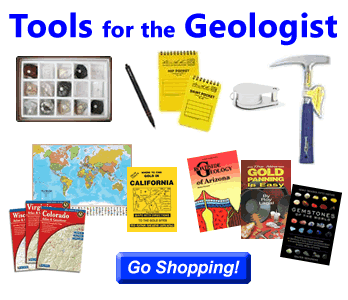 Find Other Topics on Geology.com:
| | |
| --- | --- |
| Rocks: Galleries of igneous, sedimentary and metamorphic rock photos with descriptions. | Minerals: Information about ore minerals, gem materials and rock-forming minerals. |
| Volcanoes: Articles about volcanoes, volcanic hazards and eruptions past and present. | Gemstones: Colorful images and articles about diamonds and colored stones. |
| General Geology: Articles about geysers, maars, deltas, rifts, salt domes, water, and much more! | Geology Store: Hammers, field bags, hand lenses, maps, books, hardness picks, gold pans. |
| | Diamonds: Learn about the properties of diamond, its many uses, and diamond discoveries. |