Home » Minerals » Diamond » Canada Diamond Mines
Diamond Mines in Canada
Many were surprised when Canada suddenly became a world-leading producer of gem-quality diamonds.
Author: Hobart M. King, PhD, GIA Graduate Gemologist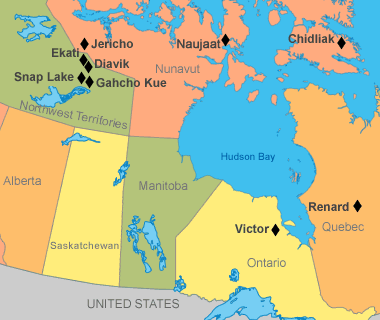 Diamonds in Canada?
Throughout the 20th century, most people would never have thought about Canada being an important producer of diamonds. Most people's knowledge of diamonds was fixed on mining operations in Africa and diamond trading centers in Europe.
All of this started to change in 1991 when two geologists, Chuck Fipke and Stewart Blusson, found evidence of diamond-bearing kimberlite pipes about 200 miles north of Yellowknife, Northwest Territories. One of these pipes was developed by BHP Billiton into the EKATI Diamond Mine, which produced Canada's first commercial diamonds in 1998.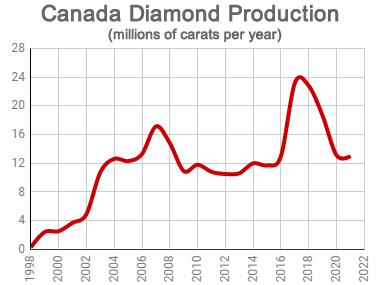 Canadian Diamond Production
The EKATI discovery launched one of the most intense mineral prospecting rushes in the history of North America. Thousands of prospectors travelled to the Canadian North.
Instead of bringing wooden stakes with them to mark their claims, they all intended to purchase stakes near their destination. So many wooden stakes were being purchased by the miners that local lumber companies were unable to meet the demand!
By 2006, three major mines were producing over 13 million carats of gem-quality diamonds per year. This placed Canada as the third-largest producer of diamonds in the world, according to USGS. The activity associated with the production of diamonds brought billions of dollars in commerce to the economy of the Canadian North.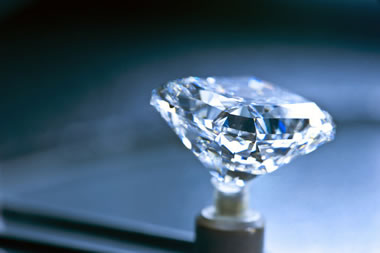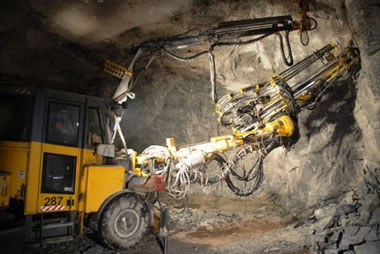 The Appeal of Canadian Diamonds
Canadian diamonds have been very successful in the marketplace. They are high-quality diamonds that have been very popular in the Canadian gemstone and jewelry markets where people are excited to support the diamond industry of their own country. Much of the rough has been exported because only a small number of diamond cutters in Canada produce finished stones.
Many diamonds that have been mined and cut in Canada are graded and have their certificate number laser-inscribed on their girdle along with a trade logo such as a maple leaf, polar bear, Canadamark symbol, or the words "Ice on Fire." These inscriptions help assure consumers of their diamond's origin, connect it to the certificate, and have been a very successful marketing feature.
Canadian diamonds also appeal to people who are concerned about environmental and human rights issues. They are produced from diamond mines that have some of the world's highest environmental standards. In addition, the proceeds of the mines go to legitimate companies instead of groups who have obtained the diamonds through forced labor, theft or other exploitation. The certification process allows the stones to be tracked from mine through manufacturing, wholesaling and to the retail consumer.
Compared to rough produced in other parts of the world, the diamonds produced from Canadian mines are of a very high quality, which supports a high average price per carat. This is a tremendous advantage for Canadian mining companies.
A small number of colored diamonds have been produced in Canada. Occasional yellow diamonds are found at Diavik, and a few rare pinks have been found at Victor. A surprising number of fancy orange and fancy yellow diamonds have been recovered from bulk samples collected at the Naujaat Project in Nunavut (see accompanying video).
In recent years, Canada has been one of the top three diamond-producing countries in the world on the basis of carats produced. The Diavik and EKATI mines are expected to close during the next few years. Hopefully, new mines at Gahcho Kué, Renard, and Chidliak will help Canada remain one of the world's leading producers of gem-quality diamonds.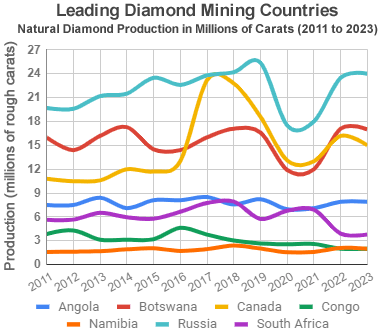 EKATI Diamond Mine
After searching for almost ten years, two geologists, Chuck Fipke and Stewart Blusson, found diamondiferous kimberlite pipes in the Lac de Gras region of the Northwest Territories in 1991. One of those pipes would be developed into EKATI by BHP Billiton, Canada, Inc. in 1998.
The EKATI Diamond Mine is Canada's original diamond mine. It is located about 180 miles (300 kilometers) north of Yellowknife, and about 100 miles (160 kilometers) south of the Arctic Circle.
Numerous kimberlite pipes with the potential for surface and underground mining exist on the EKATI property. The property is anticipated to support mining until at least 2028.
Today Arctic Canadian Diamond Company owns controlling interest in EKATI and is the operator.
In January 2022, Rory Moore, CEO of Arctic Canadian Diamond Company, in an interview with JCK Online, reported:
"We've come up with a system... called underwater remote mining. Essentially, we flood the pit, and... continue to mine... using specialized underwater surface mining machines... We are very confident that it's going to work."
That's incredible! One of the major challenges of mining in a deep open pit or in an underground mine is overcoming the inflow of groundwater. Pumping that water out is costly - so costly that it eventually makes many mines unprofitable. Lots of people will be watching Arctic Canadian to see how this works.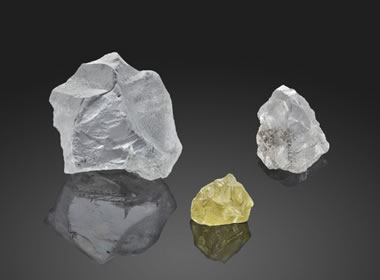 Diavik Diamond Mine
Diavik Diamond Mine was the second mine in Canada to produce diamonds. Since its first production in 2003, Diavik has produced many of the most spectacular diamonds found in North America (see accompanying images).
As of November 2021, Rio Tinto PLC became the sole owner of Diavik by purchasing the 40% stake owned by Dominion Diamond Mines ULC. Prior to that transaction, Rio Tinto PLC owned 60% and Dominion Diamond Mines ULC owned 40%.
In February 2023, Rio Tinto announced that they will invest $40 million to develop a first phase of underground mining in the A21 pipe at Diavik. This will enable the mine to operate until early 2026. At the same time, they will be working to obtain approval for a second phase of underground mining. These phases of underground mining are expected to produce about 2.2 million carats of rough diamonds.
Diavik is in a remote location, about 200 miles north of Yellowknife, Northwest Territories, and about 120 miles south of the Arctic Circle. Supplies are delivered via an ice road that connects Diavik to Yellowknife. The ice road can be used during a short winter season, when the land and lakes beneath the ice road are frozen.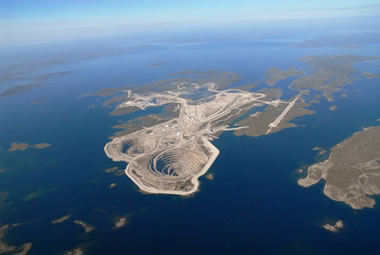 Diamonds from the Bottom of a Lake?
The pipes being mined were originally on the bottom of Lac de Gras and were discovered by drilling through the ice. To mine the pipes, a dike was built around them, then the water was pumped out. Open-pit mining then began on the lake bottom, with the mine being kept dry by pumps maintaining a groundwater cone of depression.
Chronological Highlights...
The first ore production at Diavik occurred in 2003. Production moved underground in 2010 as the surface-mineable ore was depleted. The transition from surface to underground mining was completed in 2012. That same year, Diavik completed construction of a 9.2-megawatt wind farm that provides over 10% of the electric power used by the mine.
In late 2015, the Diavik Foxfire was unearthed. At 187.7 carats, it was the largest gem-quality rough diamond ever discovered in Canada (at that time). It is also believed to have formed hundreds of kilometers below the Earth's surface an estimated 2 billion years ago.
In early 2018, Diavik started open-pit mining at their A21 pipe, located adjacent to the company's existing mine at Lac de Gras. The company spent $350 million developing the pipe, and it was expected to operate in an open-pit mode for about four years, according to Rio Tinto.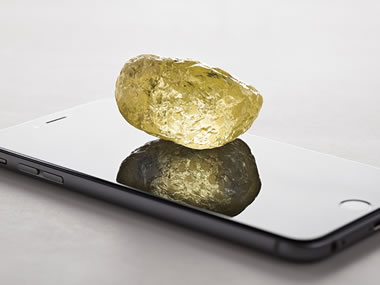 In December 2018, Dominion Diamonds announced the discovery of a 552.74-carat yellow diamond that they believe is the largest diamond ever found in North America. The rough stone measures 33.74 millimeters by 54.56 millimeters. Dominion plans to have a master diamond cutter examine the stone and plan an optimum cut. They hope that it will yield a Fancy-color main stone of significant size that will be Canadamark certified.
Kyle Washington, then-Chairman of Dominion Diamond Mines, announced the diamond by saying... "The color and texture of the diamond are a unique example of the journey that natural diamonds take from their formation until we unearth them. Our Diavik Mine has produced some of the most beautiful diamonds in the world, and this one certainly tops the list."
Jericho Diamond Mine
The Jericho Diamond Mine was the third diamond mine in Canada and the first in Nunavut territory. It is located about 250 miles northeast of Yellowknife, Northwest Territories. The mine was opened by Tahera Diamond Corporation and produced diamonds from 2006 to 2008 but the company lost money. In 2010, Shear Minerals, Ltd. acquired the property with the intent of bringing the mine back into production.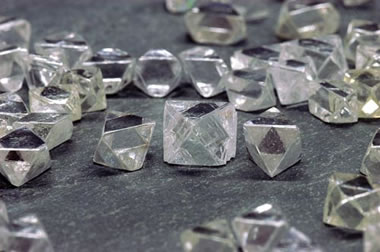 Snap Lake Diamond Mine
Canada's fourth diamond mine was the Snap Lake Mine, located about 150 miles northeast of Yellowknife, Northwest Territories. The mine is owned by De Beers, and it was their first mining operation outside of Africa. It was Canada's first completely underground diamond mine. Instead of mining a vertical pipe, the mine follows a kimberlite dike about 2.5 meters thick that slopes down under Snap Lake at an average dip of about 12 to 15 degrees.
The first commercial production at Snap Lake was in 2008. The mine operated for seven years without turning a profit. The mine was located under a lake and was plagued by a continuous seepage of groundwater into the mine. This water was very costly to collect, pump out of the mine, and handle before it could be released. In December 2016, De Beers announced that they planned to flood the mine to reduce ongoing pumping and maintenance costs. Production at the mine cannot be restarted without a significant effort to remove the water and return the site to operating conditions.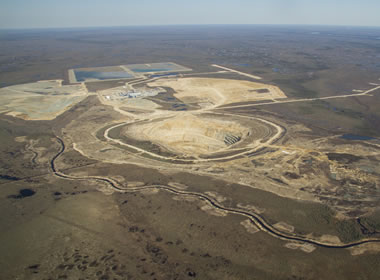 Victor Diamond Mine
The fifth Canadian diamond mine to open was the Victor Mine located in the James Bay Lowlands of Northern Ontario, about 50 miles west of Attawapiskat. It is an open-pit mine owned by De Beers and the first diamond mine in Ontario. According to De Beers Group, diamonds were produced from one of sixteen diamondiferous kimberlite pipes on the property.
Production at Victor commenced in July 2008. The mine was expected to produce an average of about 600,000 carats per year through a productive life of about ten years, with a total production of about 6 million carats of gem-quality diamonds.
De Beers stopped mining at Victor in March 2019 and processed the last of the productive ore in May 2019. The mine exceeded its anticipated production by over 2 million carats. The mine is being reclaimed, and there should be few signs of mining activity by the end of 2023.
De Beers holds mining rights to the nearby Tango diamond deposit a short distance from Victor. The Tango deposit is smaller, about 1/2 the size of Victor, and might support five to six years of additional mining. Developing the project will require formal support from the First Nation of Attawapiskat. The closing of Victor reduces the chance that De Beers will move forward with Tango.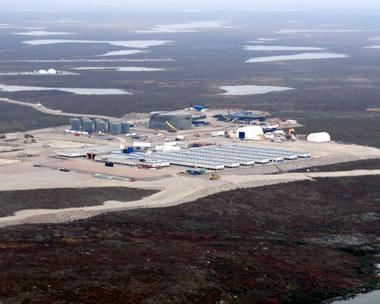 Gahcho Kué Diamond Mine
Gahcho Kué is Canada's sixth diamond mine. It is located about 170 miles northeast of Yellowknife, Northwest Territories. It is a joint venture between Mountain Province Diamonds and De Beers Canada.
Production began in 2016, and they propose to mine three kimberlite pipes beneath Kennady Lake. A fourth, smaller pipe is located nearby, and it may be mined as the project progresses. The expected mine life was 12 years.
Between 2019 and 2021, the mine is expected to process between 3.1 and 3.2 million tons of ore and yield between 6.6 and 7.1 million carats per year. That is a recovery rate of about 2.15 carats per ton. The company is conducting an extensive drilling and sampling plan and expects the mine life to extend beyond 2028.
On December 16, 2020, Mountain Province Diamonds announced that a 157.4-carat gem-quality diamond was found at Gahcho Kué. This was the largest diamond ever found at Gahcho Kué, and it was given the name "Polaris" after the North Star. The company said that they plan to offer the diamond for sale in early 2021. Stewart Brown, Mountain Province President and CEO, said: "It shows that the mine, although a high-volume producer of predominantly smaller diamonds, does produce diamonds of exceptional size and quality."
Renard Diamond Mine
Renard is the seventh diamond mine to open in Canada and the first to open in Quebec. It is located in the James Bay region of northern Quebec, about 500 miles north of Montreal. The project is 100% owned by the Stornoway Diamond Corporation. Nine diamondiferous kimberlite pipes and the Lynx/Hibou kimberlite dike system are on the project property. The mine is expected to produce about 2.2 million metric tons of kimberlite per year, yielding about 1.6 million carats of diamonds, with an anticipated average value of US $155/carat.
Chidliak: A New Diamond Mine?
The Chidliak diamond resource, a cluster of at least 74 kimberlite pipes, was discovered on Nunavut's Baffin Island in 2008. Peregrine Diamonds and BHP Billiton, the world's largest mining company, were working together to develop the project. They hoped to start an open-pit mine in 2020, but they had a huge transportation problem. They need a 160-kilometer all-weather road (not an ice road) to transport a steady stream of supplies to the mine site. The expected cost of the road was $95 million.
In 2011, BHP Billiton walked away, but talks between Peregrine and De Beers developed a plan that would allow De Beers to earn a 50.5% stake in the project. De Beers walked away in late 2013.
Peregrine carried on and demonstrated that the CH-6 pipe contained over 11 million carats of diamonds at a grade of 2.45 carats per ton to a depth of 260 meters. The CH-7 pipe was estimated to contain over 4 million carats at a grade of 0.85 carats per ton to a depth of 240 meters. Four other pipes are thought to have economic potential. The company also had exploration projects in Nunavut and the Northwest Territories.
Then, in 2018, De Beers returned and purchased the entire company for $107 million. De Beers now believes that it owns the best undeveloped diamond property in Canada and that they will be able to develop the Chidliak property into a mine that will produce over one million carats per year for over a decade. De Beers also plans to use "FutureSmart" mining methods that will significantly reduce the environmental impact of the mine.
Naujaat Diamond Project
One of the most exciting mineral exploration projects in Canada is the Naujaat Diamond Project owned by North Arrow Minerals and Burgundy Diamond Mines. Located near the community of Naujaat, in Nunavut, Canada, the Naujaat Project might become a new source of natural gem-quality diamonds. The exciting part is that the Naujaat deposit contains a surprising percentage of fancy-colored orange and yellow diamonds.
The project consists of eight kimberlite pipes and dikes on a property of 10,743 hectares. The current focus of the project is the Q1-4 kimberlite pipe with a surface exposure of 12.5 hectares - the largest in the eastern Canadian Arctic. Work done to characterize the deposit includes: airborne geophysics, property-wide till sampling, core drilling, and bulk sampling with diamond recovery.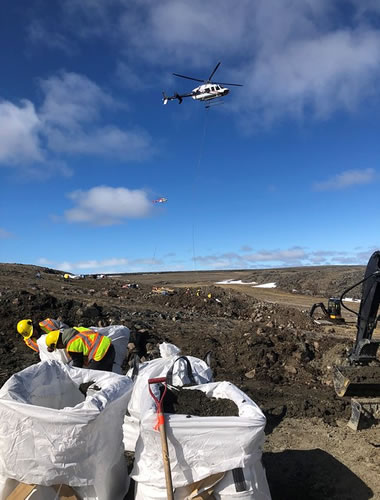 Diamonds were recovered from two recent bulk samples totalling 1,823.6 dry tonnes from Naujaat's Q1-4 deposit. The first, from the A28 unit, totalled 1,316 dry tonnes. The second, from the A88 unit, totalled 498 dry tonnes.
A total of 367 diamonds were recovered, with a total weight of 173.78 carats. The largest diamond recovered weighed 7.00 carats. And, remarkably, 58 of the 367 diamonds recovered were classified as fancy-color - and 90% of those fancy-color diamonds had orange as their primary hue.
Orange diamonds are valuable because they are rare. How rare? The Gemological Institute of America reported in Gems & Gemology that during the 2010 to 2020 decade they examined several hundred thousand diamonds with yellow and orange hue components. Less than one-tenth of one percent of those stones had a pure, unmodified orange hue.
The rarity of orange diamonds makes them incredibly valuable. Their value can be at least ten times higher than similar-size diamonds on the upper end of the D-to-Z color scale.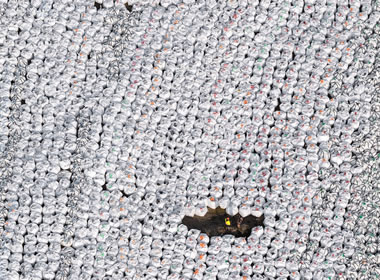 To further assess the Naujaat deposit, and better understand the grade and value of its fancy-color diamonds, North Arrow and Burgundy are considering the collection of a 10,000-tonne bulk sample, as well as the construction of a bulk sample processing facility near the Naujaat deposit.
The deposit is already known to contain diamonds of commercial size and quality. It is also known to contain high-value fancy-colored diamonds. The bulk sample will help determine if the diamonds in the deposit are present in the quantity and quality needed to support a mining operation.
At present, no diamond mine in the world has a reputation for producing natural fancy-colored orange diamonds. Will the Naujaat Project become that mine?
Canadian Diamond Challenges
The diamond mines in Canada face a number of challenges not faced by competing mines in other parts of the world. The first problem is their very remote location. The mines can only receive overland freight during a short "ice road" season that might last between six and ten weeks. Any supplies not delivered in that limited time window must be delivered by air. The mines must also have housing and full facilities for all of their employees because they are all located away from towns or settlements where employees could be housed. These serve as logistical and economical disadvantages for these mines.
A second problem is the cost of labor. Wages in African mines and Indian cutting facilities are very low compared to the wages paid to mining and manufacturing employees in Canada. The Snap Lake mine closed without turning a profit.
A third problem is the fact that the open-pit mines are being depleted, and continued work in the ore body requires underground mining - which costs about 50% more per ton of ore produced. Some of the mines also incur a high water pumping cost as they excavate below the water table. Nearby lakes serve as an infinite source of recharge water.
Canadian Diamond Opportunities
Canadian diamond mines enjoyed great success in their first two decades. Much of that success was supported by rich ores, containing high-quality diamonds that could be produced by open-pit mining. The diamonds produced by these mines were favored by consumers who value diamonds produced from mines that are environmentally responsible and conflict-free. Canadian customers have also patronized gems that are obviously marketed and marked as a Canadian product.
Although exploration for new deposits continues, the pace has dropped dramatically from the original boom. New discoveries in Alberta, British Columbia, Northwest Territories, Nunavut, Ontario, and Quebec are being evaluated, and some of them might be developed into profitable new mines.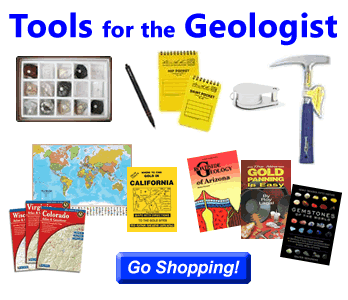 Find Other Topics on Geology.com:
| | |
| --- | --- |
| Rocks: Galleries of igneous, sedimentary and metamorphic rock photos with descriptions. | Minerals: Information about ore minerals, gem materials and rock-forming minerals. |
| Volcanoes: Articles about volcanoes, volcanic hazards and eruptions past and present. | Gemstones: Colorful images and articles about diamonds and colored stones. |
| General Geology: Articles about geysers, maars, deltas, rifts, salt domes, water, and much more! | Geology Store: Hammers, field bags, hand lenses, maps, books, hardness picks, gold pans. |
| | Diamonds: Learn about the properties of diamond, its many uses, and diamond discoveries. |