Home » Minerals » Diamond » US Diamond Mines
Diamond Mines in the United States
The world's leading consumer of diamonds has almost no production.
Author: Hobart M. King, PhD, GIA Graduate Gemologist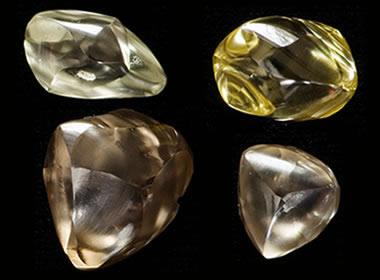 Two Commercial Diamond Mines
Two locations in the United States have been worked as commercial diamond mines. The first was a mine near Murfreesboro, Arkansas. It was worked as a commercial diamond mine by a succession of operators in the early 1900s but closed because the deposit was subeconomic. Today it is known as the "Crater of Diamonds" and is operated by the State of Arkansas as a tourist "pay-to-dig mine" where anyone can pay a fee, look for diamonds, and keep any that they find. Up to a few hundred carats of diamonds are found there each year.
The second was the Kelsey Lake Diamond Mine near Fort Collins, Colorado. It produced small amounts of diamonds between 1996 and 2002, when the mine was closed due to legal problems.
Diamonds, diamond indicator mineral assemblages, and potentially diamondiferous rocks have been found at hundreds of locations within the United States. One or more of these locations could become commercial and make the United States a significant producer of gem-quality diamonds. [1]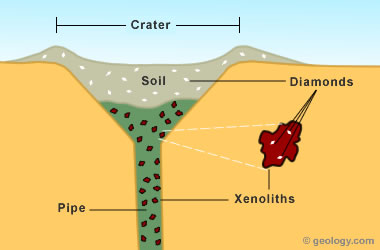 Table of Contents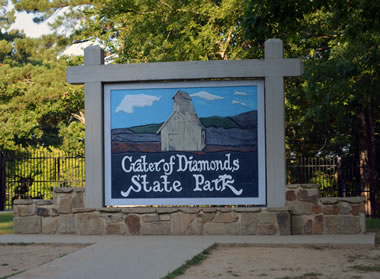 Crater of Diamonds - The Active U.S. Mine
Although millions of carats of diamonds are consumed each year in the United States, very few diamonds are domestically produced. The only active diamond mine in the country is the Crater of Diamonds Mine near Murfreesboro, Pike County, Arkansas. There, recreational prospectors have been finding up to a few hundred carats of diamonds per year since the early 1970s. Many colored diamonds have been found at Crater of Diamonds. Most have been yellow or brown. See photo at the top of this page.
The only diamond mine where you can be the miner.
The mine is a dig-for-fee operation maintained by the Crater of Diamonds State Park. The diamonds are hosted in a lamproite breccia tuff and its overlying soil in a structure known as a maar. Collectors pay a fee of a few dollars per day to prospect and can keep any diamonds that they find. This is the only diamond mine in the world that is open to the public.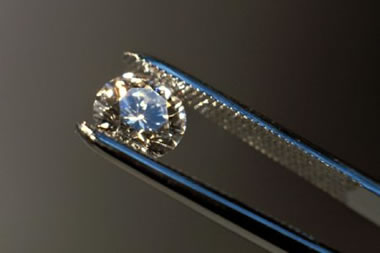 Famous Arkansas Diamonds
A number of famous diamonds have been found at the Crater of Diamonds mine. Diamonds found in North America continue to have gemological significance and attract a great amount of interest. Three notable Arkansas diamonds:
The Uncle Sam Diamond
The "Uncle Sam" is a 40.23-carat white diamond that stands as the largest diamond ever found in North America. It was found at the Crater of Diamonds in 1924 before the property was opened as a state park. [2]
The Strawn-Wagner Diamond
This diamond was found at the Park as a 3.03-carat rough stone in 1990 by Shirley Strawn. In 1997 it was cut to yield a 1.09 carat, "round brilliant" stone that received a perfect grading of 0/0/0 from the American Gem Society. It stands as the most perfect diamond the American Gem Society has ever certified. [2]
The Kahn Canary Diamond
This 4.25-carat, canary-color diamond with a perfect dodecahedral pillow shape was found in 1977 by George Stepp. Stan Kahn purchased the diamond from Stepp and did not have it cut because even in its natural shape, it is an especially beautiful gem. Kahn has shared the stone with the public by loaning it to museums around the world for temporary display.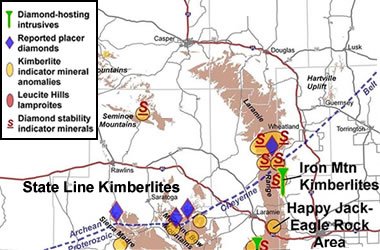 Kelsey Lake Mine
At present, there are no commercial diamond mines operating in the United States. The only commercial mine with recent activity is the Kelsey Lake Diamond Mine, located near Fort Collins, Colorado, on the state boundary between Colorado and Wyoming.
Kelsey Lake was opened as a commercial diamond mine by Redaurum Limited in 1996. Great Western Diamond Company, a wholly-owned subsidiary of McKenzie Bay International Limited, purchased the property in 2000 and operated the mine until 2002. It was closed due to legal problems rather than a lack of diamonds. [4]
Most of the diamonds produced at the Kelsey Lake Mine were clear, gem-quality stones. About one-third of the stones were one carat or larger in size. When the mine closed, there was an identified resource of 17 million tons of ore with an average grade of 4 carats per hundred metric tons. In 2003 the United States Geological Survey reported that the most valuable stones produced from the Kelsey Lake Mine were valued at $89,000 and $300,000. [3]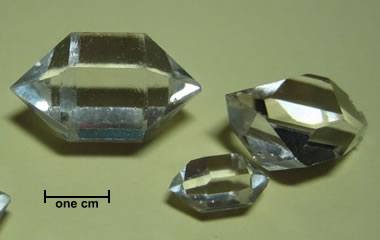 Wyoming Diamond Deposits
The Wyoming Geological Survey believes that a billion-dollar diamond industry could develop in their state. Wyoming has comparable conditions to the Canadian diamond deposits, and hundreds of kimberlite pipes are believed to exist. Their website has maps showing the location of diamond-hosting intrusives, reported placer diamonds, kimberlite indicator mineral anomalies, lamproites and diamond stability indicator minerals. [4]
Some points that communicate their optimism for a significant diamond industry in Wyoming [5]:
- 40 diamond deposits in the State Line District
- 130,000 diamonds recovered in the State Line District
- several diamonds weighing more than 28 carats
- hundreds of kimberlitic indicator mineral anomalies
- the two largest kimberlite districts in the U.S.
- the largest lamproite field in North America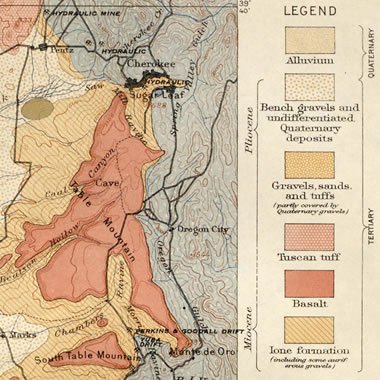 Diamonds in California Gold Country
In over two centuries of prospecting for gold in California streams, a lot of people have carefully searched through a lot of sediment. This has led to the discovery of hundreds of gem-quality diamonds that are mostly small in size. At most locations, a single diamond or two has been found. But remarkable numbers have been found in a few areas.
One of the most notable diamond localities is an area of hydraulic mining in Butte County, north of Oroville, known as the Cherokee Mine. At this mine, native gold, native platinum, and hundreds of gem-quality diamonds have been recovered from Tertiary-age gravels of the Ione Formation. These gravels are mostly channel fills, often overlain by Tertiary-age basalt flows.
The grade of the ore in respect to diamonds was inadequate to support sustained production. However, the diamonds were an incidental product - the gold being mined was much more valuable.
Diamonds have a high specific gravity relative to other sediment grains and tend to accumulate in the same locations as gold and platinum. Efforts to locate the diamond host rock have not been successful. [8]
Other diamond localities in California include the following: Eldorado County: south side of Webber Hill near Placerville; White Rock Canyon; Dirty Flat; Smith's Flat. Amador County: Jackass Gulch near Volcano; Rancheria near Volcano; Loafer Hill near Oleta. Nevada County: French Corral. Butte County: Cherokee Flat; Yankee Hill. Plumas County: Gopher Hill; Upper Spanish Creek. [9]
Information Sources
[1] Hausel, W.D. (1998). Diamonds and Mantle Source Rocks in the Wyoming Craton with a Discussion of Other U.S. Occurrences. Report of Investigations Number 53, Wyoming Geological Survey.

[2] Arkansas Department of Parks and Tourism: Crater of Diamonds State Park website. Last accessed July 2022.

[3] Olson, Donald W., (2003). 2003 Minerals Yearbook: Gemstones. 2003 Minerals Yearbook, Volume I, Metals and Minerals, Gemstones. United States Geological Survey.

[4] Wyoming Geological Survey website: Wyoming Diamonds. Last accessed July 2022.

[5] Wyoming Geological Survey website: Diamond Exploration and Mining in North America Heating Up. Last accessed May 2013.

[6] Howard, J.M. and Hanson, W.D. (2008). Geology of the Crater of Diamonds State Park and Vicinity, Pike County, Arkansas, State Park Series 03, Arkansas Geological Survey.

[7] Olson, Donald W., (2011). 2009 Minerals Yearbook: Gemstones. 2009 Minerals Yearbook, Volume I, Metals and Minerals, Gemstones. United States Geological Survey.

[8] Lindgren, Waldemar (1911). The Tertiary Gravels of the Sierra Nevada of California, Professional Paper 73, United States Geological Survey.

[9] George Frederick Kunz (1905). Gems, Jewelers' Materials, and Ornamental Stones of California, Bulletin Number 37, California State Mining Bureau.

Other Potential Diamond Areas
The discovery of numerous commercial diamond deposits in Canada has generated prospecting interest in the United States. Areas with similar geologic settings to the Canadian deposits exist in Alaska, Colorado, Minnesota, Montana, and Wyoming. Diamond indicators and confirmed diamond pipes have been found, but so far none have attracted significant investments or commercial mining.
Hundreds of diamonds have been found in the Pacific coast region; however, that area is unfavorable for the presence of kimberlite and lamproite. It is possible that these diamonds are coming from a source that has yet to be understood. [5]
The Best Diamond Prospects in the USA
Several companies in the United States are now producing synthetic diamonds using chemical vapor deposition and other processes. Many of the diamonds produced by these companies have the clarity and color required for use as synthetic gems. They have retail prices that are very competitive with natural stones and that appeals to many buyers. Sales of synthetic diamonds are steadily increasing, and that trend may continue.
Most of the synthetic diamond produced in the United States is used in manufacturing. Synthetic industrial diamond is cost competitive with natural diamond and readily available.
Carefully produced synthetic diamond is being used as a high-performance material in many manufacturing processes. Synthetic diamonds have a large number of uses which include speaker domes, heat sinks, low-friction bearings, wear-resistant parts, and more.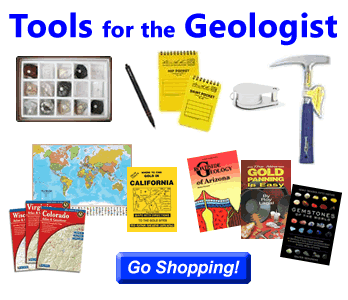 Find Other Topics on Geology.com:
| | |
| --- | --- |
| Rocks: Galleries of igneous, sedimentary and metamorphic rock photos with descriptions. | Minerals: Information about ore minerals, gem materials and rock-forming minerals. |
| Volcanoes: Articles about volcanoes, volcanic hazards and eruptions past and present. | Gemstones: Colorful images and articles about diamonds and colored stones. |
| General Geology: Articles about geysers, maars, deltas, rifts, salt domes, water, and much more! | Geology Store: Hammers, field bags, hand lenses, maps, books, hardness picks, gold pans. |
| | Diamonds: Learn about the properties of diamond, its many uses, and diamond discoveries. |