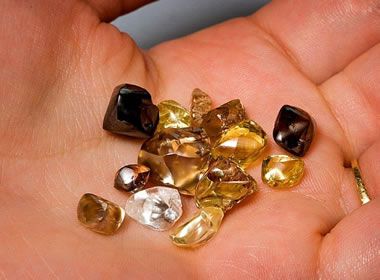 Arkansas Gemstone Surprises
Gemstone deposits are said to be formed by a "coincidence of impossible events." That makes any gemstone deposit a marvel. The state of Arkansas has diamond and quartz deposits that have surprised the most experienced geologists.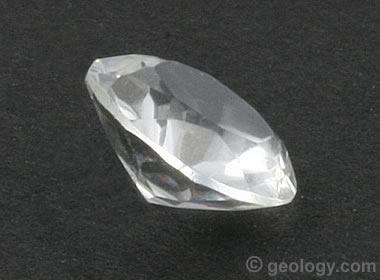 Diamonds in Arkansas?
About 100 million years ago, the area that is now Murfreesboro, Arkansas was covered by a shallow sea. That scenery was abruptly interrupted when a stream of magma, directly from Earth's mantle, rapidly ascended to the surface and produced an explosive eruption. That stream of magma ripped large pieces of rock from the mantle and transported them to the surface so quickly that they were not melted by the heat or by the reduction in pressure. That rapid transport enabled diamonds that formed under mantle conditions to arrive at Earth's surface instead of being degraded during a slow ascent. Quickly after the eruption, the magma solidified in the "pipe" through which it traveled, and the Arkansas diamond deposit was formed.
Then at the surface, exposed for millions of years, the rock that solidified in the pipe began to weather and break down to form a greenish soil. The diamonds in the pipe were very hard and much more resistant to weathering than their surrounding rock. They were released as that rock weathered and its debris was carried away by moving water.
Finally, in 1906, the first diamonds were discovered by John Huddlestone, and the structure beneath the place that they were found was identified as a "diamond pipe." Several attempts were made to mine the diamonds, but none of them succeeded in earning a profit. Today the location is open to the public as "Crater of Diamonds State Park" where anyone can visit, pay a small fee, look for diamonds and keep any that they find. It is the only diamond mine in the world where you can be the miner. It is also the only operating diamond mine in the United States.
During the calendar year of 2013, over 100,000 people visited Crater of Diamonds State Park and paid an $8 admission fee to hunt for diamonds. These people reported 455 diamonds to the park, weighing a total of 96.7 carats. The stones were white, brown, and yellow in color.
Most of the diamonds found at the park are thought to be reported because park staff will identify them as diamonds, provide information about them, and weigh them accurately for the visitor. In the photograph at the top of this page, you can see a small group of diamonds found at the park.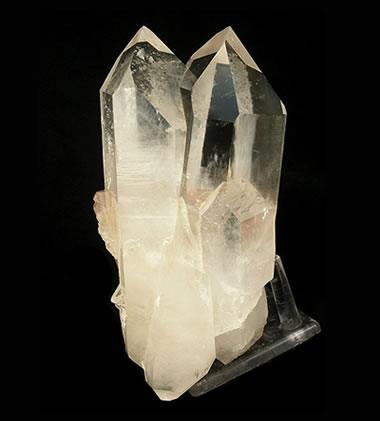 Arkansas Quartz
Arkansas's most important gem material is quartz. High-quality quartz crystals are found at many locations in Arkansas. Important deposits are found near Mount Ida, Fisher Mountain, Hot Springs, and Jessieville. Clusters of quartz crystals are produced, sold as specimens, and used to make natural quartz crystal jewelry. They are also used to produce faceted stones (see photo at right), beads, carvings, spheres, and decorative items.
Exceptional specimens of rock crystal can sell for thousands of dollars. Faceted rock crystal is sold under the trade name of "Hot Springs Diamond" or "Arkansas Diamond." Those names are misleading because the material is not genuine "diamond." Clear, undamaged single crystals are made into pendants, earrings, and other jewelry. Some of the clear quartz is heat treated or subjected to gamma radiation to convert it into a smoky quartz.
According to USGS: "Historically, the demand for crystals was from tourists, collectors, interior decorators, carvers, sphere makers, and certain industrial and military applications. However, in recent years the increased use of quartz crystals in the metaphysical field has greatly impacted the demand and price for Arkansas quartz."
In addition to rock crystal, Arkansas produces other quartz gems including agate, amethyst, chalcedony, chert, jasper, opal, petrified wood, novaculite, and smoky quartz. These are cut into faceted stones or cabochons and used in lapidary projects that include spheres, clock faces, beads, tumbled stones, and more.
Other Arkansas Gem Materials
Small amounts of turquoise have been produced at several locations in Arkansas. It is normally associated with lead, zinc, and copper occurrences with a host rock of chert or novaculite.
In the late 1800s, freshwater pearls were being produced from almost every major stream in the state. A large pearl in one of the Royal Crowns of England was found in Arkansas. Pearl production continued into the 1990s.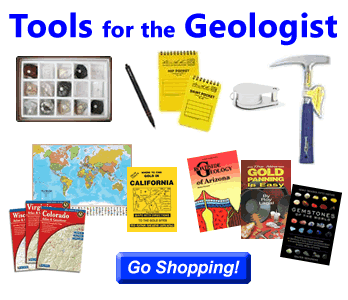 Find Other Topics on Geology.com:
| | |
| --- | --- |
| Rocks: Galleries of igneous, sedimentary and metamorphic rock photos with descriptions. | Minerals: Information about ore minerals, gem materials and rock-forming minerals. |
| Volcanoes: Articles about volcanoes, volcanic hazards and eruptions past and present. | Gemstones: Colorful images and articles about diamonds and colored stones. |
| General Geology: Articles about geysers, maars, deltas, rifts, salt domes, water, and much more! | Geology Store: Hammers, field bags, hand lenses, maps, books, hardness picks, gold pans. |
| | Diamonds: Learn about the properties of diamond, its many uses, and diamond discoveries. |