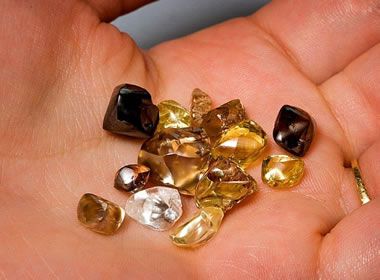 Arkansas Gemstone Surprises
Gemstone deposits are said to be formed by a "coincidence of impossible events." That makes any gemstone deposit a marvel. The state of Arkansas has diamond, turquoise, and quartz deposits that have surprised many of the most experienced geologists. You might be surprised to learn that a "Pearl Rush" in the late 1800s brought thousands of people to Arkansas.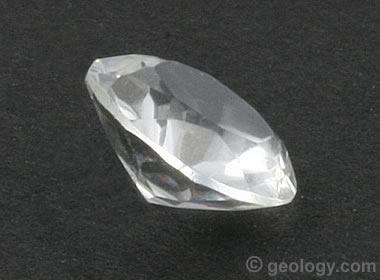 Diamonds in Arkansas?
About 100 million years ago, the area that is now Murfreesboro, Arkansas was covered by a shallow sea. That scenery was abruptly interrupted when a stream of magma, directly from Earth's mantle, rapidly ascended to the surface and exploded through the surface - forming a volcanic crater known as a maar.
That stream of magma ripped large chunks of rock from the mantle and transported them to the surface. Those chunks of rock contained diamonds that formed under the tremendous temperatures and pressures of the mantle.
Their rapid ascent enabled them to arrive at the surface with little alteration - instead of being degraded during a slow ascent. Soon after the eruption, the magma solidified in the "volcanic pipe" through which it traveled, and the Crater of Diamonds deposit of Arkansas was formed.
Then at the surface, exposed for millions of years, the rock that solidified in the pipe began to weather and break down to form a greenish soil. The diamonds in the pipe were very hard and much more chemically resistant to weathering than their surrounding rock. They were released as that rock weathered, and the debris - including some of the diamonds - was slowly carried away by moving water. This process continues today.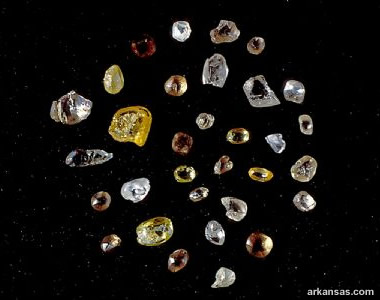 Finally, in 1906, some of these diamonds were discovered by John Huddlestone, and the structure beneath the place that they were found was identified as a "diamond pipe." Several attempts were made to mine the diamonds, but none of them succeeded in earning a profit.
Today the location is open to the public as "Crater of Diamonds State Park" where anyone can visit, pay a small fee, look for diamonds and keep any that they find. It is the only diamond mine in the world where you can be the miner. It is also the only operating diamond mine in the United States.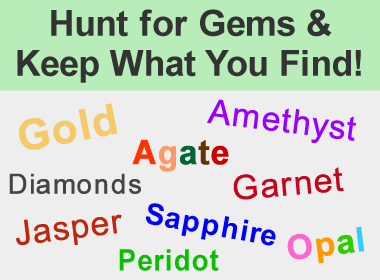 Each year thousands of people visit Crater of Diamonds State Park and pay an admission fee of about $10 to hunt for diamonds. Each year they find a few hundred diamonds, mostly weighing less than 1/2 carat. The stones are mostly white, brown, or yellow in color.
A few lucky people have found diamonds worth thousands to over a million dollars. Most people don't find a diamond. Many find other interesting minerals and gems. Almost everyone has fun.
Most of the diamonds found at the park are thought to be reported because park staff will identify them as diamonds, provide information about them, and weigh them accurately for the visitor. In the photograph at the top of this page, you can see a small group of diamonds found at the park.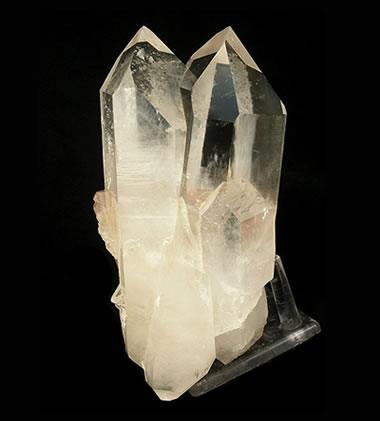 Arkansas Quartz
Arkansas's most important gem material is quartz. High-quality quartz crystals are found at many locations in Arkansas. Important deposits are found near Mount Ida, Fisher Mountain, Hot Springs, and Jessieville.
Clear, undamaged single crystals are made into pendants, earrings, and other jewelry. They are also used to produce faceted stones (see photo above), beads, carvings, spheres, and decorative items. Clusters of quartz crystals are produced, sold as specimens, and used to make natural quartz crystal jewelry.
Exceptional specimens of rock crystal can sell for thousands of dollars. Faceted rock crystal is sold under the trade name of "Hot Springs Diamond" or "Arkansas Diamond."
According to USGS: "Historically, the demand for crystals was from tourists, collectors, interior decorators, carvers, sphere makers, and certain industrial and military applications. However, in recent years the increased use of quartz crystals in the metaphysical field has greatly impacted the demand and price for Arkansas quartz." [1]
In addition to rock crystal, Arkansas produces other quartz gem materials including agate, amethyst, chert, jasper, opal, petrified wood, novaculite, and smoky quartz. These are cut into faceted stones or cabochons and used in lapidary projects that include spheres, clock faces, beads, tumbled stones, and more.
Marketing Quartz as "Diamond"
Many Arkansas vendors have used the word "diamond" in their marketing of Arkansas quartz. Names like "Arkansas Diamond" and "Hot Springs Diamond" have been used for decades. These names are misnomers, incorrect names that could confuse or mislead. Most people probably understand that the materials being sold are not natural diamonds.
However, in August 2018, the Federal Trade commission issued guidance to the gem and jewelry industry, communicating that: "It is unfair or deceptive to mark or describe an industry product with an incorrect varietal name." Because these materials are quartz and not diamonds, sellers could be accused of marketing them under names that are deceptive or misleading. More information.
Hunt For Gems - Keep What You Find!

There are over 100 mines in the United States where anyone can visit, pay a small fee, look for gems and minerals, and keep what they find. For a large list of these mines, visit our
Fee Mining Page.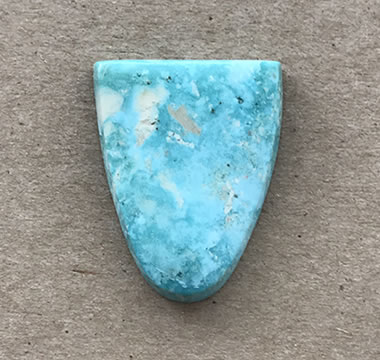 Arkansas Turquoise
Small amounts of turquoise have been produced at a few locations in Arkansas. One location near the summit of Porter Mountain in Polk County, known as the Mona Lisa deposit, was mined intermittently between the mid 1970s and the early 1990s. Here, turquoise was found as fracture fillings in novaculite.
Much of the Mona Lisa turquoise was too porous for cutting or occurred in veins only a few millimeters thick. These materials were crushed and used to make block turquoise, a mixture of small turquoise fragments bound together with a polymer or other resin.
A small amount of Mona Lisa turquoise was stabilized for cutting by polymer impregnation, and a small amount was suitable for cutting without stabilization. The mined area was reclaimed in the early 1990s, ending the production of Mona Lisa turquoise.
Freshwater Pearls
In the late 1800s and early 1900s, freshwater pearls and mussel shell products were being produced from almost every major stream in Arkansas. The White River and Black River in northern Arkansas were especially important sources of freshwater pearls.
Buyers for companies in Paris and London regularly visited Arkansas to purchase pearls. A large pearl in one of the Royal Crowns of England was found in Arkansas.
Pearl production in Arkansas began to decline in the early 1900s in response to destruction of the mussel population by people aggressively searching for pearls. The state actually had a "Pearl Rush" between the late 1880s and early 1900s. People flocked to Arkansas to search for pearls, and many people took family vacations to Arkansas with the hope of finding a valuable pearl.
The rise of the cultured pearl industry in Asia and stream contamination in Arkansas finally made searching for pearls in Arkansas unprofitable by the late 1900s. A very interesting article about the Arkansas Pearl Rush can be found in The Encyclopedia of Arkansas History and Culture.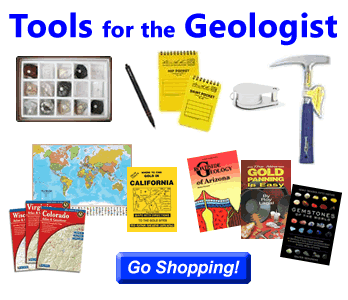 Find Other Topics on Geology.com:
| | |
| --- | --- |
| Rocks: Galleries of igneous, sedimentary and metamorphic rock photos with descriptions. | Minerals: Information about ore minerals, gem materials and rock-forming minerals. |
| Volcanoes: Articles about volcanoes, volcanic hazards and eruptions past and present. | Gemstones: Colorful images and articles about diamonds and colored stones. |
| General Geology: Articles about geysers, maars, deltas, rifts, salt domes, water, and much more! | Geology Store: Hammers, field bags, hand lenses, maps, books, hardness picks, gold pans. |
| | Diamonds: Learn about the properties of diamond, its many uses, and diamond discoveries. |