Home » Gemstones » Diamonds » Brown Diamonds
Brown Diamonds
Also known as chocolate, champagne and cognac diamonds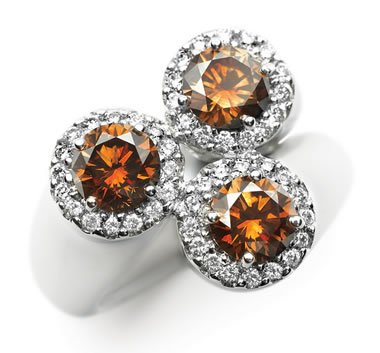 What Are Brown Diamonds?
Although most people think of diamonds as colorless gems, most natural diamonds are brown. De Beers, the company that nearly controlled the diamond industry for almost 100 years, did not want brown diamonds in the gem diamond market. All of the brown diamonds that they mined and acquired were crushed for use as abrasive granules. Because of this brown diamonds had very little value.
Then, in the 1980s, Australian miners shipped millions of tiny brown diamonds to India, where low-cost workers cut them into melee-size gems. The tiny brown stones then entered the market in popular-priced jewelry. Those tiny brown gems opened a new and attractive niche of diamond jewelry. They made diamond jewelry more affordable.
Today, brown diamonds are sold under trade names such as "chocolate diamonds," "champagne diamonds," and "cognac diamonds." Clever marketing, fresh designs, and low prices made brown diamonds into marketable products.
A Bit of Diamond History
In the late 1800s and early 1900s, enormous diamond discoveries in South Africa created a problem. So many diamonds were suddenly available that their free entry into the market would depress prices. De Beers gained nearly complete control of the global diamond supply and released diamonds into the market at a rate that maintained prices.
De Beers then stimulated demand through their "A Diamond Is Forever" marketing campaign. Many advertising experts believe that De Beers ran "the most successful ad campaign in the history of marketing." Growing demand and a tight control over supply made a lot of money for De Beers.
At that time - and continuing today - many people believe that the standard of diamond beauty and value is a clear, colorless stone. De Beers considered brown diamonds unsuitable for jewelry - but was that really true?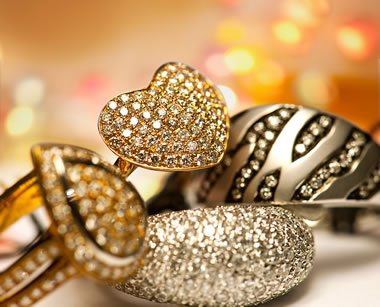 Brown Diamonds from the Argyle Mine
In the mid-1980s the Argyle Mine in the East Kimberly region of Western Australia began producing diamonds. It quickly became the largest diamond producer in the world on the basis of carat weight.
The Argyle Mine produced a small number of clear, colorless diamonds and a small number of vivid fancy diamonds in pink, red, and blue colors. But, most of the rough coming out of their mine did not meet De Beers definition of "gem quality."
About 80% of the Argyle rough was brown, under 0.1 carat in size, and most stones had clarity problems. De Beers, the company who held a near monopoly on diamond rough at that time, was only willing to pay an industrial-grade price for these diamonds.
Managers at Argyle stopped selling their diamonds to De Beers. They sold their colorless diamonds and fancy-colored diamonds themselves. And, they sent their brown rough to India where skilled but low-cost workers cut it into tiny round brilliant diamonds. Many of these tiny gems were as small as 0.01 or 0.02 carats.
The brown color of the rough was less obvious in gems of this size, and dozens of them could be set in a single piece of jewelry. The jewelry was inexpensive but hundreds of light-reflecting facets in each piece produced a wonderful scintillation that many people enjoyed. Argyle turned a rejected product into a new and profitable niche in the diamond jewelry market. [1]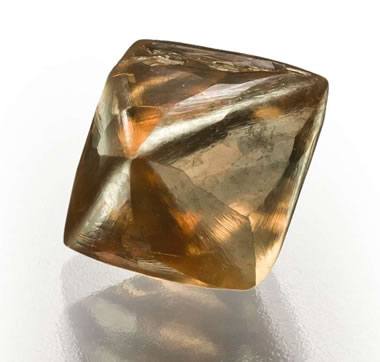 What Are Champagne and Cognac Diamonds?
The brown-colored diamonds from the Argyle mine were given interesting names. Light yellow-brown to golden-brown stones were called "champagne diamonds." Darker orange-brown and reddish-brown stones were called "cognac diamonds." Fresh, attractive, scintillating, and inexpensive, the Argyle diamond jewelry immediately appealed to many customers.
When life gives you lemons, make lemonade. When a mine gives you brown diamonds, you can make your choice of champagne, cognac, or chocolate. :-)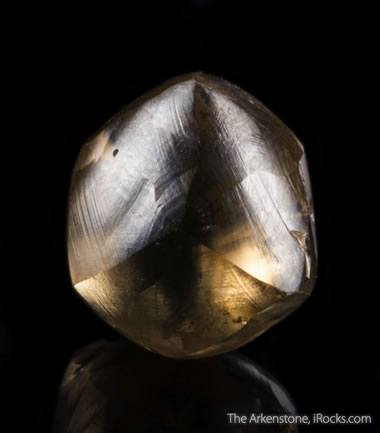 What Are Chocolate Diamonds?
In 2000, Le Vian, a jewelry design and manufacturing company, began acquiring Argyle diamonds in a limited range of brown colors. They called these gems "Chocolate Diamonds ®" and trademarked the name. Many of their "chocolate diamonds" were set in jewelry made from "Strawberry Gold ®" - a Le Vian gold alloy with a reddish color. Thirty years earlier these "Chocolate Diamonds ®" would have been made into cutting abrasives. Instead, they had become a diamond jewelry trademark.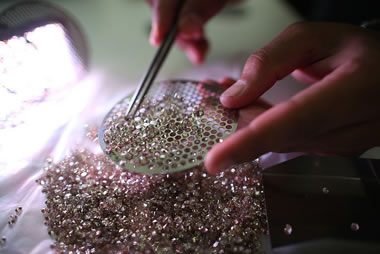 Cocoa, Coffee, Amber, Caramel, and Khaki Diamonds
Brown diamonds, because of their abundance, were probably the first diamonds to be used by people as gems. Jewelry set with brown diamonds has been found among the artifacts of ancient Rome and India. Today, people call them a variety of creative names that include "cocoa diamonds," "coffee diamonds," "amber diamonds," and "khaki diamonds." Other interesting names will likely be invented in the future.
Uses of Brown Diamonds
Brown diamonds have uses beyond those in the contemporary women's jewelry described above. The history of brown diamonds being used as a gem goes back for nearly 2000 years, perhaps longer. Rings set with brown diamond crystals were being made by Roman artists between the first and third centuries C.E. [2] At that time methods for cutting and polishing diamonds had not been developed, but setting a natural crystal in a ring was a good alternative.
For the company's first 100 years, De Beers considered brown diamonds to be unsuitable for use in jewelry. Brown diamonds mined by the company or purchased from other producers were sent for industrial use. Many of them were crushed and used to make industrial abrasive granules. The granules were used to line the cutting surfaces on diamond drill bits, grinding wheels, abrasive papers, saw blades and other tools.
Some of the larger brown diamonds, free of fractures and inclusions that would lower their durability, were used to manufacture specialty bearings or wear-resistant parts. Others were fashioned into dies used to manufacture wire. [2]
Brown diamonds are especially popular in men's rings, cuff links, earrings, watches, and other jewelry. They are attractive and cost less than colorless diamonds of the same size and clarity.
Today, brown diamonds from Argyle and other mines are appreciated around the world, especially in the United States fashion jewelry market. They are also gaining popularity among rising middle class consumers in China and India.
Brown Diamond Treatments
Brown diamonds are sometimes treated, but these treatments are usually done to convert them into diamonds of other colors. Brown diamonds owe their brown color to lattice imperfections thought to be a result of geologic forces applied to the diamonds at some time during their long history. High-temperature, high-pressure treatments have been used to convert many brown diamonds into attractive yellow or colorless diamonds. These diamonds are more valuable than brown but less valuable than natural, untreated diamonds of similar color and quality.
Author: Hobart M. King, Ph.D.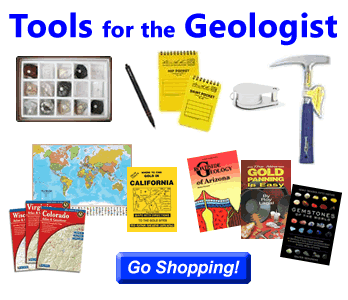 More From Geology.com:
| | |
| --- | --- |
| Minerals: Information about ore minerals, gem materials and rock-forming minerals. | Gemstones - Colorful images and articles about diamonds and colored stones. |
| Volcanoes - Articles about volcanoes, volcanic hazards and eruptions past and present. | Pictures of Opal - A collection of different types of opal from all around the world and Mars too! |
| Mineral Rights - Who owns the minerals under your land? Who wants to buy them? | Rock Tumblers - All about rock tumblers and rock tumbling. Read before you buy a tumbler. |
| | Tourmaline - an extremely colorful mineral and gem material. |