Home » Minerals » Diamond » Blue Diamonds
Blue Diamonds
Colored by boron that might have once been in Earth's ocean.
Author: Hobart M. King, Ph.D., GIA Graduate Gemologist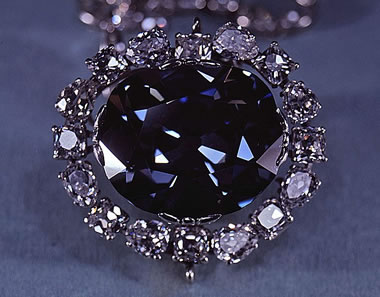 What Are Blue Diamonds?
Blue diamonds are diamonds with a blue bodycolor. Diamonds with a natural blue color are extremely rare and they usually have very few mineral inclusions. [1] Their rare color and their high clarity make them extremely valuable gems.
Only a few mines produce blue diamonds, and those mines normally produce just a few blue diamonds in any given year. Their blue color is usually caused by trace amounts of boron in the diamond crystal lattice. The Hope diamond, in the collection of the Smithsonian Institution, is the most famous example of a blue diamond.
There are two other sources of blue diamonds: 1) lab-grown diamonds manufactured by people; and, 2) natural diamonds that have been treated to produce a blue color. These blue diamonds are not considered to be rare and their values are only a small percentage of the prices paid for natural diamonds with a natural blue color.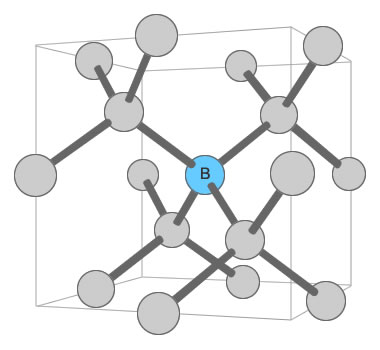 Causes of Blue Color
A diamond composed entirely of carbon atoms, without impurities or defects will be colorless. Defects in the diamond are what produces color. Causes of defects can be: A) other elements substituting for carbon; B) vacancies in the diamond crystal lattice caused by missing carbon atoms; C) particles of non-diamond mineral matter included in the diamond.
Blue bodycolor in natural diamonds is caused when a small number of boron atoms substitute for carbon atoms in the diamond crystal lattice. This rarely occurs because boron is usually not present where natural diamonds form in the deep Earth environment. [1] Large amounts of boron is not required to produce a blue color in diamond. A boron concentration of only one part per million can be enough to produce a blue color. [2] The more boron that substitutes for carbon, the stronger the blue color. [3]
Boron is one of just a few elements that have atoms small enough to enter the diamond crystal lattice and substitute for a carbon atom. But the boron atom is not a perfect fit; it has one less available electron than carbon. When boron substitutes for carbon in the diamond crystal lattice, the electron deficiency causes a defect in the diamond crystal structure. This defect changes how light passes through the diamond crystal. It causes the diamond to selectively absorb light in the red portion of the visible spectrum and selectively transmit light in the blue portion of the visible spectrum. When the transmitted light reaches the eye of a human observer the observer sees a blue diamond. [2]
The presence of boron in a diamond does not guarantee blue color. Small amounts of nitrogen in the diamond can produce defects that reduce the impact of boron-induced color. Diamonds with a rich blue color must contain very little nitrogen. Boron also does not guarantee a blue color. Blue color can also be associated with radiation exposure and hydrogen-related defects. [3]
Superdeep Origin of Blue Diamonds
For decades geologists have believed that virtually all diamonds found at Earth's surface formed from mantle materials at a depth of about 100 to 150 kilometers below Earth's surface. Then in 2018, a team of researchers surprised almost everyone when they found a number of blue diamonds that formed at pressures equivalent to depths of at least 410 to 660 kilometers and contained inclusions that could only have been derived from oceanic crust.
These diamonds were remarkable because: 1) They formed four times deeper than previously expected; 2) Inclusions in the diamonds were likely derived from crustal material that had subducted down to the transition zone of the lower mantle; and, 3) The boron that produced their blue color may have once been in the water of an ancient ocean! [1]
Although these ideas were surprising, they may provide a logical explaination as to why blue diamonds are found at only a small number of mines. These are mine locations where, when the diamonds were delivered to Earth's surface, the mines were positioned above a slab of oceanic crust that had been subducted - without melting - into the extreme depth of the lower mantle.
Famous Blue Diamonds
The Hope Diamond
The Hope Diamond is a 45.55-carat, antique cushion cut, Fancy Dark grayish blue diamond owned by the Smithsonian Institution. It has been in their collection and on almost continuous public display since 1958. It has an estimated value of between $200 and $250 million. [4]
The diamond has always been a primary attraction at the Smithsonian, and it is the most popular exhibit of the Smithsonian's gem collection. That attention, and a storied history that can be traced back to 1653, has made the Hope Diamond the best-known gemstone of all time.
Blue Moon of Josephine
The Blue Moon of Josephine is a 12.03-carat, cushion-shape, Fancy Vivid blue diamond. It was sold at a Sotheby's auction in Hong Kong in 2015 for $48.4 million. It was cut from rough found at the Cullinan Mine in South Africa in 2014. [5]
David Bennett, head of the international jewelry division at Sotheby's, said the Blue Moon auction broke multiple records. It was "the most expensive diamond, regardless of colour, and the most expensive jewel ever sold at auction". [6]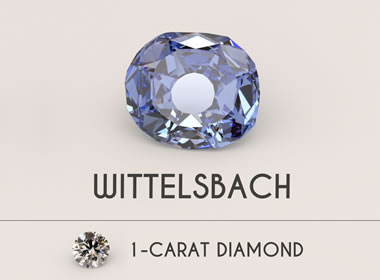 The Wittelsbach / Wittelsbach-Graff Diamond
This blue diamond has one of the longest and most interesting histories in gemology. Known as Der Blaue Wittelsbacher, it was a faceted 35.56-carat grayish-blue diamond with wonderful clarity. The diamond is believed to have been cut from rough mined at one of the Kollur Mines of India in the 1600s. King Philip IV of Spain acquired it and gave it to his daughter Margarita Teresa in 1664. In her possession, and through marriage, it passed through the crown jewels of Austria and Bavaria. [7]
The Royal House of Wittelsbach offered the diamond for sale through Christie's of London in 1931, but it failed to reach its reserve price. [8] It later entered private ownership and its whereabouts were unknown for decades. Then in 2008, it was purchased by Laurence Graff, a billionaire diamond dealer, for $23.4 million - the highest price ever paid at auction for a diamond at that time.
Graff then shocked the diamond industry by having the diamond recut. He then renamed it the Wittelsbach-Graff Diamond. Those deeds earned Graff severe public criticism. One museum director said it was like "painting over a Rembrandt - in a reckless effort to increase its market value". [9]
Cutting the gem removed 4.45 carats of weight. Cutting also: 1) improved its GIA color grade from Fancy Deep greyish-blue to Fancy Deep blue, 2) improved its clarity grade from VS2 to internally flawless [10], 3) removed some chips and abrasions caused by wear, and, 4) helped Graff sell the then-named Wittelsbach-Graff Diamond for at least $80 million.
The grading certificate of the diamond is now exemplary, but a stone of great historic value was permanently changed. There are a diversity of opinions on the outcome, but Graff enjoyed an enormous profit.
Important Blue Diamonds from Golconda, India

Name
Polished Carat Weight
Color
Idol's Eye
70.21
Fancy Light blue
The Hope Diamond
45.52
Fancy Dark grayish blue
Tereschenko or Mouawad Blue
42.92
Fancy blue
Crown of Charlemagne
37.05
Fancy Light blue
Sultan of Morocco
35.27
Fancy grayish blue
Wittelsbach-Graff
31.06
Fancy Deep blue
Brunswick Blue
13.75
Fancy blue
Diamonds listed above are from the Important Blue Diamonds of the World list compiled by Petra Diamonds. [11]
Mines Known to Produce Blue Diamonds
Very few mines produce blue diamonds, and most of the important blue diamonds known to exist have come from a small area in India, the Cullinan mine of South Africa, and the Argyle mine of Western Australia.
Diamonds with a natural blue color have been known since the 1600s. In those early days, all of the blue diamonds known to be produced were found in the Golconda Sultanate of India. That area is within the present-day Indian states of Telangana and Andhra Pradesh. The large pieces of blue rough used to cut the now-named Hope and Wittelsbach-Graff diamonds were found in the diamond mines of that area.
Important Blue Diamonds from Cullinan Mine

Name
Polished Carat Weight
Color
The Cullinan Dream (produced 4 stones)
24.18; 11.3; 10.3; 7
Fancy Intense blue; unknown; Fancy blue; Fancy blue
Cornflower Blue Diamonds 1 & 2
31.93; 12.39
Fancy blue
The Blue Heart
30.62
Fancy Deep blue
Blue Lili
30.06
Fancy Intense blue
The Heart of Eternity
27.64
Fancy Vivid blue
Transvaal Blue
25.00
Fancy blue
Sam Abram Fancy Blue diamond
20.17
Fancy Vivid blue
Graff Blue Ice Diamond
20.02
Fancy Deep blue
The Oppenheimer Blue
14.62
Fancy Vivid blue
The Blue Empress
14.00
Fancy blue
The Begum Blue
13.78
Fancy Deep blue
The Blue
13.22
Fancy Vivid blue
The Blue Magic
12.02
Fancy Vivid blue
The Blue Moon of Josephine
12.00
Fancy Vivid blue
Bulgari Blue
10.95
Fancy Vivid blue
The Star of Josephine
7.03
Fancy Vivid blue
Diamonds listed above are from the Important Blue Diamonds of the World list compiled by Petra Diamonds. [11]
The world's most significant source of blue diamonds has been the Cullinan Diamond Mine in South Africa. The mine began producing diamonds in 1902 and through most of its history was operated by De Beers. The mine was originally known from its founding in 1902 as the Premier Mine, but De Beers changed the name to Cullinan in 2003. It is currently owned and operated by Petra Diamonds. Through its history, the Cullinan mine has produced small amounts of blue diamond with occasional pieces of blue rough weighing over 100 carats. Most of the rough blue diamonds of 20 carats or more produced within the last 100 years were from Cullinan.
The Argyle Mine, owned by Rio Tinto and located in Western Australia, has been the largest diamond-producing mine in the world on the basis of volume. It is best known for producing a small but steady supply of red and pink diamonds and an abundance of brown diamonds. Argyle produces a very small amount of blue diamonds. In 2009 they offered their "Once in a Blue Moon" collection for sale. It included 287 carats of blue and and violet diamonds that the company had accumulated over a span of several years.
Two significant blue diamonds from other sources include: The Copenhagen Blue, a 45.85-carat Fancy blue, was cut from rough produced from the Jagersfontein Mine of South Africa; and, the Graff Imperial Blue, a 101.5-carat Fancy Light blue, was cut from rough produced from the Aredor Mine of Guinea.
Blue Diamond Information
[1] Where Do Blue Diamonds Come From? by Evan M. Smith, article on the Gemological Institute of America website, accessed December 2018.

[2] An Update on Color in Gems. Part 3: Colors Caused by Band Gaps and Physical Phenomena: by Emmanuel Fritsch and George R. Rossman; an article in Gems & Gemology, Summer 1988, pages 81 to 102.

[3] Natural-Color Blue, Gray, and Violet Diamonds: Allure of the Deep: by Sally Eaton-Magaña, Christopher M. Breeding, and James E. Shigley; an article in Gems & Gemology, Summer 2018, pages 112 to 131.

[4] Hope Diamond: Article on Wikipedia.org, last accessed December 2018.

[5] The Rarest of the Rare: Multimillion-Dollar Blue Diamonds: by Sotheby's, article on the Sotheby's website, December 7, 2018. Last accessed December 2018.

[6] Billionaire buys 7-year-old daughter Blue Moon diamond for record $48m: by Agence France-Presse, article on The Guardian website, November 12, 2015. Last accessed December 2018.

[7] Out of the Blue, Prestige and Riches: by Guy Trebay, article on The New York Times website, January 6, 2010. Last accessed December 2018.

[8] Worn by royalty, sold by Christie's: by Vincent Meylan, article on the Christie's website, November 4, 2016. Last accessed December 2018.

[9] Graff accused of 'painting over a Rembrandt' by gemologists: by Laura Roberts, article on the Telegraph website, January 29, 2010. Last accessed December 2018.

[10] The Wittelsbach; All tarted up and ready to sell: by Richard W. Wise, post on The GemWise Blog, 2010. Last accessed December 2018.

[11] Important Blue Diamonds of the World: List compiled by Petra Diamonds, .pdf document on the PetraDiamonds.com website, July 2017. Last accessed December 2018.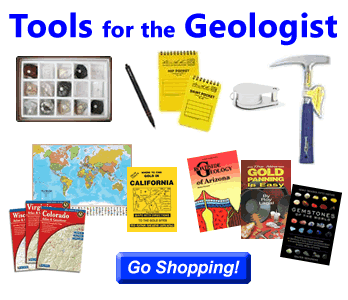 Find Other Topics on Geology.com:
| | |
| --- | --- |
| Rocks: Galleries of igneous, sedimentary and metamorphic rock photos with descriptions. | Minerals: Information about ore minerals, gem materials and rock-forming minerals. |
| Volcanoes: Articles about volcanoes, volcanic hazards and eruptions past and present. | Gemstones: Colorful images and articles about diamonds and colored stones. |
| General Geology: Articles about geysers, maars, deltas, rifts, salt domes, water, and much more! | Geology Store: Hammers, field bags, hand lenses, maps, books, hardness picks, gold pans. |
| | Diamonds: Learn about the properties of diamond, its many uses, and diamond discoveries. |