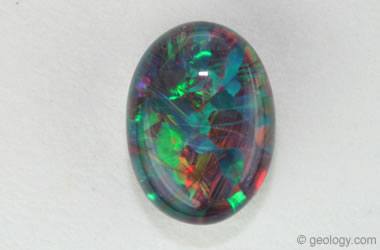 A Diversity of Gems from Idaho
Idaho's nickname is "The Gem State." It has a long history of producing a variety of gem materials. The most important gems produced to date have been garnet and opal. Notable amounts of jade, topaz, zircon, and tourmaline have also been found in Idaho. Agate, jasper, and petrified wood in many colors and patterns have been found and produced from small deposits in many parts of the state.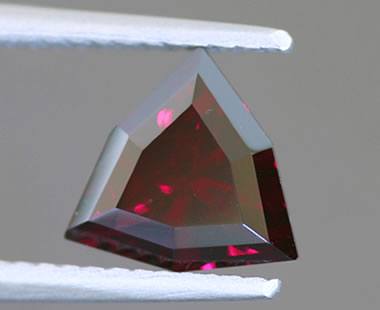 Idaho Garnet
Garnet in Idaho is found in pegmatites, garnetiferous schists, mica schists, and other metamorphic rocks. It can be removed from these rocks or found in the soils that have formed above them. However, most of the garnets that have been produced in Idaho have been from the sands and gravels of placer deposits. This is where they can be most easily produced.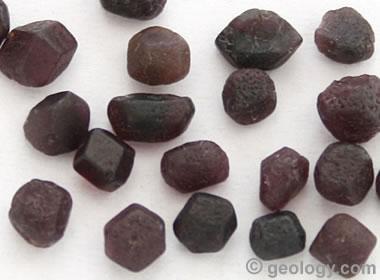 Garnet Abrasives
People have been searching the stream gravels of Idaho for garnets since the late 1800s, but commercial production did not begin until the early 1940s. At that time, thin gravel layers in the sediments along Emerald Creek, Carpenter Creek, and Meadow Creek in the Idaho panhandle were being mined for garnet abrasive.
The gravel layers containing the garnet were only a few feet thick, but they consisted of up to 15% almandite garnet by weight. The garnets ranged from sand-sized up to over two inches in diameter. They were being weathered from mica-garnet schist in the upper part of the drainage basins.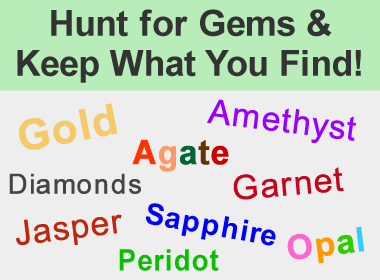 Most of the garnets in these sediments were not gem quality. They were mined and crushed to produce garnet abrasive granules. At some operations, gem-quality stones were picked out by hand before crushing. The deposits were worked from the 1940s through the 1980s and were an important source of industrial garnet in the United States at that time. Today, most abrasive granules used in industry are manufactured materials rather than natural materials. It is unlikely that garnet mining for abrasive use will return to Idaho in the future.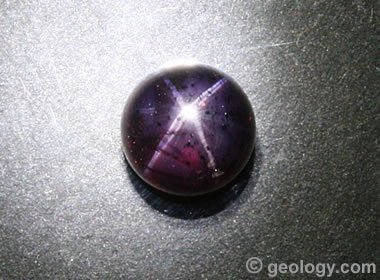 Gem-Quality Garnet
Gem-quality garnets have been found in the sediments of many Idaho streams. They are mostly deep red almandite and purplish red almandite-spessartite.
The most interesting surprise was the discovery of star garnets. These purplish red almandite garnets contain fine rutile needles that produce four-ray stars or six-ray stars when the rough is properly oriented and cut into cabochons. Cutting the garnets to properly produce a star is not easy, and only highly skilled cutters are able to consistently produce them with a nicely centered star.
Star garnets are extremely rare. India and Idaho are the two most famous star garnet localities and the only places where they have been produced in commercial quantities. Small amounts of star garnets have also been found in Russia, Brazil, and North Carolina.
It is highly unlikely that you will ever find a star garnet for sale in a mall jewelry store. Because of their rarity, they are almost never placed in commercial jewelry and most jewelry buyers do not know they exist. Most of the star garnets found go into gem collections, mineral collections, and custom jewelry.
Idaho is the most likely place for you to find a star garnet being offered for sale in jewelry. In 1967, the Idaho Legislature designated star garnet as the official state gemstone. This has given the gem a some local popularity and they can occasionally be found for sale at a lapidary show or a specialty jewelry stores.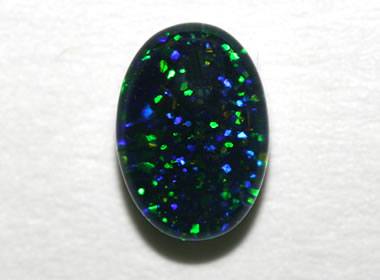 Idaho Opal
Opal has been found at many locations in Idaho, and mines there have produced it since the early 1900s. Most of the production has been from small mining operations and open cuts worked by two or three people. There have also been a few fee mining locations where individuals can pay a fee, search for opal, and keep any that they find.
Today, commercial opal production in Idaho occurs at a few locations near the town of Spencer. The largest producer is Spencer Opal Mines. They mine precious opal and sell rough and cut stones. They also have an area where visitors can search through material trucked in from their mine and keep any opals that they find.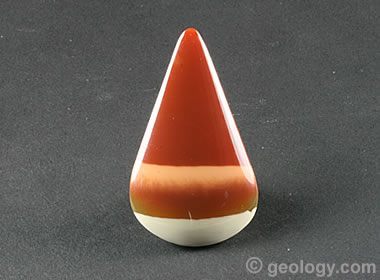 Idaho Jasper
Jasper has been found in many locations in Idaho. Some of them have become popular enough to be widely known. These include Owyhee, Willow Creek, Graveyard Point Plume, and Prudent Man Jaspers.
The most famous jasper from Idaho is Bruneau Jasper, mined in Bruneau Canyon in Owyhee County. Its typical color range is from brown to brownish cream and red to reddish cream, marked with sweeping curves and ovals. The jasper precipitated within the gas cavities, fractures, and breccia voids of several rhyolite flows. It is very colorful and nicely patterned. It is not unusual to see slabs the size of a person's hand sell for $100 or more.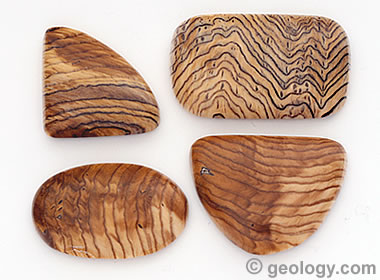 Petrified Wood
Petrified wood is found at many locations in Idaho. The Idaho Department of Lands reports silicified wood occurrences in Custer, Gem, Lincoln, Owyhee, and Washington Counties, with occurrences of opalized wood in Boundary, Gem, Gooding, Latah, and Owyhee Counties. You can view their gemstone guides here and here.
The Virtual Petrified Wood Museum has an article with nice photos describing Bruneau Woodpile, a location where collecting is possible. Bruneau Woodpile is a unique deposit because the wood is mineralized by apatite! The deposit is of Miocene/Pliocene age and contains a diversity of wood species, including both hardwoods and conifers. The article includes directions to the deposit and collecting suggestions.
Hunt For Gems - Keep What You Find!

There are over 100 mines in the United States where anyone can visit, pay a small fee, look for gems and minerals, and keep what they find. For a large list of these mines, visit our
Fee Mining Page.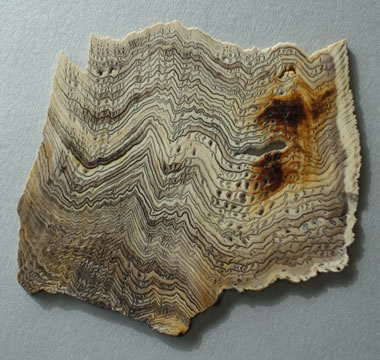 Rockhounding in Idaho
There are many locations in Idaho where you can look for rocks, minerals, fossils and gems. The most popular is searching on Bureau of Land Management (BLM) areas. Although BLM does not have any specially designated rockhounding areas in the state, you can obtain maps showing areas where collecting can be done at one of their twelve field offices in the state. They also publish rules for collecting on BLM lands in their Rockhounding in Idaho (a .pdf download) pamphlet.
There are four fee mining sites in Idaho, where you can pay a small fee, look for gems or gold and keep what you find. There are two sites for gold, one for star garnet and one for opal. You can see a map of fee mining sites in Idaho and other states here.
Numerous gem, rockhounding and general geology guides have been published for Idaho. Some of the more popular are: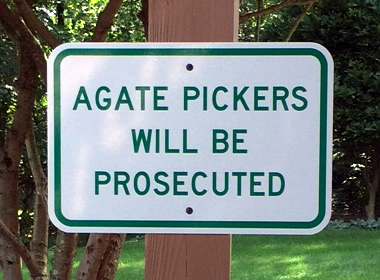 Going to Jail for Collecting Rocks?
Finally, before you go out to collect rocks, minerals, fossils, gems or any other material, you need to know the rules for collecting on private and public land. For collecting in Bureau of Land Management property, you should get in touch with the BLM field office as explained above. For collecting on private property, you will need permission from the landowner. For collecting in other areas, you will need permission from the person or organization in charge of the land.
Taking a few common rocks from private property without landowner permission is a crime known as "larceny" and you can get in trouble for it. Taking a lot of rocks from their property or a few very valuable rocks can be a crime known as "grand larceny" and you can go to jail for it. Remove the wrong type of fossil or cultural artifact from government land, and you can go to jail for a long time. Many people have learned this the hard way. For more information please see our article Legal Aspects of Rock, Mineral, and Fossil Collecting by Timothy J. Witt, J.D.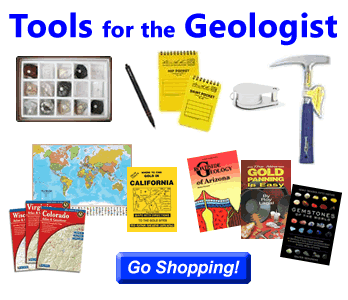 Find Other Topics on Geology.com:
| | |
| --- | --- |
| Rocks: Galleries of igneous, sedimentary and metamorphic rock photos with descriptions. | Minerals: Information about ore minerals, gem materials and rock-forming minerals. |
| Volcanoes: Articles about volcanoes, volcanic hazards and eruptions past and present. | Gemstones: Colorful images and articles about diamonds and colored stones. |
| General Geology: Articles about geysers, maars, deltas, rifts, salt domes, water, and much more! | Geology Store: Hammers, field bags, hand lenses, maps, books, hardness picks, gold pans. |
| | Diamonds: Learn about the properties of diamond, its many uses, and diamond discoveries. |