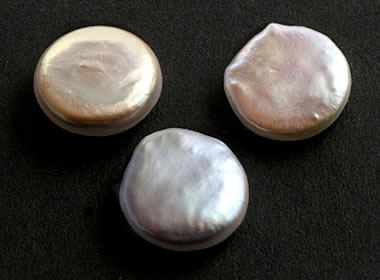 Pearl Use by Native Americans
Native Americans in what is now the eastern and central United States began using freshwater pearls and shells as adornments over 1000 years ago. Both men and women wore pearl pendants and earrings. They also used pearls and pieces of shell to adorn their clothing.
The Shell and Pearl Industry
By the 1850s a few companies began producing shell buttons from freshwater mussels, and a new industry was born. The freshwater mussel fishing industry produced shell for buttons and other objects, mother of pearl for decorative use, and freshwater pearls as a byproduct. This industry persisted until the late 1940s, when plastic buttons swiftly displaced shell buttons and the market for shell products collapsed.
The shell products industry began a revival in the 1950s when Japanese cultured pearl producers began buying seed nuclei from a small number of producers in the United States. Mother of pearl and freshwater pearl production continued as byproducts of seed nucleus manufacturing.
Hunt For Gems - Keep What You Find!

There are over 100 mines in the United States where anyone can visit, pay a small fee, look for gems and minerals, and keep what they find. For a large list of these mines, visit our
Fee Mining Page.
Cultured Freshwater Pearls
In the 1960s and 1970s, a few small cultured freshwater pearl farms were launched in Tennessee and California. The start of this industry coincided with a rise in popularity of pearl jewelry in the United States. Cultured freshwater pearls were available in a variety of shapes, sizes, and colors, and were accepted by many consumers.
Tennessee has been the leading state for cultured freshwater pearl production since the 1960s. Enough pearls are produced there to make Tennessee one of the top ten gemstone-producing states on the basis of value since the 1970s.
Today the American Pearl Company is the only producer of freshwater cultured pearls in the United States. They produce cultured pearls in a wide variety of shapes and colors. Their "fancishapes" include marquis, teardrop, bar, navette, cabochon, triangle, and, the most popular, coin. A photo of three coin-shaped pearls in different colors is shown at the top of this page.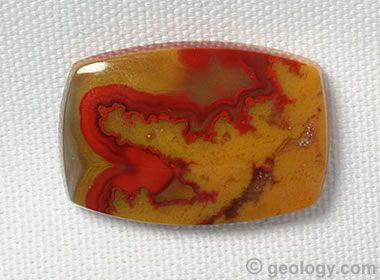 Tennessee Agate
Most people don't think of Tennessee when they think of agate, but some of the most interesting agates in the United States are found in Tennessee. "Paint Rock" Agate is the most famous. It occurs in a wide variety of colors, patterns, and appearances. The most common are swirls and bands of red, yellowish brown, and a clear, slightly milky agate.
Perhaps the most interesting is a nearly transparent variety that has floating red beads within (see photos). Tennessee Paint Rock Agate was named the official state stone by the Tennessee Legislature in 1969.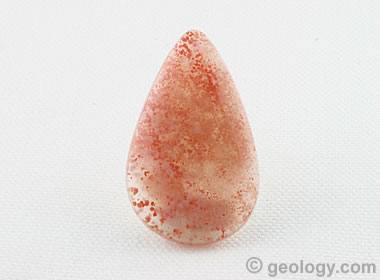 There are many collecting sites in Tennessee. A few of them include Dripping Stone, Greasy Cove, Greenhaw, and Mokay in Franklin County; and, Heartbreak, Saw Mill, and Strawberry in Grundy County. All of these are on private property and most are not open to collectors.
Another famous agate from Tennessee is the rare iris agate found at Horse Mountain. Iris agate is a translucent, nearly transparent material with very fine bands. When a beam of light passes through the agate, it encounters the edges of the tiny bands. The edges of the bands disrupt the passage of light, breaking the light into separate rays which take separate paths through the agate. The bands in the agate act as a natural diffraction grating, diffracting the light and producing a bright display of spectral colors.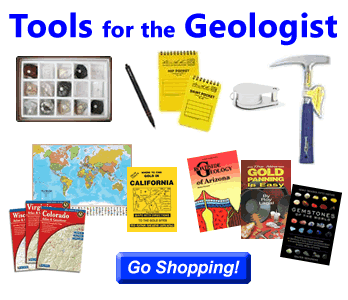 Find Other Topics on Geology.com:
| | |
| --- | --- |
| Rocks: Galleries of igneous, sedimentary and metamorphic rock photos with descriptions. | Minerals: Information about ore minerals, gem materials and rock-forming minerals. |
| Volcanoes: Articles about volcanoes, volcanic hazards and eruptions past and present. | Gemstones: Colorful images and articles about diamonds and colored stones. |
| General Geology: Articles about geysers, maars, deltas, rifts, salt domes, water, and much more! | Geology Store: Hammers, field bags, hand lenses, maps, books, hardness picks, gold pans. |
| | Diamonds: Learn about the properties of diamond, its many uses, and diamond discoveries. |