Home » Gemstones » Opal » Common Opal
Common Opal Occurs in a Spectrum of Colors
Don't allow the name "common" to fool you. Common opal is uncommonly colorful.
Author: Hobart M. King, PhD, GIA Graduate Gemologist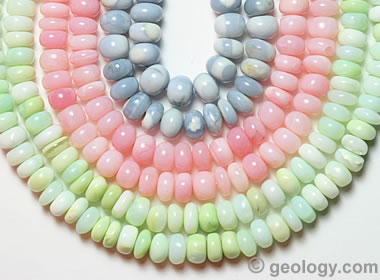 What is Common Opal?
"Common opal," sometimes known as "potch", is a variety of opal that does not exhibit the flash and "play-of-color" seen in precious opal. However, common opal occurs in a variety of beautiful colors that includes a range of wonderful pastels. Common opal is found in a greater range of colors than most other gems.
At present and in the past, common opal is not often seen in commercial or designer jewelry. That is because it is not widely known and supplies can be limited. If any gem is underappreciated, common opal is it. But, that comes with a bonus. Common opal is not extremely expensive. Beautiful pieces can be purchased for prices that anyone can afford.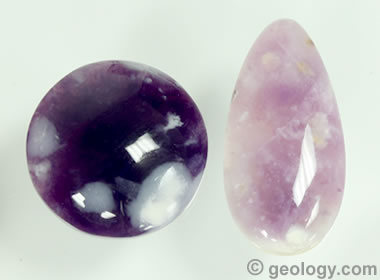 Geologic Occurrence
Common opal is found in many of the same environments as precious opal. It is often found associated with volcanic activity - especially ashfalls. It is also commonly found in sedimentary rocks underlying areas with an arid climate. There, the minimal rainfall dissolves silica during infiltration and deposits it at depth in fractures and cavities.
Most deposits of common opal are of limited geographic extent and volume. At the present time, none are large enough for highly mechanized mining. Many are so small that a team or a family of just a few people can work them out in a few field seasons or less.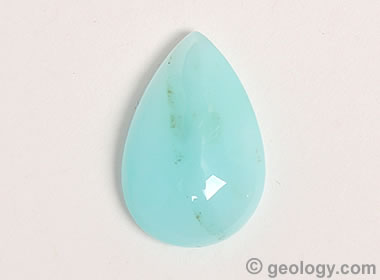 Geographic Distribution
Small deposits of common opal are numerous and found throughout the world. Most of these contain opal of uninteresting colors such as off-white or tan. But, small deposits of common opal of wonderful color are produced today in the areas listed below.
Peru is known for its common opal in pastel colors of pink, blue and green. These are often cut into tiny beads and cabochons.
Oregon has produced beautiful common opal in blue, pink and yellow. Much of the petrified wood found under Oregon's volcanic ashfalls is opalized wood.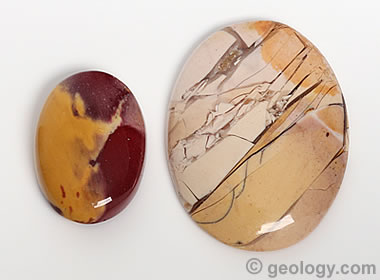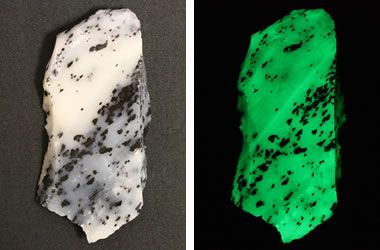 Fluorescent Common Opal
Most opal will fluoresce weakly under an ultraviolet lamp. However, some specimens are strongly fluorescent. One locality that yields opal with very strong fluorescence is Virgin Valley, Nevada, from which many specimens will glow with a spectacular green fluorescence.
The cause of this fluorescence has been attributed to the presence of small amounts of uranium in the opal. In the 1950s, the United States Geological Survey sampled rocks throughout the Virgin Valley area and found that many of them, including some of the opals, were uraniferous. Most specimens contained trace amounts of uranium, but some specimens contained up to 0.12 percent uranium by weight. The USGS study is: Virgin Valley Opal District, Humboldt County, Nevada, by M.H. Staatz and H.L. Bauer, United States Geological Survey Circular 142, 1951.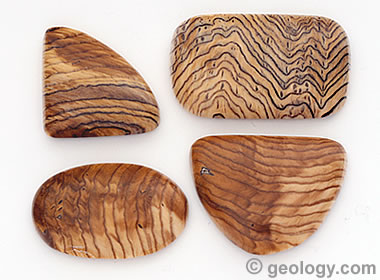 Opalized Wood
When wood is petrified, the cell walls are replaced by a mineral or mineraloid, and the cell cavities are usually infilled by the same material. The most common replacement / infilling material is a form of microcrystalline quartz known as chalcedony. Chalcedony is the material that preserved much of the wood in the world-famous Petrified Forest of Arizona.
Less often, the replacement material is opal. Petrified wood of this type is referred to as opalized wood. Wood replaced by chalcedony can be separated from wood replaced by opal using a few common tests, or it can be sent to a laboratory for positive identification. The diagnostic tests include Mohs hardness, specific gravity, and spot refractive index. Separating values are shown in the table below.
| | | |
| --- | --- | --- |
| | Chalcedony | Opal |
| Mohs Hardness | 6.5 to 7 | 5 to 6.5 |
| Specific Gravity | 2.58 to 2.62 | 2.1 to 2.2 |
| Spot Refractive Index | 1.53 to 1.54 | 1.43 to 1.46 |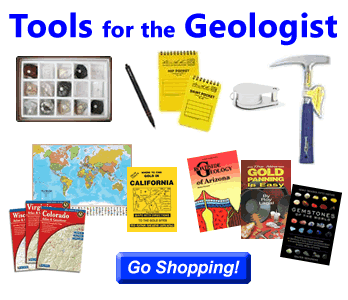 Find Other Topics on Geology.com:
| | |
| --- | --- |
| Rocks: Galleries of igneous, sedimentary and metamorphic rock photos with descriptions. | Minerals: Information about ore minerals, gem materials and rock-forming minerals. |
| Volcanoes: Articles about volcanoes, volcanic hazards and eruptions past and present. | Gemstones: Colorful images and articles about diamonds and colored stones. |
| General Geology: Articles about geysers, maars, deltas, rifts, salt domes, water, and much more! | Geology Store: Hammers, field bags, hand lenses, maps, books, hardness picks, gold pans. |
| | Diamonds: Learn about the properties of diamond, its many uses, and diamond discoveries. |