Home » Rocks » Granite » Uses of Granite
Uses of Granite
Countertops, tile, curbing, dimension stone, curling stones, gemstones and more.
The Stone With a Diversity of Uses
People have used granite for thousands of years. It is used as a construction material, a dimension stone, an architectural stone, a decorative stone, and it has also been used to manufacture a wide variety of products.
Granite is used in buildings, bridges, paving, monuments, and many other exterior projects. Indoors, polished granite slabs and tiles are used in countertops, tile floors, stair treads and many other design elements. Granite is a prestige material, used in projects to produce impressions of elegance and quality. Some interesting and common uses of granite are shown in the photo collection below.
What is "Granite"?
The definition of "granite" varies. A geologist might define granite as a coarse-grained, quartz- and feldspar-bearing igneous rock that is made up entirely of crystals. However, in the dimension stone trade, the word "granite" is used for any feldspar-bearing rock with interlocking crystals that are large enough to be seen with the unaided eye. By this classification, rocks such as anorthosite, gneiss, granite, granodiorite, diabase, monzonite, syenite, gabbro and others are all sold under the trade name of "granite."
| | | | |
| --- | --- | --- | --- |
| Black Granite | White Granite | Green Granite | Blue Granite |
| Grey Granite | Red Granite | Pink Granite | Brown Granite |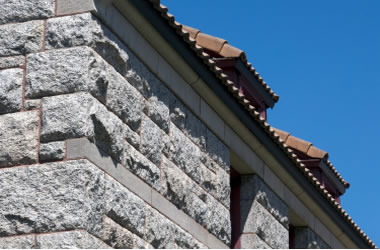 Azurite Granite as a Gemstone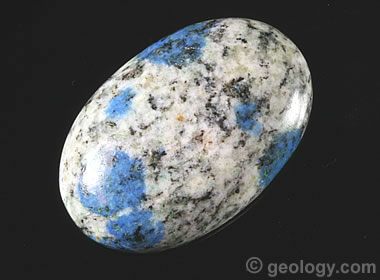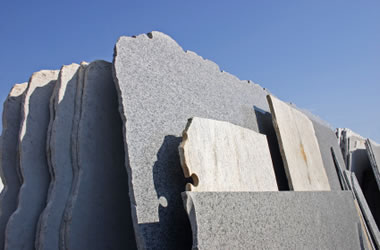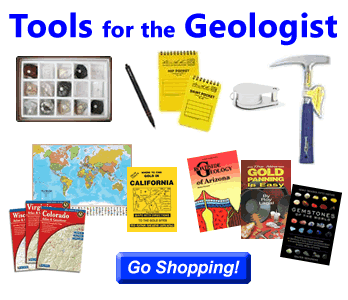 Find Other Topics on Geology.com:
| | |
| --- | --- |
| Rocks: Galleries of igneous, sedimentary and metamorphic rock photos with descriptions. | Minerals: Information about ore minerals, gem materials and rock-forming minerals. |
| Volcanoes: Articles about volcanoes, volcanic hazards and eruptions past and present. | Gemstones: Colorful images and articles about diamonds and colored stones. |
| General Geology: Articles about geysers, maars, deltas, rifts, salt domes, water, and much more! | Geology Store: Hammers, field bags, hand lenses, maps, books, hardness picks, gold pans. |
| | Diamonds: Learn about the properties of diamond, its many uses, and diamond discoveries. |