Diamonds in Canada?


Throughout the 20th century most people would never have thought about Canada being an important producer of diamonds. [1] Most people's knowledge of diamonds was fixed on mining operations in Africa and diamond trading centers in Europe.

All of this started to change in 1991 when two geologists, Chuck Fipke and Stewart Blusson, found evidence of diamond-bearing Kimberlite pipes about 200 miles north of Yellowknife, Northwest Territories. One of these pipes would soon be developed by BHP Billiton into the EKATI Diamond Mine, which produced Canada's first commercial diamonds in 1998.



Canada: A Major Diamond Producer


The EKATI discovery launched one of the most intense mineral prospecting rushes in the history of North America. Thousands of prospectors travelled to the Canadian North and it was reported that lumber companies sold out of wood used for staking claims!

By 2006, three major mines were producing over 13 million carats of gem diamonds per year and Canada was the third largest producer of diamonds in the world. [2] The activity associated with the production of diamonds brought billions of dollars in commerce to the economy of the Canadian North.



Related: What Countries Produce Gem Diamonds?

The Attraction of Canadian Diamonds


Canadian diamonds have been very successful in the marketplace. They are high quality diamonds that have been very popular in the Canadian gemstone and jewelry markets where people are excited to support the diamond industry of their own country. Most of the rough has been exported because only a small number of diamond cutters in Canada are able to produce finished stones.

Many diamonds that have been mined and cut in Canada are documented and have their certificate number laser-inscribed on their girdle along with a trade logo such as a maple leaf, polar bear, CanadaMark symbol, or the words "Ice on Fire". This inscription assures consumers of their diamond's origin, connects it to the certificate and has been a very successful marketing feature.

Canadian diamonds also appeal to people who are concerned about environmental and human rights issues. They are produced from diamond mines that have some of the world's highest environmental standards. In addition, the proceeds of the mines go to legitimate companies instead of groups who have obtained the diamonds through forced labor, theft or other exploitation. The certification process allows the stones to be tracked from mine through manufacturing, wholesaling and to the retail consumer.



Related: What are "Conflict Diamonds"?



Compared to rough produced in other parts of the world the diamonds produced from Canadian mines are very high quality which supports a high average price per carat. This is good news for mining companies. BHP Billiton reports that their EKATI mine supplies about 3% of world production on the basis of carat weight but 11% of world production on the basis of value. [3]



EKATI Diamond Mine


The EKATI Diamond Mine is Canada's original diamond mine. It was opened in 1998 by BHP Billiton, Canada, Inc. It was initially an open pit mine but mining has moved underground as the surface mineable ore was depleted. EKATI is located about 200 miles north of Yellow Knife, Northwest Territories and about 100 miles south of the Arctic Circle. Diamonds from the mine are sold under the Aurias trade name and verified through the CanadaMark service.



Diavik Diamond Mine


Diavik was the second diamond mine in Canada to produce diamonds. It is owned by the Harry Winston Diamond Corporation and Diavik Diamond Mines Incorporated. It is located about 200 miles north of Yellowknife, Northwest Territories and about 120 miles south of the Arctic Circle. The pipes being mined were originally on the bottom of Lac De Gras and were discovered by drilling through the ice. To mine the pipes a dike was built around them and the water was pumped out. Open pit mining then began on the lake bottom. Production is moving underground as the surface mineable ore is depleted. [4]



Jericho Diamond Mine


The Jericho Diamond Mine was the third diamond mine in Canada and the first in Nunavut territory. It is located about 250 miles northeast of Yellowknife, Northwest Territiries. The mine was opened by Tahera Diamond Corporation and produced diamonds from 2006 to 2008 but the company lost money. In 2010, Shear Minerals, Ltd. acquired the property with the intent of bringing the mine back into production.



Related: Diamond Mining in the United States

Snap Lake Diamond Mine


Canada's fourth diamond mine was the Snap Lake Mine, located about 150 miles northeast of Yellowknife, Northwest Territories. The mine is owned by De Beers and it was their first mining operation outside of Africa. It was Canada's first completely underground diamond mine. Instead of mining a vertical pipe the mine follows a kimberlite dike about 2.5 meters thick that slopes down under Snap Lake at an average dip of about 12 to 15 degrees. The first commercial production at Snap Lake was in 2008. [5]



Victor Diamond Mine


The fifth Canadian diamond mine was the Victor Diamond Mine located in Ontario about 50 miles west of Attawapiskat. It is an open pit mine owned by De Beers and was the first diamond mine in Ontario. Mining occurs in one of sixteen diamondiferous kimberlite pipes on the property. [6]



Gahcho Kué Diamond Mine (Pre-Production)


The Gahcho Kué diamond project is located about 170 miles northeast of Yellowknife, Northwest Territories. It is a joint venture between Mountain Province Diamonds and De Beers Canada. They propose to mine three kimberlite pipes located beneath Kennady Lake. [7] Gahcho Kue is expected to begin production in the second half of calendar year 2016.



Canadian Diamond Challenges


The diamond mines in Canada face a number of challenges not face by competing mines in other parts of the world. The first problem is their very remote location. The mines can only receive overland freight during a short "ice road" season that might last between six and ten weeks. Any supplies not delivered in that limited time window must be delivered by air. The mines must also have housing and full facilities for all of their employees because they are all located away from towns or settlements where employees could be housed. These serve as logistical and economical disadvantages for these mines.

A second problem is the cost of labor. Wages in African mines and Indian cutting facilities are very low compared to the wages paid to mining and manufacturing employees in Canada.

A third problem is the fact that the open pit mines are being depleted and continued work in the ore body requires underground mining - which costs about 50% more per ton of ore produced.



Related: How Do Diamonds Form?

Canadian Diamond Opportunities


Canadian diamond mines enjoyed enormous success in their first decade. Much of that success was supported by rich ores, containing high quality diamonds that could be produced by open pit mining. The diamonds produced by these mines were favored by consumers who value stones produced from mines that are environmentally responsible and conflict free.

Although exploration for new deposits continues the pace has dropped dramatically from the original boom. New discoveries in Alberta, British Columbia, Northwest Territories, Nunavut, Ontario and Quebec are being evaluated and some of them might be developed into profitable new mines.

Contributor: Hobart King



Find it on Geology.com

More from Geology.com
| | |
| --- | --- |
| 100+ Gems - Photos of over 100 beautiful gems ranging from the popular to the obscure. | |
| | Olivine Rain? Spitzer Telescope discovered a rain of olivine crystals on protostar HOPS-68. |
| Fee Mining sites are mines that you can enter, pay a fee, and keep anything that you find. | Gemstones: Fantastic images and articles about colored stones and diamonds. |
| Petrified Wood is a fossil that forms when dissolved material precipitates and replaces wood. | Wrong Volcano! The most powerful eruption of the 20th century was misidentified? |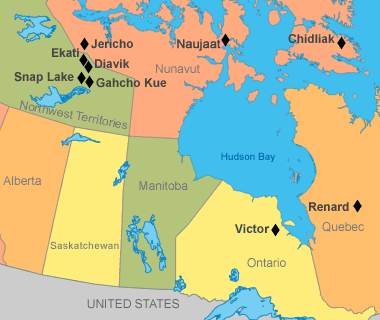 Map of Canadian diamond mines showing the approximate location of the five existing mines and the Gahcho Kue project. View a larger map. Map by Geology.com and MapResources.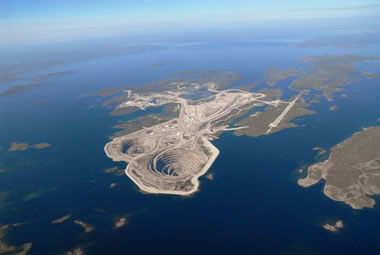 Aerial photograph of the Diavik Diamond Mine located in the North Slave Region of Canada's Northwest Territories. Diavik was the second diamond mine to open in Canada, producing its first diamonds in 2003. The pipes being mined were originally exposed on the bottom of Lac de Gras. Dikes were built around the pipes and the area to be mined was dewatered by pumping. This created an island which now allows mining below the level of the surrounding lake. Photo Courtesy of The Diavik Diamond Mine.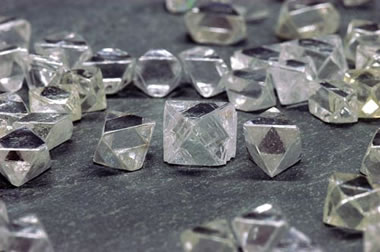 Octahedral diamond crystals from the Diavik Mine. The mine is well known for its large diamonds of exceptional quality. Photo Courtesy of The Diavik Diamond Mine.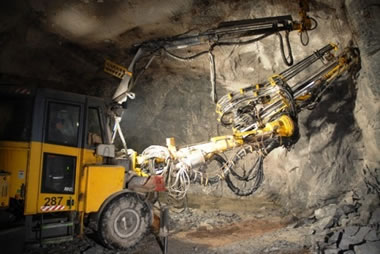 In September 2012, surface mining at the Diavik Mine was completed and production moved to underground. Photo Courtesy of The Diavik Diamond Mine.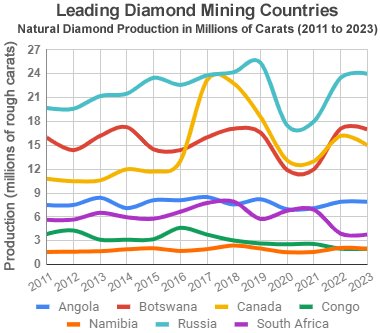 Graph showing the production history of selected gem-quality diamond producing countries. This graph shows Canada holding its position as the third most important diamond producer on the basis of carats. Values for 2014 are estimated. Graph by Geology.com. Data from USGS Mineral Commodity Summaries.
Google map and satellite image of the Diavik diamond mine.
Information Sources
[1] Geology.com, 2010, What Countries Produce Gem Diamonds?, Article from the Geology.com website.

[2] Donald W. Olson, 2011, Gemstones, 2009 Minerals Yearbook, United States Geological Survey.

[3] BHP Billiton, 2011, Diamonds and Specialty Products, quote from the corporate website.

[4] Rio Tinto, 2009, Diavik Diamond Mine Factbook, .pdf from the diavik.ca website.

[5] De Beers Canada, 2011, About the Snap Lake Mine, website article on Canada.DeBeersGroup.com.

[6] De Beers Canada, 2011, About the Victor Mine, website article on Canada.DeBeersGroup.com.

[7] De Beers Canada, 2011, About Gahcho Kué, website article on Canada.DeBeersGroup.com.