World Diamond Demand


In 2011 the world demand for natural, unset gem-quality diamonds was about $60 billion. The United States was the largest buyer of these gemstones with a consumption of about $22 billion or 35% of total world consumption. [2]

Although the United States is the largest consumer of gem quality diamonds it has no commercial mine production. The only location in the United States that currently produces gem-quality diamonds is the Crater of Diamonds State Park in Arkansas where tourists can pay a small fee to prospect and keep any diamonds that they find. In an exceptional year the Park will produce a few hundred carats. This lack of domestic production requires the United States to import virtually all of its diamond consumption.



What Countries Produce Gem Diamonds?


Since the 1870's most of the world's gem-quality diamonds have been mined in Africa. The diamond production map above shows all countries that produced at least 25,000 carats of gem-quality diamonds during calendar year 2012 in green.

The map illustrates that diamond production has spread to many parts of the world. Diamond production in Russia and Canada has grown rapidly and these countries diversify the geographic distribution of gem-quality diamond production.

The histogram at right shows the estimated 2011 calendar year production for countries that produced over 1 million carats of gem-quality diamonds.



Related: How Do Diamonds Form?

Gem Diamond Production Trends
Estimated Diamond Production

Country

2011

2012e

Botswana
22,900
24,000
Russia
17,800
18,500
Canada
10,800
10,500
Angola
7,500
7,200
Congo
3,900
3,900
South Africa
2,800
2,800
Namibia
1,130
1,400
Lesotho
450
450
Sierra Leone
280
300
Central African Republic
240
200
Ghana
240
180
Guinea
230
200
China
100
100
Australia
86
70
Tanzania
51
51
Guyana
50
50
Brazil
25
25
Other Countries
1,350
1,350

The values above are estimated gem- quality diamond production per calendar year in thousands of carats. Data from USGS Mineral Commodity Summaries. Production for 2012 is estimated.
Leadership positions in the gem-quality diamond production race are constantly changing as new discoveries are made and old mines are worked out. Production trends by country between 1996 and 2012 are shown in the graph at right.


Botswana


Botswana had insignificant production until 1970 and became one of the top producers in the mid-1980s. Botswana has some of the highest yielding mines in the world and has been the world's leading producer of diamonds since it displaced Australia as the leading producer in 1999.


Russia


Russia began producing diamonds in the late 1950's and became one of the top three producers in 1970. The Russian mines are at high latitude and in demanding environments yet they continue to produce at high levels, competing with Botswana for the leading producer position.



Related: The World's Largest Diamond Deposit

Canada


Canada is the real surprise. Commercial mining there began in1998. Several mines came online in rapid succession, quickly making Canada one of the leading diamond producers. Some of the mines there are starting to be worked out and without new discoveries, Canada's position as a leading diamond producer will change.



Related: Diamond Mines in Canada

South Africa


South Africa was where the African diamond rush began in the 1870's. It immediately became the leading producer of gem-quality diamonds and held that position until the 1920's when Zaire entered major production. South Africa has been a consistent producer for the past few decades with production volumes regularly ranging between 4 million and 6 million carats per year.



Australia


Australia entered commercial production in 1981 and quickly became the top producer of gem-quality diamonds. In recent years, production in Australia has fallen sharply as deposits there were depleted.

Where will the next big diamond discovery occur? Perhaps it will be in Canada where another group of difficult-to-find kimberlite pipes are located, or perhaps it will be in the outback of Australia or poorly explored areas of northern Siberia. Or, it could be in the United States where rocks similar to the Canadian production areas are starting to attract attention.


Contributor: Hobart King




Find it on Geology.com

More from Geology.com
| | |
| --- | --- |
| Rock Gallery: Photos of igneous, sedimentary and metamorphic rocks. | Wrong Volcano! The most powerful eruption of the 20th century was misidentified? |
| | Diamonds: Learn about the properties of diamond, its many uses and diamond discoveries. |
| | Sunstone: Copper inclusions give this feldspar an aventurescent flash. |
| Garnet is best known as a red gemstone. It occurs in any color and has many industrial uses. | |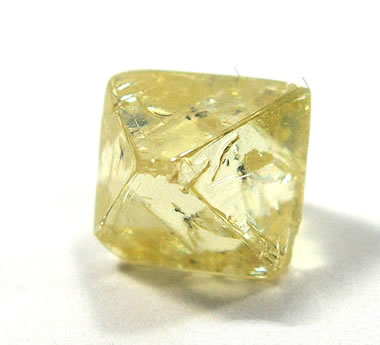 A transparent yellow diamond of approximately three carats from a mine in Kimberly, North Cape Province, South Africa. Many natural diamond specimens exhibit an octahedral crystal form. Photo by Rob Lavinsky iRocks.com, used here under a Creative Commons License CC-BY-SA-3.0.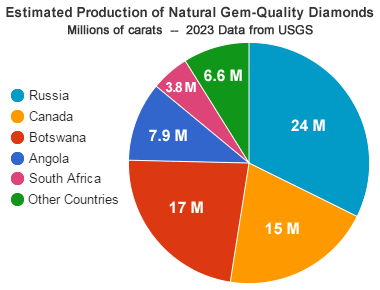 Estimated production levels for countries mining at least one million carats of gem-quality diamonds during calendar year 2011. Graph by Geology.com. Data from USGS Mineral Commodity Summaries.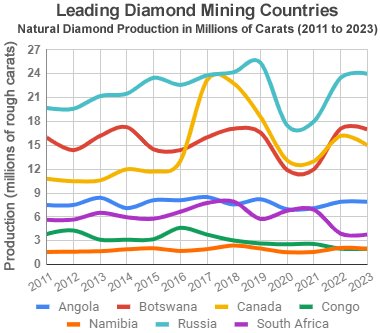 Graph showing the production history of selected gem-quality diamond producing countries. Values for 2012 are estimated. Graph by Geology.com. Data from USGS Mineral Commodity Summaries.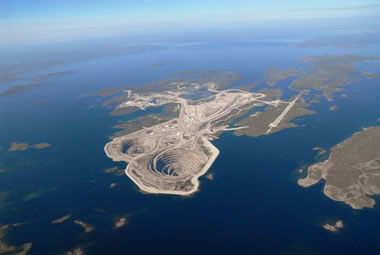 Aerial photograph of the Diavik Diamond Mine located in the North Slave Region of Canada's Northwest Territories. Diavik was the second diamond mine to open in Canada, producing its first diamonds in 2003. The pipes being mined were originally exposed on the bottom of Lac de Gras. Dikes were built around the pipes and the area to be mined was dewatered by pumping. This created an island which now allows mining below the level of the surrounding lake. Photo Courtesy of The Diavik Diamond Mine.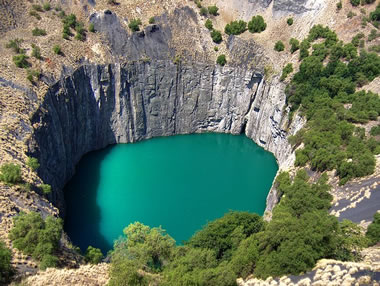 This is a photo of "The Big Hole" diamond mine in Kimberly, South Africa. The mine was started in 1871 and closed in 1914. Thousands of workers toiled to excavate the 42 acre open pit portion of this mine by hand to a depth of nearly 800 feet. It is considered to be the largest hand-dug excavation in the world. It produced about 3000 kilograms (14,000,000 carats) of gem-quality diamonds. Photo by Wikipedian Irene2005, used here under a Creative Commons License Attribution 2.0 Generic.
[1] Gemstones: Donald W. Olson, U.S. Geological Survey, Mineral Commodity Summaries, January 2013.

[2] Gemstones: Donald W. Olson, U.S. Geological Survey, 2009 Minerals Yearbook, April 2013.