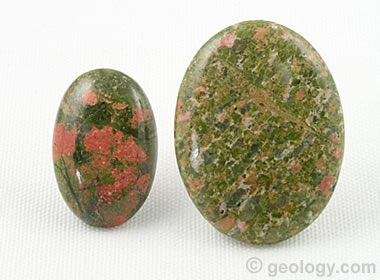 What Is Unakite?
Unakite is a pink and green metamorphic rock composed of pink orthoclase, green epidote, and colorless to milky quartz. These colors have helped Unakite become a popular lapidary material.
Unakite forms when granite is altered by hydrothermal fluids, and plagioclase in the granite is transformed into epidote. Unakite is used as a construction material, an architectural stone, a lapidary rough, and a gem material.
Uses of Unakite
Unakite has a surprising range of uses: it is made into crushed stone used in highway construction, and it is cut and polished for use as a gem. Few rocks have such a diversity of uses. The uses of unakite are summarized below.
Gem and Jewelry Use
Unakite is often cut into cabochons, beads, and other shapes that will be used in jewelry. Although it is not seen in fine jewelry, unakite is a very popular gemstone in craft and lapidary jewelry. It is most often seen mounted in sterling silver, strung as beads, or wire-wrapped and used as pendant stones. If you are interested in obtaining unakite jewelry, the best places to look are rock shops, new age and crystal stores, or gem and mineral shows.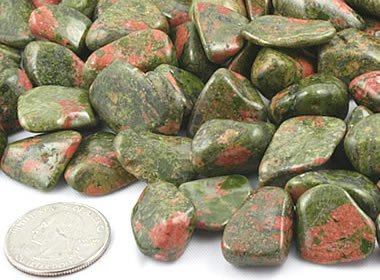 Lapidary Use
The pink and green colors of unakite make it a popular material for making small sculptures, spheres, vases, desk sets, and other lapidary projects. Unakite is also a popular material for use in rock tumbling. The pink and green colors make eye-catching tumbled stones.
Architectural Stone
Unakite is sometimes used as an architectural and decorative stone. Unakite can be cut into flooring tiles, facing stone, stair treads, window sills, and ashlars. Its most prominent use might be at the Smithsonian National Museum of Natural History in Washington, D.C. There it is used as a trimming to the front steps and as floor tiles on a landing at the south entrance. [1]
Construction Material
Unakite has also been used as a construction aggregate. Crushed stone made from unakite has been used for road base, drainage stone, unpaved road surfacing, fill, and many other uses.
Geologic Occurrence
Unakite is a metamorphic rock that forms when granite (an igneous rock) is altered by hydrothermal metamorphism. During metamorphism, plagioclase in the granite is replaced by epidote to produce a rock composed primarily of green epidote, pink orthoclase, and clear to milky quartz. [2] Unakite can also contain minor amounts of magnetite, chromite, ilmenite, apatite, zircon, and other minerals.
Unakite is found in the deformed rocks of convergent plate boundaries where deeply formed granites have been metamorphosed and exposed by weathering and erosion. It occurs where igneous intrusions have delivered the hydrothermal fluids that altered the granite.
Unakite Localities
Unakite is named after the Unaka mountain range of western North Carolina and eastern Tennessee, where it was first discovered and described. Similar material is found in many other locations around the world.
Unakite is known as the Pompton Granite in a 1/2-square-mile outcrop in the Piedmont physiographic province of New Jersey. That small area has produced architectural stone that has been used in many prominent buildings of New Jersey and surrounding states. [3]
Many locations in the Blue Ridge physiographic province of Virginia have been mined to produce unakite for construction, architectural, and lapidary uses. Unakite has also been produced in South Africa, Sierra Leone, Brazil, and China.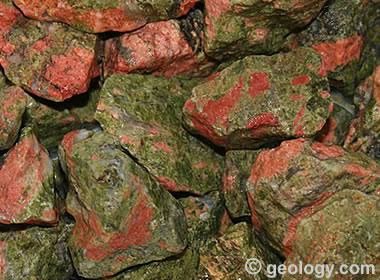 Gemology of Unakite
Unakite is not seen in fine jewelry and is seldom seen in commercial jewelry, but it is a common stone used in craft and lapidary jewelry. It is usually cut into cabochons, beads, pendants, or freeform shapes.
Unweathered, fine-grained unakite with mineral crystals less than a few millimeters in size is relatively easy to work. It is suitable for cutting by a person who has a small amount of lapidary experience. The Mohs hardness of the primary minerals (epidote = 6 to 7; orthoclase = 6) are close enough that severe undercutting or overcutting usually does not occur. It is only when the grain size is larger, or the piece being cut is very small, that differences in hardness will make cutting difficult.
Unakite cuts best using diamond abrasives but can also be cut or tumbled using silicon carbide abrasives. It polishes well with inexpensive aluminum oxide polish, but tin oxide, cerium oxide, and titanium oxide also produce good results on a felt lap or in a rock tumbler.
In jewelry projects, unakite works best in pieces that will not be subjected to abrasion or impact. The hardness of orthoclase and epidote are low enough that they will show signs of wear when used in a bracelet or ring. These minerals also have perfect cleavage and could break with a moderate impact.
Unakite Information
[1] Granite GeoGallery, a page on the Geology, Gems and Minerals Subject Guide on the Smithsonian National Museum of Natural History website. Accessed in February, 2016.

[2] Mesoproterozoic Geology of the Blue Ridge Province in North-Central Virginia: Petrologic and Structural Perspectives on Grenvillian Orogenesis and Paleozoic Tectonic Processes by Richard P. Tollo, Christopher M. Bailey, Elizabeth A. Borduas, and John N. Aleinikoff; Geology of the National Capital Region - Field Trip Guidebook, United States Geological Survey Circular 1264, pages 17 to 75, 2004.

[3] The History of the Pompton Pink Granite: New Jersey's Prized Building Stone by Rich Volkert, New Jersey Geological Survey Information Circular, 2007.
Epidosite
Epidosite is the name of a rock that is composed mainly of epidote and quartz. It looks similar to unakite, but with little or no pink feldspar.
Epidosite is also an attractive material used to make beads, cabochons, tumbled stones, and other items. Its pistachio-green color and crystalline texture cause many people to call it unakite, but epidosite is the proper name.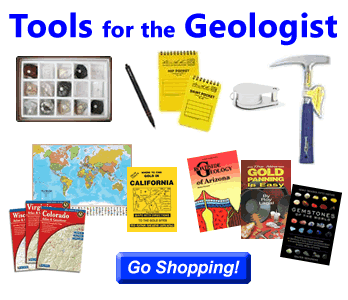 Find Other Topics on Geology.com:
| | |
| --- | --- |
| Rocks: Galleries of igneous, sedimentary and metamorphic rock photos with descriptions. | Minerals: Information about ore minerals, gem materials and rock-forming minerals. |
| Volcanoes: Articles about volcanoes, volcanic hazards and eruptions past and present. | Gemstones: Colorful images and articles about diamonds and colored stones. |
| General Geology: Articles about geysers, maars, deltas, rifts, salt domes, water, and much more! | Geology Store: Hammers, field bags, hand lenses, maps, books, hardness picks, gold pans. |
| | Diamonds: Learn about the properties of diamond, its many uses, and diamond discoveries. |