What is Sulfur?


Sulfur is an abundant and common element, but is rarely found in a pure, uncombined form at Earth's surface. As an element, sulfur is an important constituent of sulfate and sulfide minerals. It occurs in the dissolved ions of many waters. It is an important constituent of many atmospheric, subsurface and dissolved gases. It is also an essential element in all living things and is contained in the organic molecules of fossil fuels.

As a mineral, sulfur is a bright yellow crystalline material. It is found near volcanic vents where it sublimates from escaping volcanic gases and precipitates from hot spring waters. It is found in small amounts as a weathering product of sulfate and sulfide minerals. The largest accumulations of mineral sulfur are found in the subsurface associated with the evaporite minerals of salt domes. It is thought to be released from gypsum and anhydrite by bacterial action..


Physical Properties of Sulfur

Chemical Classification
native element
Color
bright yellow
Streak
yellow
Luster
resinous
Diaphaneity
transparent to translucent
Cleavage
none
Mohs Hardness
1.5 to 2.5
Specific Gravity
2.0 to 2.1
Diagnostic Properties
yellow color, low hardness, low specific gravity, extremely flamable burning with a blue flame, low melting temperature
Chemical Composition
S
Crystal System
orthorhombic
Uses
sulfuric acid, fertilizers, insecticides, fungicides, gunpowder, pharmaceuticals, sulfur compounds
Find it on Geology.com

More from Geology.com
| | |
| --- | --- |
| | |
| Ammolite is a fossil and a gemstone. It is shell material from fossil ammonites. | |
| Uses of Granite: The rock used everywhere from the kitchen to the facing stone of skyscrapers. | Olivine is a rock-forming mineral found in the crust, the mantle, and in some meteorites. |
| Mount Vesuvius: Geology, history, maps, facts and more about Vesuvius Volcano. | Shale: The rock that is quickly transforming the energy industry. |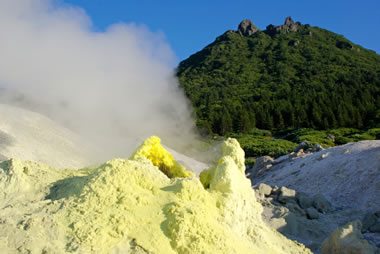 As hot volcanic gases, rich in sulfur, escape from a volcanic vent the gases cool, and sulfur is deposted as yellow crystals around the vent. This fumarole on the island of Kunashir (in the Kuril Islands, northeast of the Japanese island of Hokkaido) has a significant accumulation of bright yellow sulfur. Photo © iStockphoto, Sergey Dubrovskiy.
| | |
| --- | --- |
| | Did You Know? Many strong odors are produced by sulfur compounds. The smell of skunks, matches, grapefruit, garlic and rotten eggs are caused by sulfur. Image ©iStockphoto / Florintt, Gio_banfi, ivelly, Abomb Industries Design and Big_Ryan. |
| | |
| --- | --- |
| | Did You Know? The Chinese discovered sulfur in about 2000 BC, used it to make gunpowder in the 7th century, and used gunpowder to launch rockets, shoot projectiles and make hand grenades in the 10th century. |
| | |
| --- | --- |
| | Did You Know? Jupiter's moon, Io, has over 400 active volcanoes that emit enormous amounts of sulfor - so much sulfur that the moon has a yellowish color. |