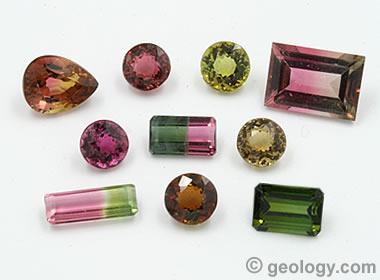 What is Tourmaline?
"Tourmaline" is the name of a large group of boron silicate minerals that share a common crystal structure and similar physical properties - but vary tremendously in chemical composition.
The wide range of compositions, along with trace elements and color centers, causes tourmalines to occur in more colors and color combinations than any other mineral group. Crystals of good color and clarity are often cut into beautiful gemstones. Tourmaline is such a popular gemstone that it is easy to find in jewelry stores. Nice tourmaline crystals are also valued by mineral specimen collectors. Specimens with attractive colors and habits can sell for thousands of dollars.
Tourmalines commonly occur as accessory minerals in igneous and metamorphic rocks. Large crystals of tourmaline can form in cavities and fractures during hydrothermal activity. Tourmaline also exists as durable grains in sediments and sedimentary rocks.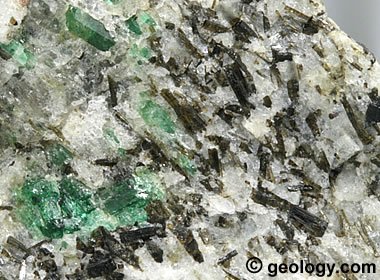 Geologic Occurrence of Tourmaline
Accessory Mineral
The most common occurrence of tourmaline is as an accessory mineral in igneous and metamorphic rocks. It usually occurs as millimeter-size crystals scattered through granite, pegmatite, and gneiss. In this mode of occurrence, tourmaline rarely makes up more than a few percent of the rock's volume. The mineral most often found as an accessory mineral is black schorl.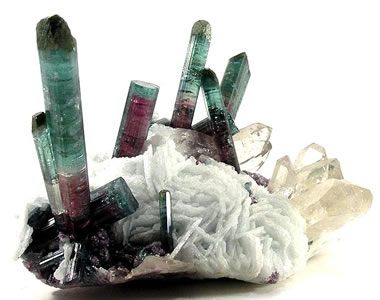 Crystals in Fractures Voids and Pockets
The most spectacular tourmaline crystals are formed by hydrothermal activity. They are found in pockets, voids, or fractures and range in size from tiny millimeter crystals to massive prisms weighing over 100 kilograms. A rich pocket of nice tourmaline crystals can yield mineral specimens and gem materials worth millions of dollars.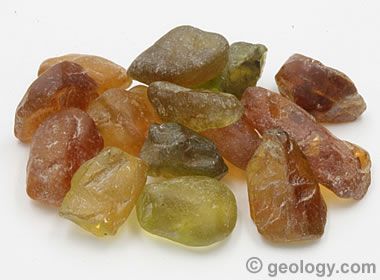 Alluvial Tourmaline
With a hardness of 7 to 7 1/2, tourmaline weathered from igneous or metamorphic rocks can be a durable sediment grain. Tourmaline gem rough is mined from streams sediments in many parts of the world, often by artisanal miners. Tourmaline is often one of many minerals produced from a single mining location.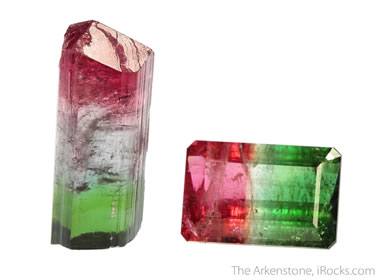 Physical Properties of Tourmaline

Chemical Classification
Boron silicate
Color
Usually black. Blue, green, yellow, pink, red, orange, purple, brown, and colorless. Single crystals are often zoned.
Streak
White when softer than the streak plate. Colorless when harder than the streak plate.
Luster
Vitreous
Diaphaneity
Transparent to translucent to nearly opaque
Cleavage
Indistinct
Mohs Hardness
7 to 7.5
Specific Gravity
2.8 to 3.3
Diagnostic Properties
Lack of visible cleavage, prismatic crystals with rounded triangular cross-sections that are often striated, vibrant colors
Chemical Composition
(Ca,Na,K,[]) (Li,Mg,Fe+2,Fe+3,Mn+2,Al,Cr+3,V+3)3 (Mg,Al,Fe+3,V+3,Cr+3)6 ((Si,Al,B)6O18) (BO3)3 (OH,O)3 (OH,F,O)
Crystal System
Hexagonal
Uses
A popular gemstone and mineral specimen
Physical Properties of Tourmaline
Tourmaline has a few properties that can aid in its identification. If you have a tourmaline crystal, identification should be easy. Tourmaline crystals are prismatic and often have obvious striations that parallel their long axis. They often have triangular or six-sided cross-sections with rounded edges. They are often color zoned through their cross-sections or along their length. And, tourmaline is pleochroic with the darkest color viewing down the C-axis and lighter color viewing perpendicular to the C-axis.
Don't despair if your suspected tourmaline is an accessory mineral in an igneous or metamorphic rock. It often occurs in these rocks as tiny prismatic crystals. Get a hand lens and look for striations and rounded cross-sections.
Tourmaline has indistinct cleavage, so any specimen with obvious cleavage is not tourmaline. Color might not be helpful. The most common tourmaline color is black, but the mineral occurs in all colors of the spectrum.
Tourmaline Chemistry
Tourmaline is a complex boron silicate mineral with a generalized chemical composition of:
XY3Z6(T6O18)(BO3)3V3W
Letters in the formula above represent positions in the atomic structure of tourmaline that can be occupied by ions listed below.
X = Ca, Na, K, [vacancy]
Y = Li, Mg, Fe+2, Fe+3, Mn+2, Al, Cr+3, V+3
Z = Mg, Al, Fe+3, V+3, Cr+3
T = Si, Al, B
V = OH, O
W = OH, F, O
The complex formula and many substituting ions produce the large number of minerals in the tourmaline group. The International Mineralogical Association has recognized 32 different tourmaline minerals based upon the chemical composition of solid solution series end members. These minerals are listed in the table below.
Tourmaline Group Minerals

Mineral
Composition
Adachiite
CaFe3Al6(Si5AlO18)(BO3)3(OH)3OH
Bosiite
NaFe3(Al4Mg2)Si6O18(BO3)3(OH)3O
Chromium-dravite
NaMg3Cr6Si6O18(BO3)3(OH)3OH
Chromo-alumino-povondraite
NaCr3(Al4Mg2)Si6O18(BO3)3(OH)3O
Darrellhenryite
NaLiAl2Al6Si6O18(BO3)3(OH)3O
Dravite
NaMg3Al6Si6O18(BO3)3(OH)3OH
Elbaite
Na2(Li3,Al3)Al12Si12O36(BO3)6(OH)6(OH)2
Feruvite
CaFe3(MgAl5)Si6O18(BO3)3(OH)3OH
Fluor-buergerite
NaFe3Al6Si6O18(BO3)3O3F
Fluor-dravite
NaMg3Al6Si6O18(BO3)3(OH)3F
Fluor-elbaite
Na2(Li3,Al3)Al12Si12O36(BO3)6(OH)6F2
Fluor-liddicoatite
Ca(Li2Al)Al6Si6O18(BO3)3(OH)3F
Fluor-schorl
NaFe3Al6Si6O18(BO3)3(OH)3F
Fluor-tsilaisite
NaMn3Al6Si6O18(BO3)3(OH)3F
Fluor-uvite
CaMg3(Al5Mg)Si6O18(BO3)3(OH)3F
Foitite
[](Fe2Al)Al6Si6O18(BO3)3(OH)3OH
Lucchesiite
Ca(Fe)3Al6Si6O18(BO3)3(OH)3O
Luinaite-(OH)
(Na,[])(Fe,Mg)3Al6Si6O18(BO3)3(OH)3OH
Magnesio-foitite
[](Mg2Al)Al6Si6O18(BO3)3(OH)3OH
Maruyamaite
K(MgAl2)(Al5Mg)Si6O18(BO3)3(OH)3O
Olenite
NaAl3Al6Si6O18(BO3)3O3OH
Oxy-chromium-dravite
NaCr3(Mg2Cr4)Si6O18(BO3)3(OH)3O
Oxy-dravite
Na(Al2Mg)(Al5Mg)Si6O18(BO3)3(OH)3O
Oxy-schorl
Na(Fe2Al)Al6Si6O18(BO3)3(OH)3O
Oxy-vanadium-dravite
NaV3(V4Mg2)Si6O18(BO3)3(OH)3O
Povondraite
NaFe3(Fe4Mg2)Si6O18(BO3)3(OH)3O
Rossmanite
[](LiAl2)Al6Si6O18(BO3)3(OH)3OH
Schorl
NaFe3Al6Si6O18(BO3)3(OH)3OH
Tsilaisite
NaMn3Al6Si6O18(BO3)3(OH)3OH
Uvite
CaMg3(Al5Mg)Si6O18(BO3)3(OH)3OH
Vanadio-oxy-chromium-dravite
NaV3(Cr4Mg2)Si6O18(BO3)3(OH)3O
Vanadio-oxy-dravite
NaV3(Al4Mg2)Si6O18(BO3)3(OH)3O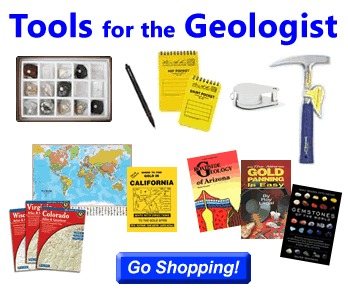 More From Geology.com:
| | |
| --- | --- |
| Tumbled Stones are rocks that have been rounded, smoothed and polished in a rock tumbler. | Fee Mining sites are mines that you can enter, pay a fee, and keep anything that you find. |
| Rock Gallery: Photos of igneous, sedimentary and metamorphic rocks. | Geologist Tools: Visit our store for a large selection of field and laboratory tools. |
| | Rock Tumblers - All about rock tumblers and rock tumbling. Read before you buy a tumbler. |
| Strontium Titanate is a man- made diamond simulant with a fire much stronger than diamond. | Difficult Rocks - Elementary students find lots of rocks that you will not be able to identify. |