Helium and Volcanoes
April 20, 2014 | Eruptions Blog
Helium is one of the most interesting elements. Erik Klemetti explains how helium emissions in volcanic areas might help understand what is happening below.
Related: What is Helium?
LNG as a Railroad Fuel?
April 20, 2014 | Energy Information Administration
Continued growth in domestic natural gas production, along with substantially lower natural gas spot prices compared to crude oil, is reshaping the U.S. energy economy and attracting considerable interest in the potential for fueling freight locomotives with liquefied natural gas.
Related: What is LNG?
Watch out for Ticks!
April 20, 2014 | Geology.com
Spring and early summer are some of the most active times for ticks. Learn how to recognize ticks, how to avoid tick bites and how to remove a tick from your skin.
A New Moon Forming in the Rings of Saturn?
April 20, 2014 | NASA
NASA's Cassini spacecraft has documented the formation of a small icy object within the rings of Saturn that may be a new moon, and may also provide clues to the formation of the planet's known moons.
What Causes A Blood Moon?
April 20, 2014 | National Science Foundation
A short post on the National Science Foundation website explains what causes the red color of a blood moon and why the color varies from eclipse to eclipse.
No Ban on Exporting Refined Products
April 20, 2014 | Energy Information Administration
Although there are currently very tight controls (not quite a ban) on the export of crude oil, companies in the United States are exporting increasing amounts of refined products.

Thousands of barrels per day
$700,000 to Prop Up a Small Landslide?
April 20, 2014 | Jackson Hole News and Guide
A landslide in Jackson, Wyoming, that so far has been moving slowly, is threatening a Walgreens, utility service for a large part of the city, and a number of residents. A favored solution to slowing the slide is to place weight on its toe.
Award Winning Photos of Comet ISON
April 20, 2014 | National Science Foundation
Seven photographers from around the globe received awards for their stunning images of comet C/2012 S1 (ISON) at the Northeast Astronomy Forum held at Rockland Community College. Quoted from the National Science Foundation press release.
Rising Natural Gas Prices in Ontario
April 20, 2014 | Toronto Star
An article in the Toronto Star explains how homeowners in Ontario are seeing a rapid rise in their natural gas heating costs.
Independents Outweigh Majors by 5 to 1
April 20, 2014 | FuelFix.com
An article on the FuelFix website gives examples of how the shale plays have been grabbed and held mainly by small to medium-size oil companies.
Tools for Geologists
April 20, 2014 | Geology.com Store
The Geology.com store has a large selection of rock hammers, crack hammers, rock chisels, goggles, hand lenses, rock bags, leather cases, field books, wall maps, specimen kits and more.
Predicting Sea Level Rise for Miami
April 17, 2014 | National Science Foundation
A National Science Foundation press release gives a quick look at efforts to predict long-term sea level rise in Miami
Mineral Rights
April 17, 2014 | Geology.com
In most countries all mineral resources belong to the government. This includes all valuable rocks, minerals, oil or gas found on or within the Earth. In the United States ownership of mineral resources was originally granted to the individuals or organizations that owned the surface. These property owners had both "surface rights" and "mineral rights". Since then the owners have enjoyed the freedom to sell, lease, gift or bequest these rights individually or entirely to others. Now a single plot of land on the surface can have several different subsurface owners!
$20,000 for a Canary Diamond Found in Arkansas?
April 17, 2014 | Weather Channel
Tana Clymer, a 14-year-old from Oklahoma City found a nice canary-colored diamond at the Crater of Diamonds State Park in Arkansas last fall. She recently sold it for $20,000.
Related: Diamond Mines in the United States.
Eagle Ford Output Swamps the Corpus Christi Port
April 17, 2014 | Bloomberg
The oil production from Eagle Ford Shale has caused a large increase in volume at Corpus Christi port – so much that they have built a new petroleum dock and consider a plan to widen the shipping channel.
NASA image
Did Life Arise from Hydrothermal Vents?
April 17, 2014 | NASA
"Did life first arise on Earth in warm, gentle springs on the sea floor?
Researchers are putting together the chemical pieces of how this process might have occurred." Quoted from the NASA press release.
Advocating Landslide Mapping in West Virginia
April 17, 2014 | WVU Today
Graduate students at West Virginia University are using LiDAR, a high resolution mapping technology, to detect and map historic and prehistoric landslides. The maps can then be used to avoid landslide areas prior to construction and identify areas where mitigation might be considered.
Lateritic Rare Earth Deposits
April 17, 2014 | Arizona Geological Survey
The Arizona Geological Survey has published Chapter 4 of the Proceedings of the 48th Annual Forum on the Geology of Industrial Minerals in their online archive. It is a paper by Mark Cocker: Lateritic, supergene rare earth element (REE) deposits.
An Onshore Fuel Shortage in Nigeria?
April 17, 2014 | National Geographic
The Niger Delta is one of the best-producing oil patches on our planet but the people of Nigeria are often scrounging for gasoline.
Earth Science Week April Newsletter
April 17, 2014 | Earth Science Week
The monthly newsletter for Earth Science Week is available. Don't wait until fall to prepare for Earth Science Week 2014 (October 12-18)!
Oarfish Video on National Geographic
April 17, 2014 | National Geographic
National Geographic has a video of a rarely-seen oar fish swimming in shallow in the Mexican state of Baja California. Staff from the Shedd Aquarium filmed the video.
Oil By Rail into California
April 17, 2014 | NBC Bay Area
There are no pipelines delivering crude oil to California. The state with more cars than any other receives all of its oil by ship or from domestic production. Some analysts believe that 25% of the state's crude oil will arrive by rail by 2016.
Real Estate Prices Near Fracking
April 17, 2014 | Forbes
Researchers at the University of Calgary and Duke University found that homes within 1 kilometer of a shale gas well on a private water supply fell by over 20 percent in value compared to those on public water supplies. This loss can offset gains made through mineral rights sales.
Related: What is Hydraulic Fracturing?
Observing the Milky Way from Arizona
April 17, 2014 | BLM
The Bureau of Land Management has a great image of the Milky Way from Sonoran Desert National Monument.
Higher Resolution image by Bob Wick, BLM
Rock and Mineral Identification
April 17, 2014 | Geology.com Store
The ability to identify rocks and minerals in the field is a very important skill. The Geology.com store has a selection of rock, mineral, fossil and gem mineral kits that can be used for learning and practice. Testing tools are also available.
What is Peanut Wood?
April 16, 2014 | Geology.com
This material is a petrified wood from Australia but it has nothing to do with peanuts. Most people are amazed when they learn how it forms.
Earthquake Swarm in Idaho
April 16, 2014 | Oregon Live
Numerous small earthquakes have occurred in central Idaho. Although no injuries or severe damage have been reported the events have caused concerns among the people who live there.
Another Advance in Drilling
April 16, 2014 | Reuters
"Schramm Inc [...] has designed a 500,000-pound rig for the oil and natural gas industry that can walk, rotate 360 degrees, be operated with a remote control, and load pipe automatically."
Texas Oil Production Highest Since 1980
April 16, 2014 | Oil and Gas Journal
Oil production in Texas is rising to levels not seen since 1980. During February the state produced an average of 2.75 million barrels of crude oil per day.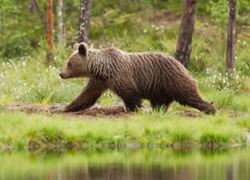 Image © iStockphoto/IndrekV
Bear Attack!
April 15, 2014 | Geology.com
If you spend time in bear country knowing how to react to a bear encounter and what to do if you are attacked could save your life.
If you don't know where bears live here is a map of the geographic ranges for black, grizzly and polar bears in North America.
Largest Natural Gas Storage Withdrawal
April 15, 2014 | Energy Information Administration
This winter's natural gas withdrawal season saw the largest storage withdrawal on record. Historically, winter stock withdrawals average around 2 Tcf. However, this winter much of the country experienced sustained colder-than-normal temperatures, and almost 3 Tcf of gas has been withdrawn from storage as of the end of March.
Phillips Acquires a License to Export US Crude
April 15, 2014 | Reuters
Amid the debate about exporting United States crude oil, Phillips has obtained a license to export crude from the United States into Canada.
The Influence of Bedrock on Vegetation
April 15, 2014 | National Science Foundation
"Scientists investigated the factors that influence forest cover in California's Sierra Nevada. Bedrock may be as important as temperature and moisture, they found, in regulating the distribution of trees and other vegetation across mountain slopes." Quoted from the National Science Foundation press release.
More Large Ancient Slides in the USA
April 15, 2014 | The Bellingham Herald
An article in The Bellingham Herald gives details on several very large landslides that dwarf the Oso Slide and all involved sudden, unpredictable collapse.
Related: Landslide incidence map
A Record of Acid Rain in Greenland Ice
April 15, 2014 | University of Washington
"By analyzing samples from the Greenland ice sheet, University of Washington atmospheric scientists found clear evidence of the U.S. Clean Air Act. They also discovered a link between air acidity and how nitrogen is preserved in layers of snow." Quoted from the University of Washington press release.
Report on California Geothermal
April 15, 2014 | Geothermal Energy Association
In their Report on the State of Geothermal Energy in California, the Geothermal Energy Association says…. "Geothermal power generated 4.4% of total system power in California in 2012, but could have generated substantially more [...] about half of California's identified geothermal resources are still untapped, and significant resources may remain undiscovered."
Carbon Absorption in Deserts
April 15, 2014 | Washington State University
"Researchers led by a Washington State University biologist have found that arid areas, among the biggest ecosystems on the planet, take up an unexpectedly large amount of carbon as levels of carbon dioxide increase in the atmosphere." Quoted from the Washington State University press release.
Earliest Known Cardiovascular System
April 15, 2014 | University of Arizona
"A fossil creature buried in an "invertebrate version of Pompeii" more than half a billion years ago reveals the first-known cardiovascular system in exquisitely preserved detail." Quoted from the University of Arizona News.
Hacking Big Oil from a Chinese Restaurant?
April 15, 2014 | New York Times
The New York Times has an article that explains how an unnamed major oil company was hacked by using the website of a nearby Chinese restaurant.
Premium Satellite Prints
April 15, 2014 | MyTopo.com
MyTopo recently upgraded and enhanced their satellite imagery. Now, you can order custom satellite prints of the same image quality you see on sites like Bing, Zillow, and Google.
Center the image anywhere you want in either landscape or portrait format.
Get a custom print of your favorite park, lake, peak, farm, neighborhood, hunting cabin, or baseball field (yep, that's Fenway Park for you Red Sox fans).
Prices start at just $59.95 plus shipping. MyTopo will print your map promptly and have it delivered straight to your door – rolled in a sturdy map tube.
We are affiliates of MyTopo and receive a commission on sales.
The Status of Landslide Mapping in the USA?
April 13, 2014 | CNBC
An article on CNBC website explores some of the challenges of producing landslide hazard maps for the United States.
Slow-Moving Landslide in Wyoming
April 13, 2014 | Jackson Hole News and Guide
A slow-moving landslide in Jackson, Wyoming has prompted the evacuation of numerous homes and shut down a Walgreens store.
Related: Landslide incidence map
Watching the Total Lunar Eclipse
April 13, 2014 | National Geographic
National Geographic has an article that explains how to watch the total lunar eclipse that will occur overnight on April 14-15.
Possible Exomoon Found
April 13, 2014 | NASA
NASA-funded researchers have spotted the first signs of an "exomoon," and though they say it's impossible to confirm its presence, the finding is a tantalizing first step toward locating others. The discovery was made by watching a chance encounter of objects in our galaxy, which can be witnessed only once.
LED Bulb Prices and Efficiency
April 13, 2014 | Energy Information Administration
The Energy Information Administration shows that the efficiency of LED light bulbs is increasing as prices are rapidly falling.
Bottled Water: A Geological Product?
April 13, 2014 | Geology.com
Although much of the bottled water sold in stores is nothing more than expensive tap water, some of it is actually a geological product such as: mineral water, ground water, artesian water, spring water, sparkling water…
South Korea Energy Report
April 13, 2014 | Energy Information Administration
"South Korea relies on imports to meet about 97% of its energy demand as a result of insufficient domestic resources, and the country is one of the world's leading energy importers." Quoted from the Energy Information Administration report.
California Snow Pack is Low and Why That's a Problem
April 13, 2014 | Slate.com
California already has drought problems, but mountain snowpacks in the state are really low this spring and that will prevent reservoirs from filling. Since melting snowpack is a major contributor to California's water there will likely be more water shortages this summer unless more rail falls.
First Geothermal Plant in New Mexico
April 13, 2014 | KOB4
KOB4 has a short report on Lightning Dock Geothermal, the first geothermal plant to open in the state of New Mexico.
A Scientist's Life
April 13, 2014 | Scripps
Scripps Institution of Oceanography features Lihini Aluwihare: "In my field I'm called an organic geochemist. In a very basic sense, I'm using molecules to tell a story about the processes on Earth that involve organisms. If you think about the number of different molecules that are on Earth most of them are organic, meaning they were made by organisms. My interest lies in trying to understand those molecules and what their structure tells us about the processes that have acted on them."