What is Ammolite?
December 17, 2013 | Geology.com
Ammolite is a trade name given to a thin iridescent aragonite shell material that is found on two species of extinct ammonite fossils (Placenticeras meeki and Placenticeras intercalare). Gem-quality Ammolite produces a spectacular display of iridescent color when it is observed in reflected light. The colors of an individual stone can run the full range of the visible spectrum or be limited to just one or two colors. The color display can rival fine opal and labradorite in its intensity and beauty.
Australia and the United States Are Producing Rare Earths Again
December 17, 2013 | Geology.com
After China restricts their exports of rare earth elements, the United States and Australia are back in production.
Boulder Crushes a Home in Utah
December 17, 2013 | AOL
Two people were killed when a large boulder rolled over a home near Rockville, Utah.
Snow in the Middle East?
December 17, 2013 | NASA's Earth Observatory
NASA's Earth Observatory has a satellite image showing snow on the ground from a recent storm in the Middle East. Jerusalem had over one foot of snow, knocking out power for thousands of households. Amman, Jordan received about eighteen inches.
Climate Change and Echolocation in Bats
December 17, 2013 | National Geographic
Researchers suspect that climate change might cause problems for bats that navigate in the dark of night using echolocation.
Water Vapor Jets on Europa?
December 17, 2013 | NASA
"NASA's Hubble Space Telescope has observed water vapor above the frigid south polar region of Jupiter's moon Europa, providing the first strong evidence of water plumes erupting off the moon's surface." Quoted from the NASA press release.
Mapping Hydrocarbon Lakes on Titan
December 17, 2013 | NASA
"NASA's Cassini spacecraft is providing scientists with key clues about Saturn's moon Titan, and in particular, its hydrocarbon lakes and seas." Quoted from the NASA press release.
Related: Hydrocarbon Sand Dunes on Titan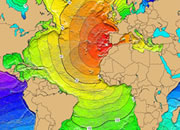 Image by NOAA
Canary Island Landslides and Atlantic Ocean Tsunami Generation
December 17, 2013 | National Oceanography Centre
"The risk posed by tsunami waves generated by Canary Island landslides may need to be re-evaluated, according to researchers at the National Oceanography Centre. Their findings suggest that these landslides result in smaller tsunami waves than previously thought by some authors, because of the processes involved." Quoted from a National Oceanography Centre press release.
Related: Atlantic Ocean Tsunamis
TopoPhotos
December 17, 2013 | MyTopo.com
The folks at MyTopo.com are now printing TopoPhotos. They are aerial photographs with contour lines and topographic map annotations lightly superimposed. They give you the advantages of an aerial photograph but also include the elevation, road and place name details of a topographic map. You can use their website to order a TopoPhoto centered anywhere in the United States and have it printed in a variety of sizes in either landscape or portrait orientation. You can print them up to a huge 8′ x 5′ (or 5′ x 8′) in size.
We are affiliates of MyTopo.com and receive a commission on sales.
The Utah Supervolcano
December 15, 2013 | Brigham Young University
"Brigham Young University geologists found evidence of some of the largest volcanic eruptions in earth's history right in their own backyard. These supervolcanoes aren't active today, but 30 million years ago more than 5,500 cubic kilometers of magma erupted during a one-week period near a place called Wah Wah Springs." Quoted from the Brigham Young University press release.
Related: Volcanic Explosivity Index
Exploring Pwll Y Gwynt
December 15, 2013 | Caving News
Caving News has an interesting video that shows some recent explorations at Pwll Y Gwynt cave in South Wales.
Clay Minerals and a Collision with Europa?
December 15, 2013 | NASA
"A new analysis of data from NASA's Galileo mission has revealed clay-type minerals at the surface of Jupiter's icy moon Europa that appear to have been delivered by a spectacular collision with an asteroid or comet. This is the first time such minerals have been detected on Europa's surface. The types of space rocks that deliver such minerals typically also often carry organic materials."
Related: Life on Europa?
Shell Backs Out of Gas to Liquids Plant
December 15, 2013 | Bloomberg
Royal Dutch Shell was planning to spend $20 billion on a natural gas-to-liquids plant on the Gulf coast but cancelled the project. They are not new to this business as they own the largest gas-to-liquids plant in the world in Qatar and another one of the largest in Malaysia. They are also building the world's largest floating LNG plant for a field off the coast of Australia.
If you watch the news about natural gas you have seen a huge rush to permit LNG plants that will export natural gas out of the United States, other companies getting into the LNG and gas-to-liquids businesses, multiple natural gas developments off the coastlines of every continent but Antarctica, countries all over the world realizing that they have a huge amount of natural gas in shale, enormous amounts of gas being flared instead of captured and all of that is before we count gas in the polar regions and methane hydrates.
China Successfully Lands a Moon Rover
December 15, 2013 | CNN
China has landed a spacecraft on the Moon and successfully deployed a six-wheeled lunar rover.
The New Island South of Japan is Growing!
December 15, 2013 | The Australian
Last month a volcanic island surfaced and began growing about 600 miles south of Japan. The eruption continues and the size of the island is growing.
Turquoise
December 15, 2013 | Geology.com
Turquoise is a blue to blue-green gem material that has been used by people worldwide for over 6000 years.
Earth and Moon Seen by Passing Juno Spacecraft
December 15, 2013 | NASA on YouTube.com
"When NASA's Juno spacecraft flew past Earth on Oct. 9, 2013, it received a boost in speed of more than 8,800 mph (about 7.3 kilometer per second), which set it on course for a July 4, 2016, rendezvous with Jupiter.
One of Juno's sensors, a special kind of camera optimized to track faint stars, also had a unique view of the Earth-moon system. The result was an intriguing, low-resolution glimpse of what our world would look like to a visitor from afar." Quoted from the NASA video release.
Tools for Geologists
December 15, 2013 | Geology.com Store
The Geology.com store has a large selection of rock hammers, crack hammers, rock chisels, goggles, hand lenses, rock bags, leather cases, field books, wall maps, specimen kits and more.
NASA Hazard Warning Systems
December 12, 2013 | NASA
"Scientists at NASA's Jet Propulsion Laboratory, Pasadena, Calif., and Scripps Institution of Oceanography at UC San Diego have enhanced existing GPS technologies to develop new systems for California and elsewhere to warn of hazards from earthquakes, tsunamis and extreme weather events." Quoted from the NASA press release.
2014 Mineral Shows
December 12, 2013 | The-Vug.com
The-Vug.com has a comprehensive list of mineral shows for 2014. There are probably at least a couple of shows scheduled near you!