Determining the Age of Antarctic Ice
April 23, 2014 | National Science Foundation
"A team of scientists, funded by the National Science Foundation, has successfully used a new technique to confirm the age of a 120,000-year-old sample of Antarctic ice. The new dating system is expected to allow scientists to identify ice that is much older, thereby reconstructing climate much farther back into Earth's history and potentially leading to an understanding of the mechanisms that cause the planet to shift into and out of ice ages." Quoted from the NSF press release.
Industries Sensitive to Natural Gas Prices
April 23, 2014 | Energy Information Administration
"Energy-intensive industries, including food, paper, bulk chemicals, glass, cement, iron and steel, and aluminum, are the industries that use the largest amount of energy per unit of output and are the most sensitive to natural gas prices. Of these, the most natural gas-intensive industries are food, paper, bulk chemicals, and glass." Quoted from the EIA Report.
Oregon Landslide Database
April 23, 2014 | Oregon Geology
"More than 46,000 known landslide locations are now included in a statewide database that helps increase Oregon's understanding of where future landslides may occur."
Deadly Impacts More Frequent than Previously Believed.
April 23, 2014 | Christian Science Monitor
About once every century an asteroid large enough to destroy a major city impacts Earth. Between 2000 and 2013 there were 26 atmospheric explosions that ranged between 1 and 600 kilotons.
Fracking for Oil in New Mexico
April 23, 2014 | CurrentArgus.com
Although production levels are low compared to other states, an small oil and gas boom is underway in New Mexico.
Tuscaloosa Marine Shale
April 22, 2014 | SunHerald.com
There could be as much as 7 to 9 billion barrels of oil in the Tuscaloosa Marine Shale of central and southern Louisiana and southwest Mississippi.
Goodrich Petroleum now has two successful wells in the rock unit, the second well is currently producing over 1000 barrels of oil equivalent per day.
Grand Canyon from Space
April 22, 2014 | NASA
"The Grand Canyon in northern Arizona is a favorite for astronauts shooting photos from the International Space Station, as well as one of the best-known tourist attractions in the world. The steep walls of the Colorado River canyon and its many side canyons make an intricate landscape that contrasts with the dark green, forested plateau to the north and south." Quoted from the NASA image release.

Image by NASA Astronaut Photography
Solar and Micro-Hydro at Skidmore
April 22, 2014 | BizJournals.com
"Skidmore College could generate 30 percent of its annual electricity through a solar farm and a micro-hydro project."
Diamonds Do Not Form From Coal
April 22, 2014 | Geology.com
How diamonds form is one of the most common geological misconceptions. Diamonds form under a variety of conditions that rarely, if ever, involve coal as a source of carbon. In fact, most diamonds formed long before the first coal swamp or land plant!
Pooling Oil and Gas Royalties in West Virginia
April 22, 2014 | The State Journal
A bill to allow pooling around oil and gas wells is expected to resurface in the West Virginia Legislature.
"Pooling allows the majority of landowners to benefit from gas royalties while still protecting minority interests. Pooling also protects surface owners, communities and the environment by reducing the number of wells needed to recover gas deposits." Quote from Steve Roberts, West Virginia Chamber of Commerce.
Natural Gas Boom Misconceptions
April 22, 2014 | USA Today
USA Today has a brief article that presents three misconceptions about the natural gas boom that has occurred in several parts of the United States.
National Land Cover Database
April 22, 2014 | USGS
USGS has released the latest edition of the The National Land Cover Database.
The nation's most comprehensive look at land-surface conditions from coast to coast shows the extent of land cover types from forests to urban areas.
Drilling the Mancos Shale in New Mexico
April 22, 2014 | Biz Journals
Encana Corporation has plans to drill up to 50 wells in the Mancos Shale in New Mexico.
Challenges of the Monterey Shale
April 22, 2014 | Los Angeles Times
Although the Monterey Shale contains vast amounts of oil the cost of leasing is very high, much of the oil is very deep and a new approach at fracking might be needed to liberate the oil.
House Torn in Half by Landslide
April 22, 2014 | The Montana Standard
A house straddling the scarp of a small landslide near Jackson, Wyoming was torn apart as the slide moved. Photos.
Roadside Geology Guides
April 22, 2014 | Geology.com Store
Since 1972 the "Roadside Geology" series has provided introductory information on the geology of states and small regions of the United States.
The books provide a combination of maps, travel logs, photos and commentary for the geology that can be seen along highways or visited at parks and public viewing areas. They are popular with geologists, teachers, students and others who are interested in the Earth.
Congress and California State Legislature: Waiting for the Big Earthquake
April 21, 2014 | Los Angeles Times
Mexico has an early warning system that can detect earthquakes and notify people before vibrations arrive. During last week's magnitude 7.2 earthquake along Mexico's Pacific coast the system gave people in Mexico City about 60 seconds of warning before vibrations arrived. People in Acapulco had 27 seconds of warning. This gave them time to seek cover, turn off gas flames, stop surgeries, stop vehicles, protect children and more.
Mexico has been giving earthquake warnings for over 20 years and their systems have helped people avoid injury, property damage and possibly deaths. Japan has an earthquake warning system.
The United States has every ability to implement an earthquake warning system. We have the expertise and the technology. However, the United States Congress can't decide to fund an earthquake warning system and lawmakers in California have ruled that state funds should not be used to pay for one there! The price tag on offering the service to the public for free is a tiny tiny tiny fraction of the guaranteed damage that will occur during the next large California earthquake.
Here's a link to the LA Times article to send to your representatives…
http://www.latimes.com/local/la-me-quake-app-20140321,0,163022.story
Contact information for California State Legislators
Contact information for the U.S. Senators and Representatives
Helium and Volcanoes
April 20, 2014 | Eruptions Blog
Helium is one of the most interesting elements. Erik Klemetti explains how helium emissions in volcanic areas might help understand what is happening below.
Related: What is Helium?
LNG as a Railroad Fuel?
April 20, 2014 | Energy Information Administration
Continued growth in domestic natural gas production, along with substantially lower natural gas spot prices compared to crude oil, is reshaping the U.S. energy economy and attracting considerable interest in the potential for fueling freight locomotives with liquefied natural gas.
Related: What is LNG?
Watch out for Ticks!
April 20, 2014 | Geology.com
Spring and early summer are some of the most active times for ticks. Learn how to recognize ticks, how to avoid tick bites and how to remove a tick from your skin.
A New Moon Forming in the Rings of Saturn?
April 20, 2014 | NASA
NASA's Cassini spacecraft has documented the formation of a small icy object within the rings of Saturn that may be a new moon, and may also provide clues to the formation of the planet's known moons.
What Causes A Blood Moon?
April 20, 2014 | National Science Foundation
A short post on the National Science Foundation website explains what causes the red color of a blood moon and why the color varies from eclipse to eclipse.
No Ban on Exporting Refined Products
April 20, 2014 | Energy Information Administration
Although there are currently very tight controls (not quite a ban) on the export of crude oil, companies in the United States are exporting increasing amounts of refined products.

Thousands of barrels per day
$700,000 to Prop Up a Small Landslide?
April 20, 2014 | Jackson Hole News and Guide
A landslide in Jackson, Wyoming, that so far has been moving slowly, is threatening a Walgreens, utility service for a large part of the city, and a number of residents. A favored solution to slowing the slide is to place weight on its toe.
Award Winning Photos of Comet ISON
April 20, 2014 | National Science Foundation
Seven photographers from around the globe received awards for their stunning images of comet C/2012 S1 (ISON) at the Northeast Astronomy Forum held at Rockland Community College. Quoted from the National Science Foundation press release.
Rising Natural Gas Prices in Ontario
April 20, 2014 | Toronto Star
An article in the Toronto Star explains how homeowners in Ontario are seeing a rapid rise in their natural gas heating costs.
Independents Outweigh Majors by 5 to 1
April 20, 2014 | FuelFix.com
An article on the FuelFix website gives examples of how the shale plays have been grabbed and held mainly by small to medium-size oil companies.
Tools for Geologists
April 20, 2014 | Geology.com Store
The Geology.com store has a large selection of rock hammers, crack hammers, rock chisels, goggles, hand lenses, rock bags, leather cases, field books, wall maps, specimen kits and more.
Predicting Sea Level Rise for Miami
April 17, 2014 | National Science Foundation
A National Science Foundation press release gives a quick look at efforts to predict long-term sea level rise in Miami
Mineral Rights
April 17, 2014 | Geology.com
In most countries all mineral resources belong to the government. This includes all valuable rocks, minerals, oil or gas found on or within the Earth. In the United States ownership of mineral resources was originally granted to the individuals or organizations that owned the surface. These property owners had both "surface rights" and "mineral rights". Since then the owners have enjoyed the freedom to sell, lease, gift or bequest these rights individually or entirely to others. Now a single plot of land on the surface can have several different subsurface owners!
$20,000 for a Canary Diamond Found in Arkansas?
April 17, 2014 | Weather Channel
Tana Clymer, a 14-year-old from Oklahoma City found a nice canary-colored diamond at the Crater of Diamonds State Park in Arkansas last fall. She recently sold it for $20,000.
Related: Diamond Mines in the United States.
Eagle Ford Output Swamps the Corpus Christi Port
April 17, 2014 | Bloomberg
The oil production from Eagle Ford Shale has caused a large increase in volume at Corpus Christi port – so much that they have built a new petroleum dock and consider a plan to widen the shipping channel.
NASA image
Did Life Arise from Hydrothermal Vents?
April 17, 2014 | NASA
"Did life first arise on Earth in warm, gentle springs on the sea floor?
Researchers are putting together the chemical pieces of how this process might have occurred." Quoted from the NASA press release.
Advocating Landslide Mapping in West Virginia
April 17, 2014 | WVU Today
Graduate students at West Virginia University are using LiDAR, a high resolution mapping technology, to detect and map historic and prehistoric landslides. The maps can then be used to avoid landslide areas prior to construction and identify areas where mitigation might be considered.
Lateritic Rare Earth Deposits
April 17, 2014 | Arizona Geological Survey
The Arizona Geological Survey has published Chapter 4 of the Proceedings of the 48th Annual Forum on the Geology of Industrial Minerals in their online archive. It is a paper by Mark Cocker: Lateritic, supergene rare earth element (REE) deposits.
An Onshore Fuel Shortage in Nigeria?
April 17, 2014 | National Geographic
The Niger Delta is one of the best-producing oil patches on our planet but the people of Nigeria are often scrounging for gasoline.
Earth Science Week April Newsletter
April 17, 2014 | Earth Science Week
The monthly newsletter for Earth Science Week is available. Don't wait until fall to prepare for Earth Science Week 2014 (October 12-18)!
Oarfish Video on National Geographic
April 17, 2014 | National Geographic
National Geographic has a video of a rarely-seen oar fish swimming in shallow in the Mexican state of Baja California. Staff from the Shedd Aquarium filmed the video.
Oil By Rail into California
April 17, 2014 | NBC Bay Area
There are no pipelines delivering crude oil to California. The state with more cars than any other receives all of its oil by ship or from domestic production. Some analysts believe that 25% of the state's crude oil will arrive by rail by 2016.
Real Estate Prices Near Fracking
April 17, 2014 | Forbes
Researchers at the University of Calgary and Duke University found that homes within 1 kilometer of a shale gas well on a private water supply fell by over 20 percent in value compared to those on public water supplies. This loss can offset gains made through mineral rights sales.
Related: What is Hydraulic Fracturing?
Observing the Milky Way from Arizona
April 17, 2014 | BLM
The Bureau of Land Management has a great image of the Milky Way from Sonoran Desert National Monument.
Higher Resolution image by Bob Wick, BLM
Rock and Mineral Identification
April 17, 2014 | Geology.com Store
The ability to identify rocks and minerals in the field is a very important skill. The Geology.com store has a selection of rock, mineral, fossil and gem mineral kits that can be used for learning and practice. Testing tools are also available.
What is Peanut Wood?
April 16, 2014 | Geology.com
This material is a petrified wood from Australia but it has nothing to do with peanuts. Most people are amazed when they learn how it forms.
Earthquake Swarm in Idaho
April 16, 2014 | Oregon Live
Numerous small earthquakes have occurred in central Idaho. Although no injuries or severe damage have been reported the events have caused concerns among the people who live there.
Another Advance in Drilling
April 16, 2014 | Reuters
"Schramm Inc [...] has designed a 500,000-pound rig for the oil and natural gas industry that can walk, rotate 360 degrees, be operated with a remote control, and load pipe automatically."
Texas Oil Production Highest Since 1980
April 16, 2014 | Oil and Gas Journal
Oil production in Texas is rising to levels not seen since 1980. During February the state produced an average of 2.75 million barrels of crude oil per day.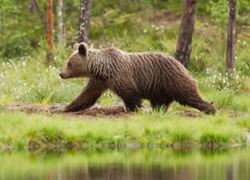 Image © iStockphoto/IndrekV
Bear Attack!
April 15, 2014 | Geology.com
If you spend time in bear country knowing how to react to a bear encounter and what to do if you are attacked could save your life.
If you don't know where bears live here is a map of the geographic ranges for black, grizzly and polar bears in North America.
Largest Natural Gas Storage Withdrawal
April 15, 2014 | Energy Information Administration
This winter's natural gas withdrawal season saw the largest storage withdrawal on record. Historically, winter stock withdrawals average around 2 Tcf. However, this winter much of the country experienced sustained colder-than-normal temperatures, and almost 3 Tcf of gas has been withdrawn from storage as of the end of March.
Phillips Acquires a License to Export US Crude
April 15, 2014 | Reuters
Amid the debate about exporting United States crude oil, Phillips has obtained a license to export crude from the United States into Canada.
The Influence of Bedrock on Vegetation
April 15, 2014 | National Science Foundation
"Scientists investigated the factors that influence forest cover in California's Sierra Nevada. Bedrock may be as important as temperature and moisture, they found, in regulating the distribution of trees and other vegetation across mountain slopes." Quoted from the National Science Foundation press release.