What is Peanut Wood?
April 16, 2014 | Geology.com
This material is a petrified wood from Australia but it has nothing to do with peanuts. Most people are amazed when they learn how it forms.
Earthquake Swarm in Idaho
April 16, 2014 | Oregon Live
Numerous small earthquakes have occurred in central Idaho. Although no injuries or severe damage have been reported the events have caused concerns among the people who live there.
Another Advance in Drilling
April 16, 2014 | Reuters
"Schramm Inc [...] has designed a 500,000-pound rig for the oil and natural gas industry that can walk, rotate 360 degrees, be operated with a remote control, and load pipe automatically."
Texas Oil Production Highest Since 1980
April 16, 2014 | Oil and Gas Journal
Oil production in Texas is rising to levels not seen since 1980. During February the state produced an average of 2.75 million barrels of crude oil per day.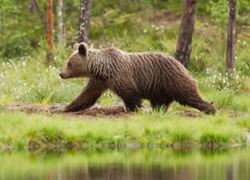 Image © iStockphoto/IndrekV
Bear Attack!
April 15, 2014 | Geology.com
If you spend time in bear country knowing how to react to a bear encounter and what to do if you are attacked could save your life.
If you don't know where bears live here is a map of the geographic ranges for black, grizzly and polar bears in North America.
Largest Natural Gas Storage Withdrawal
April 15, 2014 | Energy Information Administration
This winter's natural gas withdrawal season saw the largest storage withdrawal on record. Historically, winter stock withdrawals average around 2 Tcf. However, this winter much of the country experienced sustained colder-than-normal temperatures, and almost 3 Tcf of gas has been withdrawn from storage as of the end of March.
Phillips Acquires a License to Export US Crude
April 15, 2014 | Reuters
Amid the debate about exporting United States crude oil, Phillips has obtained a license to export crude from the United States into Canada.
The Influence of Bedrock on Vegetation
April 15, 2014 | National Science Foundation
"Scientists investigated the factors that influence forest cover in California's Sierra Nevada. Bedrock may be as important as temperature and moisture, they found, in regulating the distribution of trees and other vegetation across mountain slopes." Quoted from the National Science Foundation press release.
More Large Ancient Slides in the USA
April 15, 2014 | The Bellingham Herald
An article in The Bellingham Herald gives details on several very large landslides that dwarf the Oso Slide and all involved sudden, unpredictable collapse.
Related: Landslide incidence map
A Record of Acid Rain in Greenland Ice
April 15, 2014 | University of Washington
"By analyzing samples from the Greenland ice sheet, University of Washington atmospheric scientists found clear evidence of the U.S. Clean Air Act. They also discovered a link between air acidity and how nitrogen is preserved in layers of snow." Quoted from the University of Washington press release.
Report on California Geothermal
April 15, 2014 | Geothermal Energy Association
In their Report on the State of Geothermal Energy in California, the Geothermal Energy Association says…. "Geothermal power generated 4.4% of total system power in California in 2012, but could have generated substantially more [...] about half of California's identified geothermal resources are still untapped, and significant resources may remain undiscovered."
Carbon Absorption in Deserts
April 15, 2014 | Washington State University
"Researchers led by a Washington State University biologist have found that arid areas, among the biggest ecosystems on the planet, take up an unexpectedly large amount of carbon as levels of carbon dioxide increase in the atmosphere." Quoted from the Washington State University press release.
Earliest Known Cardiovascular System
April 15, 2014 | University of Arizona
"A fossil creature buried in an "invertebrate version of Pompeii" more than half a billion years ago reveals the first-known cardiovascular system in exquisitely preserved detail." Quoted from the University of Arizona News.
Hacking Big Oil from a Chinese Restaurant?
April 15, 2014 | New York Times
The New York Times has an article that explains how an unnamed major oil company was hacked by using the website of a nearby Chinese restaurant.
Premium Satellite Prints
April 15, 2014 | MyTopo.com
MyTopo recently upgraded and enhanced their satellite imagery. Now, you can order custom satellite prints of the same image quality you see on sites like Bing, Zillow, and Google.
Center the image anywhere you want in either landscape or portrait format.
Get a custom print of your favorite park, lake, peak, farm, neighborhood, hunting cabin, or baseball field (yep, that's Fenway Park for you Red Sox fans).
Prices start at just $59.95 plus shipping. MyTopo will print your map promptly and have it delivered straight to your door – rolled in a sturdy map tube.
We are affiliates of MyTopo and receive a commission on sales.
The Status of Landslide Mapping in the USA?
April 13, 2014 | CNBC
An article on CNBC website explores some of the challenges of producing landslide hazard maps for the United States.
Slow-Moving Landslide in Wyoming
April 13, 2014 | Jackson Hole News and Guide
A slow-moving landslide in Jackson, Wyoming has prompted the evacuation of numerous homes and shut down a Walgreens store.
Related: Landslide incidence map
Watching the Total Lunar Eclipse
April 13, 2014 | National Geographic
National Geographic has an article that explains how to watch the total lunar eclipse that will occur overnight on April 14-15.
Possible Exomoon Found
April 13, 2014 | NASA
NASA-funded researchers have spotted the first signs of an "exomoon," and though they say it's impossible to confirm its presence, the finding is a tantalizing first step toward locating others. The discovery was made by watching a chance encounter of objects in our galaxy, which can be witnessed only once.
LED Bulb Prices and Efficiency
April 13, 2014 | Energy Information Administration
The Energy Information Administration shows that the efficiency of LED light bulbs is increasing as prices are rapidly falling.
Bottled Water: A Geological Product?
April 13, 2014 | Geology.com
Although much of the bottled water sold in stores is nothing more than expensive tap water, some of it is actually a geological product such as: mineral water, ground water, artesian water, spring water, sparkling water…
South Korea Energy Report
April 13, 2014 | Energy Information Administration
"South Korea relies on imports to meet about 97% of its energy demand as a result of insufficient domestic resources, and the country is one of the world's leading energy importers." Quoted from the Energy Information Administration report.
California Snow Pack is Low and Why That's a Problem
April 13, 2014 | Slate.com
California already has drought problems, but mountain snowpacks in the state are really low this spring and that will prevent reservoirs from filling. Since melting snowpack is a major contributor to California's water there will likely be more water shortages this summer unless more rail falls.
First Geothermal Plant in New Mexico
April 13, 2014 | KOB4
KOB4 has a short report on Lightning Dock Geothermal, the first geothermal plant to open in the state of New Mexico.
A Scientist's Life
April 13, 2014 | Scripps
Scripps Institution of Oceanography features Lihini Aluwihare: "In my field I'm called an organic geochemist. In a very basic sense, I'm using molecules to tell a story about the processes on Earth that involve organisms. If you think about the number of different molecules that are on Earth most of them are organic, meaning they were made by organisms. My interest lies in trying to understand those molecules and what their structure tells us about the processes that have acted on them."
Future of the Haynesville Shale?
April 13, 2014 | TheAdvertiser.com
Natural gas drilling activity in the Haynesville Shale was booming in 2010 but has fallen significantly since then. The fall occurred as natural gas prices fell from $12 down to $2. Companies started drilling there with a high income assumption. After the price fall, drillers could make more money drilling liquid and oil-rich plays because the revenue there was greater. They Haynesville still holds lots of gas and drilling will increase when prices increase.
Made to Outlast the Geologist
April 13, 2014 | Geology.com Store
Many people say that Gfeller leather field equipment is "made to outlast the geologist". They make field belts, hammer carriers, field cases, field brief cases, lanyards, Brunton cases, acid bottle cases and more.
NASA image.
Monitoring Sacramento River Levees with Radar?
April 10, 2014 | NASA
"In the Sacramento River delta north of San Francisco Bay, islands, agricultural lands and communities below sea level are protected from surrounding water channels by more than 1,100 miles of dirt levees, many of which date back to the California Gold Rush." NASA now has a method to monitor them using radar. Quote from the NASA press release.
Rare Earths in Seafloor Nodules Off Bermuda?
April 10, 2014 | Bermuda's The Royal Gazette
Some mineral experts say that Bermuda's Exclusive Economic Zone has a rich resource of polymetallic nodules that are rich in rare earth elements.
Related: What are Rare Earth Elements?
Image by Sir Charles Lyell
Military Armor Inspired by Twinning in Mollusk Shells?
April 10, 2014 | MIT News
"The shells of a sea creature, the mollusk Placuna placenta, are not only exceptionally tough, but also clear enough to read through. Now, researchers at MIT have analyzed these shells to determine exactly why they are so resistant to penetration and damage — even though they are 99 percent calcite, a weak, brittle mineral."
Burning Marcellus Gas in Ontario
April 10, 2014 | BizJournals
About 30 percent of the natural gas used in the Province of Ontario, Canada is produced from the Marcellus Shale.
New USGS Topo Maps of Utah
April 10, 2014 | United States Geological Survey
USGS announced that they have published new topographic maps and orthophoto images for the state of Utah in pdf format. A small sample of the Moab quad is shown below. If you want to see it full size in a pdf document click here (28 megabytes).
The Contraction of Mercury
April 10, 2014 | Carnegie Institution for Science
"Unlike Earth, with its numerous tectonic plates, Mercury has a single rigid, top rocky layer. [...] New global imaging and topographic data from MESSENGER show that the innermost planet has contracted far more than previous estimates." Quoted from the Carnegie Institution for Science press release.
Will Yellowstone Erupt in Our Lifetime?
April 10, 2014 | National Science Foundation
"Yellowstone is like a conveyer belt of caldera clusters," he says. "By investigating the patterns of behavior in two previously completed caldera cycles, we can suggest that the current activity of Yellowstone is on the dying cycle."
Related: The Volcano Beneath Yellowstone
What is Causing the Oklahoma Earthquakes?
April 10, 2014 | ThinkProgress
During 2013 the state of Oklahoma experienced 109 earthquakes with a magnitude of 3 or higher. Already this year the state has equaled that number. Some people blame wastewater injection.
The Wichita Eagle reports that Kansas is also experiencing a number of earthquakes.
South Dakota Sand and Fracking Specs
April 10, 2014 | WashingtonTimes.com
The South Dakota Department of Environmental and Natural Resources conducted a study on 256 sand samples collected from the western part of the state to determine if they could be developed as frac sand sources for use in wells that use hydraulic fracturing in North Dakota's Bakken formation.
Related: What is Frac Sand?
Satellite Data and Corn Belt Productivity
April 10, 2014 | NASA
"Data from satellite sensors show that during the Northern Hemisphere's growing season, the Midwest region of the United States boasts more photosynthetic activity than any other spot on Earth, according to NASA and university scientists." Quoted from the NASA press release.
Mineral Hardness Picks
April 10, 2014 | Geology.com Store
Mineral hardness picks are pencil-like tools that have points made from materials that match the hardness of minerals in the Mohs Hardness Scale. With them you can easily test the hardness of mineral grains in a rock and test the hardness of small-size specimens. In our opinion they are easier to use than pieces of minerals and allow you to obtain more accurate results. They also do not contaminate your specimen with particles of the hardness mineral.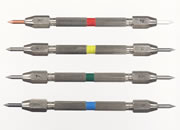 Pittsburgh: Landslide Capital of the East
April 8, 2014 | WTAE News
WTAE News has a video report on a large landslide, with a chute about 100 yards wide on the side of Mount Washington. Pittsburgh has lots of landslides because it is a city flanked by steep river valley walls, lots of precipitation and weak red shales forming much of the bedrock.
Related: Landslide Incidence Map
Spending a Billion Dollars on CO2?
April 8, 2014 | Arizona Geology Blog
Kinder Morgan is going to spend about one billion dollars to drill for carbon dioxide in Arizona, treat the gas, compress it, send it through a new pipeline to oil fields in Texas and New Mexico, and pump into the ground for enhanced oil recovery. One billion dollars for CO2!
Large Dams Cost Too Much!
April 8, 2014 | International Rivers
An Oxford University study reports that large dams typically require about 8 years for construction and have average cost overruns of nearly 100%. By the time they are finished the needs of their region have often changed and the unanticipated expenses might make the total cost too high.
Using Unmanned Aircraft to Survey Polar Ice
April 8, 2014 | National Science Foundation
"Scientists studying the behavior of the world's ice sheets–and the future implications of ice sheet behavior for global sea-level rise–may soon have a new airborne tool that will allow radar measurements that previously would have been prohibitively expensive or difficult to carry out with manned aircraft." Quoted from the National Science Foundation press release.
Petrochemical Exports Could Double
April 8, 2014 | ChemWeek.com
Stephen Pryor, President of ExxonMobil Chemical, believes that "US exports of polyethylene, polypropylene, and para-xylene, three of the largest primary petrochemical products, could double by 2025 thanks to shale gas." Quoted from ChemWeek.com.
The Largest Petroleum Basin in the World
April 8, 2014 | USGS
"The West Siberian basin is the largest petroleum basin in the world covering an area of about 2.2 million square kilometers. The basin occupies a swampy plain between the Ural Mountains and the Yenisey River." Quoted from the USGS report.
Total Lunar Eclipse: April 15
April 8, 2014 | NASA on YouTube.com
There will be four lunar eclipses between now and September 28, 2015. The first will be a total eclipse on April 15, 2014. It will be visible over much of the United States.
April 15, 2014
October 8, 2014
April 4 2015
September 28, 2015
Extreme Ice Survey at Antarctica Peninsula
April 8, 2014 | National Geographic
National Geographic has an article and video titled: "Chasing Ice Photographer Focuses on Melting Glaciers in Antarctica"…. they bolt nine time lapse cameras to bedrock overlooking glaciers and photograph them every hour during daylight.
Qatar LNG Profits in Jeopardy?
April 8, 2014 | Bloomberg
Although Qatar is currently the largest exporter of liquified natural gas in the world, its natural gas profits could be slashed as Australia, the United States, east African nations, Indonesia and several other countries enter or step into the LNG export business.
If Qatar's profits are threatened, what is going to happen to United States companies who plan to export natural gas and have a transportation disadvantage?
Related: What is LNG?
LNG from Eastern Russia
April 8, 2014 | Reuters
Rosneft, the world's largest oil company on the basis of output, and ExxonMobil are working on a plant to produce LNG in eastern Russia. They hope to ship the first LNG in 2018.
Antelope Canyon
April 8, 2014 | Weather Channel
The Weather Channel has a short video about Antelope Canyon, near Page Arizona.
"Antelope Canyon is the most-visited and most-photographed slot canyon in the American Southwest. It is located on Navajo land near Page, Arizona." Quote from Wikipedia.
Wall Maps of US States
April 8, 2014 | Geology.com Store
Raven Maps are beautiful examples of shaded-relief wall maps that display the elevation of a state in vibrant colors. These large maps look great in a classroom, den or office. Use one to mark the locations of your work or company.