August 31, 2015
---
---
August 28, 2015
Earthquake Insurance Might Not Cover "Man-Made" Earthquakes
KFOR.com
Homeowners Insurance Often Does Not Cover Earthquakes, Floods, Hurricanes, Landslides, Subsidence, Soil Problems and Many Other Problems That You Think It Should Cover
Geology.com
Crude-by-Barge Shipments Are Dropping
Platts
Marcellus Natural Gas Migrating into Water Supply Wells
State Impact – NPR
Aerial View of Russian Mud Volcano
The Weather Network
Budgets for Oil Drilling Likely to Decline Again in 2016
The Oklahoman
Field Sampling Plan: Characterization of Naturally Occurring
Radioactive Materials in the Oil and Gas Field
Pennsylvania Independent Oil and Gas Association / Marcellus Shale Coalition
---
Colorful Calendar Celebrates 12 Years of NASA's Spitzer
NASA
---
---
Another Record Year for Bottled Water
Bottled water sales are exploding again! During 2014 Americans consumed about 10.9 billion gallons of bottled water.
Some types of bottled water are geological products. These include: mineral water, ground water, well water, artesian water, spring water and sparkling water. The source of the water is often marked on the label.
---
August 27, 2015
---
The Acid Test
The Acid Test: Geologists use dilute hydrochloric acid to identify carbonate minerals and detect their presence in rocks.
---
August 26, 2015
---
Rock and Mineral Identification
The ability to identify rocks and minerals in the field is a very important skill. The Geology.com store has a selection of rock, mineral, fossil and gem mineral kits that can be used for learning and practice. Testing tools are also available.
---
August 25, 2015
NASA: California Drought Causing Valley Land to Sink
NASA
The Complexities of a Severance Tax on Natural Gas in Pennsylvania
Forbes
Portland's 1800 Unreinforced Masonry Buildings and Earthquake Risk
KGW.com
Consequences of the Global Oil Bust
The Washington Post
Ecuador's Cotopaxi Volcano Roars Back to Life
ABC News (Australia)
Teachers: Get the Earth Science Week Toolkit
EarthScienceWeek.org
---
First Offshore Wind Farm in the United States
Energy Information Administration
---
Mohs Hardness Scale
Mohs Hardness Scale is a set of reference minerals used to estimate the relative hardness of mineral specimens. It is widely used by students and geologists in field and laboratory studies.
---
USGS Image. Click image to enlarge.
August 24, 2015
New Topographic and Orthoimage Maps for Wyoming – Free Downloads from USGS
United States Geological Survey
How Life and Luck Changed Earth's Minerals
Wired Science
Washington, D.C., Sinking Fast, Adding to Threat of Sea-Level Rise
The University of Vermont
Antarctic Detector Confirms Observation of Cosmic Neutrinos
National Science Foundation
Susquehanna River Basin Commission Finds No Impacts on Streams from Marcellus Shale Drilling
The Towanda Daily Review
Who Is Responsible for Paying the Severance Tax? Producers? Landowners? In Kentucky, Producers Will Pay 100%
The Kansas City Star
Severance Taxes
Energy Information Administration
---
Washington D.C. and the Surging Sea
ClimateCentral.org
Interactive Submergence Risk Map for Washington D.C.
ClimateCentral.org
---
Peridotite
Peridotite is a host rock of chromite, a source rock of diamonds, a potential sink for atmospheric carbon dioxide and the rock that makes up much of Earth's mantle. Did you realize it was so important?
---
August 21, 2015
Russia is the Largest Exporter of Crude and Lease Condensate
Energy Information Administration
Linking the Cost of Flood Insurance to the Level of Risk
Arizona Geology
The Geology Of Star Trek
Forbes
Anatomy of the Gold King Mine Spill – Was It Caused by An Ice Plug ?
Arizona Daily Independent
How Are Hurricanes Named?
Geology.com
Maps of U.S. Power Plants by Fuel Source
The Washington Post
The Differences Between "Active", "Dormant", and "Extinct" Volcanoes – and Why those Labels are Difficult to Define
Wired Science
Removing Carbon From the Atmosphere for Use as a Manufacturing Feedstock
MIT Technology Review
---
Southern California Tsunami Simulation
Los Angeles Times
---
Google is Uncertain About "What Happened to the Dinosaurs?"
SearchEngineRoundTable
---
August 20, 2015
Q&A on Sea Surface Topography
NASA
What's Up With the Quakes Before a Volcano Erupts?
Wired Science
Humans Responsible for Demise of Gigantic Ancient Mammals
University of Exeter
Restless Volcano Near a Japanese Nuclear Plant
Public Radio International
NASA: There is No Asteroid Threatening Earth
NASA
The Price of West Texas Intermediate Crude Fell to $40.80/Barrel Yesterday
Forbes
Gulf of Mexico Oil Lease Auction Attracted Lowest Interest Since 1986
The New York Times
Inaugural Newsletter on Military Geosciences
Arizona Geology
---
Geologic Map of Baranof Island, Southeastern Alaska
United States Geological Survey
---
What is a Maar?
Maars are the second most common volcanic feature on Earth.
The largest maars are found on the Seward Peninsula of Alaska. Do you know what they are and how they form?
---
WaterproofPaper.com and Geology.com
are GeoShops websites.
August 19, 2015
Ternary Diagraph Paper: Free Printable Graph Paper
WaterproofPaper.com
The Way We Measure Earthquakes is Stupid !
Wired Science
Sakurajima in Japan Might Be Headed Towards a Large Eruption
Wired Science
Arizona Cleaning Up After the House Rock Flood
Arizona Daily Independent
State of Emergency in Ecuador as Cotopaxi Volcano Spews Ash
Aljazeera Latin America
Ancient Flood Basalt Eruptions Could Have Altered Climate
NASA
Former Marine, 66, Survives Hand-to-Claw Combat With Bear
Washington Post
One Decade after Launch, Mars Orbiter Still Going Strong
NASA
---
July Was Likely Earth's Hottest Month in Earth's Hottest Year
The Washington Post
---
Wall Maps of US States
Raven Maps are beautiful examples of shaded-relief wall maps that display the elevation of a US state in vibrant colors.
These large maps look great in a classroom, den or office. They can be perfect for marking your corporate locations.
---
August 18, 2015
Devonian Shales in the Broadtop Synclinorium, Appalachian Basin
United States Geological Survey
Scientists Share Their Funniest Blunders
The Washington Post
EPA's Report on the Gold King Mine Spill
The United States Environmental Protection Agency
Shell Gets Final Approval to Drill for Arctic Oil
Time
Arctic Ocean Seafloor Features
Geology.com
Enormous Boulders Moved by Arizona Flooding
Arizona Geology
Washington DC is Sinking
Discovery News
Obama Administration Allows Oil Trading with Mexico
The U.S. can sell locally abundant light crude to Mexico and Mexico can sell heavy crude to the U.S.
The New York Times
Seaweed Smothers Caribbean Beaches
The Washington Post
Using Parents' Highest Education Level as a Proxy for the Socioeconomic Status of Science and Engineering Students
American Geosciences Institute
---
Gulf of Aden Earthquake
This earthquake occurred yesterday on the transform fault that separates the West Sheba Ridge from the East Sheba Ridge – a spreading center between Africa and Asia
United States Geological Survey
---
Olivine
Olivine is the name of a group of rock-forming minerals. These minerals are usually found in mafic and ultramafic igneous rocks. They are also found in Earth's mantle and in some meteorites. Although olivine is not often used in industry, high clarity specimens with good color are cut into a gemstone known as peridot.
---
August 17, 2015
---
Geological Fieldbooks
Rite in the Rain bound books are manufactured with true outdoor-durable components. This bound book with factory-numbered pages and project identification form (project/client location, date) on every page is suitable for taking important notes that might be required for regulatory review or legal testimony. Included are 20 reference pages and removable photographic scale. Book has 63 leaves (136 pages) and measures 7 1/2″ x 4 3/4″.
---
August 14, 2015
Photograph: The World's Best Opal
ArtDaily.com
Many Types of Opal
Geology.com
The New El Niño Might Be a Record Strong Event
The Washington Post
El Niño Could Be Among Strongest on Record, Raising Risk of Floods
NBC News
Farming On the Edge of a Volcano
The Guardian
Shale-Gas Webinar to Analyze the Volumes of Natural Gas in Shale Formations
Penn State Extension
---
NASA's Spitzer Confirms Closest Rocky Exoplanet
NASA
---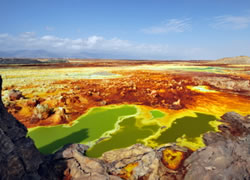 Image © iStockphoto and Matejh Photography.
The Strangest Volcanic Landscape
One of the world's strangest volcanic landscapes is located 269 feet below sea level in the Danakil Depression of Ethiopia. It is the Dallol crater, where phreatic eruptions through salt created a maar with colorful and caustic salt deposits.
Related: What is a Maar?
---
August 13, 2015
Mars Trek: NASA Tool Allows You to Explore Mars
NASA
Rocks on Mars that Look Like Rocks on Earth
Geology.com
Solar Farms from Space
Atlas Obscura
Satellite Image: Flooding on the Irrawaddy River
NASA Earth Observatory
Keystone XL Review Drags on Five Times Longer Than Average
Associated Press
Better Estimates of Worldwide Mercury Pollution
MIT News
---
Expedition to the Aleutian Islands: Geoscientists Head to Remote Alaska Volcanoes
National Science Foundation
---
Topos and Aerials with Property Boundaries
MyTopo is now offering large-format topo maps, aerial photos and satellite images printed with property lines *. Now you can print customized maps and images with land parcels for most parts of the United States . Land boundaries provide valuable info for many people, from realtors to hunters to land surveyors and government agencies. Create a custom map with property boundaries for work or play.
Create your custom map today. Just check the box labeled "Private Property Lines" during Step 2 of the custom map process.
We are affiliates of MyTopo and receive a commission on sales.
* Actual times for private land updates may vary from county to county and are dependent on various data sources and how often they release updated information. MyTopo will release the latest info it has collected four times a year. Private property boundaries are compiled from government and other sources and should be used for reference only. These maps are not a legally recorded map or survey.
---
Chrysoberyl – An Extreme Gem
Chrysoberyl is an extreme gem. At 8.5 on the Mohs Scale it is the third hardest gem mineral. Its specific gravity of 3.7 to 3.8 it is very high for a non-metallic mineral. It is the gem with the finest chatoyance (cat's eye). Some specimens change color depending upon the type of incident light.
---
August 12, 2015
---
---
August 11, 2015
U.S. Army Corps of Engineers Built a 200 Acre Model of the Mississippi River Basin in 1948
Atlas Obscura
The Natural Gas Price Volatility Season Arrives
Bloomberg
Gemfields: Auctioning Colored Gemstone Deposits in India is Not Viable
Business Standard
Video: Cave Divers Explore Pandora Cave
Caving News
The New $8B Suez Canal
The Washington Post
---
Map Shows Content and Origins of the Nation's Geologic Basement
United States Geological Survey
---
August 10, 2015
---
---
August 7, 2015
---
Mineral Hardness Picks
Mineral hardness picks are pencil-like tools that have points made from materials that match the hardness of minerals in the Mohs Hardness Scale. With them you can easily test the hardness of mineral grains in a rock and test the hardness of small-size specimens. In our opinion they are easier to use than pieces of minerals and allow you to obtain more accurate results. They also do not contaminate your specimen with particles of the hardness mineral.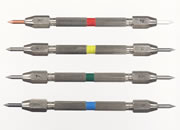 ---
August 6, 2015
Pilanesberg Ring Dike Complex
NASA Earth Observatory
Russia Oil and Gas Report
Energy Information Administration
Cambridge Museum Rediscovers 'Magna Carta of Geology'
BBC
Video: The Geology of Ogof Ffynnon Ddu (Cave of the Black Spring, South Wales)
Caving News
Video: Underground and Alluvial Mining of Sapphire in Sri Lanka
Gemological Institute of America
Corundum: The Mineral of Ruby and Sapphire
Geology.com
---
Unusual Red Arcs on Saturn's Moon Tethys
NASA
---
United States Geological Survey Image
August 5, 2015
Landslides Triggered by Nepal Earthquakes
United States Geological Survey
Landslide Hazard Information for the United States
USGS Fact Sheet on Geology.com
NSF Awards Grants for Study of Nepal Earthquake
National Science Foundation
Four West Coast Universities Funded for Earthquake Early Warning System
University of Washington
Oil Drillers Retreat from the Shallow U.S. Gulf of Mexico
Bloomberg Business
Shell Begins Drilling in the Chukchi Sea
FuelFix
Chukchi Shelf on an Arctic Ocean Seafloor Features Map
Geology.com
Evidence of 14,000-Year-Old Dental Work – And It Sounds Miserable
The Sydney Morning Hearld
---
New Names and Insights at Ceres
NASA
Ceres: Animated Topographic Map
NASA
---
August 4, 2015
---
---
What Your Homeowner's Insurance Does Not Cover
Most homeowners insurance policies have exclusions that make them worthless when the home is damaged by common geologic problems such as floods, earthquakes, landslides, mine subsidence, cavern collapse and expansive soils. When a home is damaged the homeowner often is surprised that his "all perils" policy has these exclusions.
---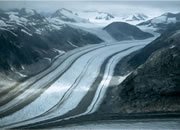 USGS Image
August 3, 2015
---
Fluorescent Minerals and UV Lamps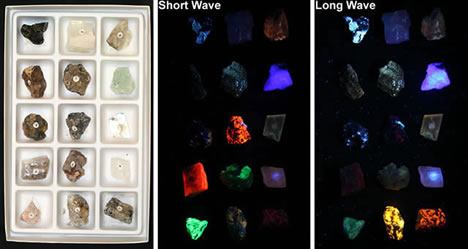 About 15% of minerals will exhibit a visible fluorescence under shortwave or longwave ultraviolet illumination. The Geology.com Store has ultraviolet lamps, fluorescent mineral sets and UV-blocking safety glasses.
---
July 2015: Most Viewed News
The Really Big One That Is Going to Slam Seattle
The New Yorker
The Seattle Times on The New Yorker's Earthquake Article
The Seattle Times
The World's Newest Glacier at Mount St. Helens
The Seattle Times
After Ten Years of Digging: A Breakthrough at Grand Canyon Caverns
Quartz
Tectonic Model Shows North America May Once Have Been Linked to Australia or Antarctica
United States Geological Survey
The Only Diamond Mine in the World Where You Can Be the Miner
Geology.com
Volcano Cluster Thought to be 50 Million Years Old Accidentally Discovered Off Sydney, Australia
ABC News Australia
Discovering a New Trigger for Volcanic Eruptions
University of Liverpool
Large Collection of Historic Mining Documents, Maps and Photos Released
Arizona Geology Magazine
---
California 'Rain Debt' Equal to Average Full Year of Precipitation
NASA
---
July 31, 2015
10% of Gold Mines Are Operating at a Loss
Mining.com
What Regulates Methane Emissions in Freshwater Wetlands?
University of Georgia Today
Developing a Mission Statement at the Oregon Deparment of Geology and Mineral Industries
Portland Tribune
Could Deep-Earth Microbes Improve Fracking Results ?
McClatchyDC
A Huge Increase in Prudhoe LNG ?
Platts
Obsidian Dome, Long Valley
MagmaCumLaude
Island Rodents Take On Nightmarish Proportions
Duke Today
Google Street View Adds Two Italian Show Caves
Caving News
Gas Production Triples in West Virginia's Northern Panhandle
The Intelligencer, Wheeling News Register
---
Marcellus, Utica Provide 85% of U.S. Shale Gas Production Growth Since 2012
Energy Information Administration
---
What's That Spot On Ceres
Energy Information Administration
---
Fire Opal
"Fire Opal" is a term used for colorful, transparent to translucent opal with a background color that is a fire-like hue of yellow to orange to red. It might or might not exhibit "play-of-color".
Related: Photos of Many Types of Opal
---
July 30, 2015
Gemfields Mozambique Mine Will Yield Rubies for Over 20 Years
Mining.com
Ruby, Sapphire and Fancy Sapphire – What is the Difference?
Geology.com
History of Earthquakes in the Western Solomon Islands
The University of Texas at Austin
Demise of the Laurentide Ice Sheet
Oregon State University
Dusty Comet Releases Mysterious Clumps
GeoSpace AGU Blogosphere
Anglo American to Axe 53,000 Mining Jobs
Mining.com
China Will Soon Surpass South Korea, Russia, and Japan in Nuclear Generating Capacity
Energy Information Administration
---
Permitting Delays Can Seriously Damage Mine Profitability
… and …
Aggregate Resource Assessment of the Phoenix Metro Area
Arizona Mining Review
---
Rockies Express Pipeline
Energy Information Administration
---