Geology News
Earth Science Current Events
February 27, 2015
---
---
February 26, 2015
Iolite Prices Rise Rapidly
GemVal.com
What is Iolite (Cordierite) ?
Geology.com
Climate Change is Expected to Drive Ocean Upwelling
National Science Foundation
President Obama Vetoes Keystone XL Bill
FuelFix
Paid Internships at Lamont-Doherty Earth Observatory
Lamont-Doherty Earth Observatory – Columbia University
Epibenthic Slde Dredges Up Huge Haul of Manganese Nodules East of Barbados
Weather.com
BP: Booming Shale Output Will Last 20 More Years at a Declining Rate
Industry Week
Every 4th-Grader in America Gets a Free-Admission Family Pass to All Public Lands for One Year
The White House
---
NASA Image of Colima Eruption
NASA
---
---
February 25, 2015
---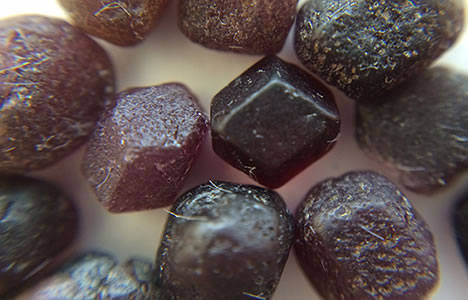 These almandite-spessartite garnets are from an alluvial deposit in Idaho. They have been transported a short distance from their source rock, and some still retain evidence of their dodecahedral crystal form. They are about four to five millimeters in size and weigh about 0.6 to 0.8 carats each. Some of the surface pitting in the more abraded pieces is a result of soft inclusions wearing away.
---
February 24, 2015
New USGS Topos for Nevada
United States Geological Survey
Cavern Below Montreal
MTL BLOG
Fracking Quakes in Alberta ?
Bloomberg Business
Cavers in Two Tone Cave, NZ
Caving News
Virginia Earthquake Aftershocks Identify Previously Unknown Fault Zone
United States Geological Survey
Coping with Earthquakes Induced by Fluid Injection
United States Geological Survey
WV Rail Explosion Fuels Keystone Pipeline Interest
Forbes
The Time Has Arrived for Africa's Colored Stone Industry
Mining Weekly
Fracking Accounted for 4% of North Dakota's Consumptive Water Use in 2012
Bismark Tribune
---
NASA Launched Five New Earth Instruments in 2014
NASA
---
February 22/23, 2015
---
February 20, 2015
---
February 19, 2015
---
---
February 17, 2015
---
February 16, 2015
---
---
February 13, 2015
More Pillow Basalt at Rodeo Cove
Magma Cum Laude
Daily Updates on the Kilauea Eruption
USGS Hawaii Volcano Observatory
Coyote-Wolf Hybrids in the Mid-Atlantic States
National Geographic
More Southwest Droughts and Australian Floods
National Geographic
Iraq Oil and Gas Report
Energy Information Administration
NPS Fears Water Wells Will Threaten the Lakes in Wind Cave
Caving News
Only 1 in 1000 Discoveries Becomes a Mine…
… and only one mine in twenty generates a good rate of return. So, only one in 20,000 discoveries becomes a mine with a good rate of return.
Mining.com
---
What is a Maar ?
Geology.com
---
February 11, 2015
Citizen Scientists Lead Astronomers to Mystery Objects in Space
NASA
USGS Publishes Historical Hydraulic Fracturing Data
United States Geological Survey
Geoscience Enrollments & Degrees Robust in 2014
American Geosciences Institute
Searching for Caves with Thermal Imaging on a Drone
Caving News
A Visit to Sharps Cave, West Virginia
Caving News
The Organism that Didn't Evolve for 2 Billion Years
Los Angeles Times
Kids Explore Fiberglass "Cavern" at UK Malls
Yorkshire Evening Post
Small Landslide Threatens Homes in Kalispell, Montana
NBC Montana
---
Coal Through a Microscope – It's More Than a Black Rock !
Geology.com
---
February 9, 2015
Bat White-Nose Syndrome Map
Caving News
Study Speleothem Science at Summer School
Caving News
Moving a City Because of a Mine
CNN
Winter Mineral and Gem Shows
The-Vug.com
Check it Out: The Tulsa Geoscience Center
Tulsa Geoscience Center
Storing Wind Energy as Compressed Air in a Salt Cavern ??
Journal of Commerce
The Value of U.S. Mineral Production in 2014 Increases
United States Geological Survey
LNG Port Used for the First Time in Five Years
Gloucester Times
---
What Is a Salt Glacier ?
Geology.com
---
February 6, 2015
Landsat's ROI
United States Geological Survey
World Cities from Landsat
Geology.com
Tales from a Martian Rock
UC San Diego
New Maps of the Eagle Ford Play (PDF)
Energy Information Administration
Presalt Oil and Gas Production Growing in Brazil
Energy Information Administration
Japan Oil, Gas and Coal Report
Energy Information Administration
2012 Drought Produced a Large Dead Zone in Lake Erie
Carnegie Science
Maybe? Finally? (Some) Money for the Most Important Earthquake Project in the USA that Mexico Did Years Ago
Los Angeles Times
---
Total Cloud Inversion at Grand Canyon
America's Great Outdoors
---
February 4, 2014
The Greenland Ice Sheet in HD
The Ohio State University
Microbes Beneath Oceanic Crust
University of Southern California
Global Topographic Data to Aid Climate Change Research
United States Geological Survey
China Builds Five Islands in Disputed Waters ?
Los Angeles Times
Why Google Maps Says You Are in Tulsa ?
Quartz
First Month of No Natural Gas Imports Since 1996
Energy Information Administration
President Obama Proposes $1.2B for USGS
United States Geological Survey
Antarctic Drilling Team Bores Through Hundreds of Meters of Ice to Where Ice Sheet, Ocean and Land Converge
National Science Foundation
---
Spinel: Confused with Ruby & Sapphire for Over 1000 Years
Geology.com
---
Wall Maps of US States
Raven Maps are beautiful examples of shaded-relief wall maps that display the elevation of a US state in vibrant colors.
These large maps look great in a classroom, den or office. They can be perfect for marking your corporate locations.
---
Most Viewed: January 2015
---
February 2, 2015
---
---
January 30, 2015
---
---
Geological Fieldbooks
Rite in the Rain bound books are manufactured with true outdoor-durable components. This bound book with factory-numbered pages and project identification form (project/client location, date) on every page is suitable for taking important notes that might be required for regulatory review or legal testimony. Included are 20 reference pages and removable photographic scale. Book has 63 leaves (136 pages) and measures 7 1/2″ x 4 3/4″.
---
January 28, 2015
---
January 27, 2015
---
---
January 26, 2015
---
TopoPhotos
The folks at MyTopo.com are now printing TopoPhotos. They are aerial photographs with contour lines and topographic map annotations lightly superimposed. They give you the advantages of an aerial photograph but also include the elevation, road and place name details of a topographic map. You can use their website to order a TopoPhoto centered anywhere in the United States and have it printed in a variety of sizes in either landscape or portrait orientation. You can print them up to a huge 8′ x 5′ (or 5′ x 8′) in size.
We are affiliates of MyTopo.com and receive a commission on sales.
---
January 23, 2015
---
January 22, 2015
Researchers Propose Earth's 'Anthropocene' Began With Fallout and Plastics
The New York Times
Similarities Between Landslides and Earthquakes
Phys.org
Underground Limestone Mine Converted into a Bike Park ?
Caving News
The Dark Snows of Greenland
Slate
Tiny Plant Fossils Reveal Their Surrounding Landscape
National Science Foundation
Vietnam's Newly Discovered Volcanic Cave System
Tuoi Tre News
Pittsburgh-Area Gas Hub (Dominion South) Could Challenge Henry Hub as Benchmark
Pittsburgy Post-Gazette
---
Recent Flooding in Madagascar
NASA Earth Observatory
---

| | | |
| --- | --- | --- |
| | | Mohs Hardness Scale is a set of reference minerals used for field and classroom hardness testing. |
| | | |
| --- | --- | --- |
| | | Rock Glaciers - Masses of rock, ice, snow, mud and water that slowly flow down slope. |
| | | |
| --- | --- | --- |
| | | Salt Domes - Columns of salt that move upwards because of their low specific gravity. |
| | | |
| --- | --- | --- |
| | | Bear Attacks - Knowing how to react to a bear encounter or attack could save your life. |
| | | |
| --- | --- | --- |
| | | Emerald is the most popular green gemstone in the United States and most of the world. |
| | | |
| --- | --- | --- |
| | | Dowsing is a method used to find underground water that is rejected by most geologists. |
| | | |
| --- | --- | --- |
| | | Rare Earth Elements - Special materials used in electronics, defense, medical & many other products. |
| | | |
| --- | --- | --- |
| | | Petrified Wood is a fossil that forms when dissolved material preciptates and replaces wood. |
| | | |
| --- | --- | --- |
| | | Corundum is the third hardest mineral. It is also the mineral of ruby and sapphire. |
| | | |
| --- | --- | --- |
| | | The Acid Test - Geologists use dilute hydrochloric acid to identify carbonate minerals. |
| | | |
| --- | --- | --- |
| | | Soapstone is a metamorphic rock with properties that make it suitable for a variety of projects. |
| | | |
| --- | --- | --- |
| | | Ticks are a problem for geologists in some areas. Learn to recognize and avoid them. |
| | | |
| --- | --- | --- |
| | | What is a Maar? The second most common volcanic landscape feature on Earth. |
| | | |
| --- | --- | --- |
| | | Frac Sand - The amount of frac sand produced in the USA is up by over 300% since 2009. |
| | | |
| --- | --- | --- |
| | | Mineraloids are amorphous naturally-occurring inorganic solids that lack crystallinity. |
| | | |
| --- | --- | --- |
| | | Methane Hydrate deposits contain more fuel value than all fossil fuels combined. |
| | | |
| --- | --- | --- |
| | | Salt Glaciers are masses of salt that flow downslope under their own weight. |
| | | |
| --- | --- | --- |
| | | What is LNG? The use of LNG as an energy source is growing rapidly. Learn more about LNG. |