Home » Political / Physical Maps & Satellite Images » World Map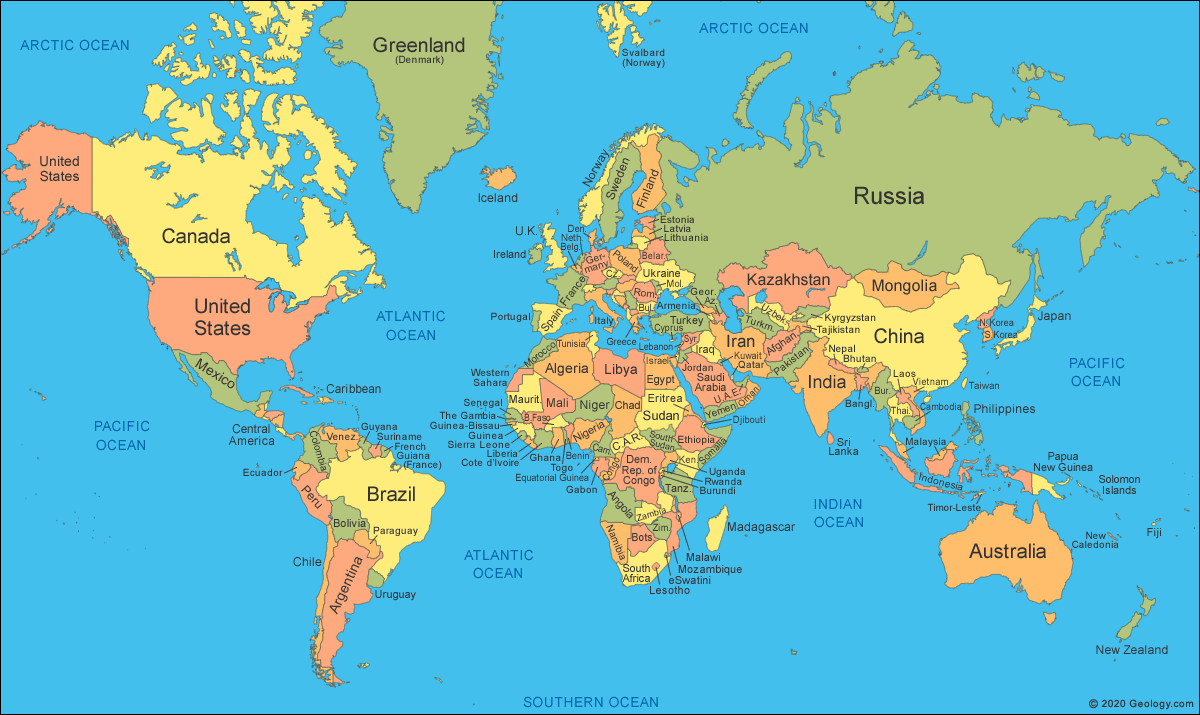 Political Map of the World


Shown above


The map above is a political map of the world centered on Europe and Africa. It shows the location of most of the world's countries and includes their names where space allows.

Representing a round earth on a flat map requires some distortion of the geographic features no matter how the map is done. We have used a Mercator projection for this map because it is the projection most commonly used in schools. On this map, geographic boundaries that trend north-south appear as vertical lines, geographic boundaries that trend east-west appear as horizontal lines. This type of projection causes a minimum of country-shape distortion near the equator, a small amount of distortion at mid-latitudes, but extreme distortion near the poles. For that reason, the map does not extend to the north and south poles.

Physical Map of the World


Shown below


The map on the bottom of this page is a terrain relief image of the world with the boundaries of major countries shown as white lines. It includes the names of the world's oceans and the names of major bays, gulfs and seas. Lowest elevations are shown as a dark green color with a gradient from green to dark brown to gray as elevation increases. This allows the major mountain ranges and lowlands to be clearly visible.

This map is also a Mercator projection centered on Europe and Africa. A scale of miles is not shown on these maps because the scale changes with distance north and south of the equator. Scale is highly exaggerated as distance from the equator increases.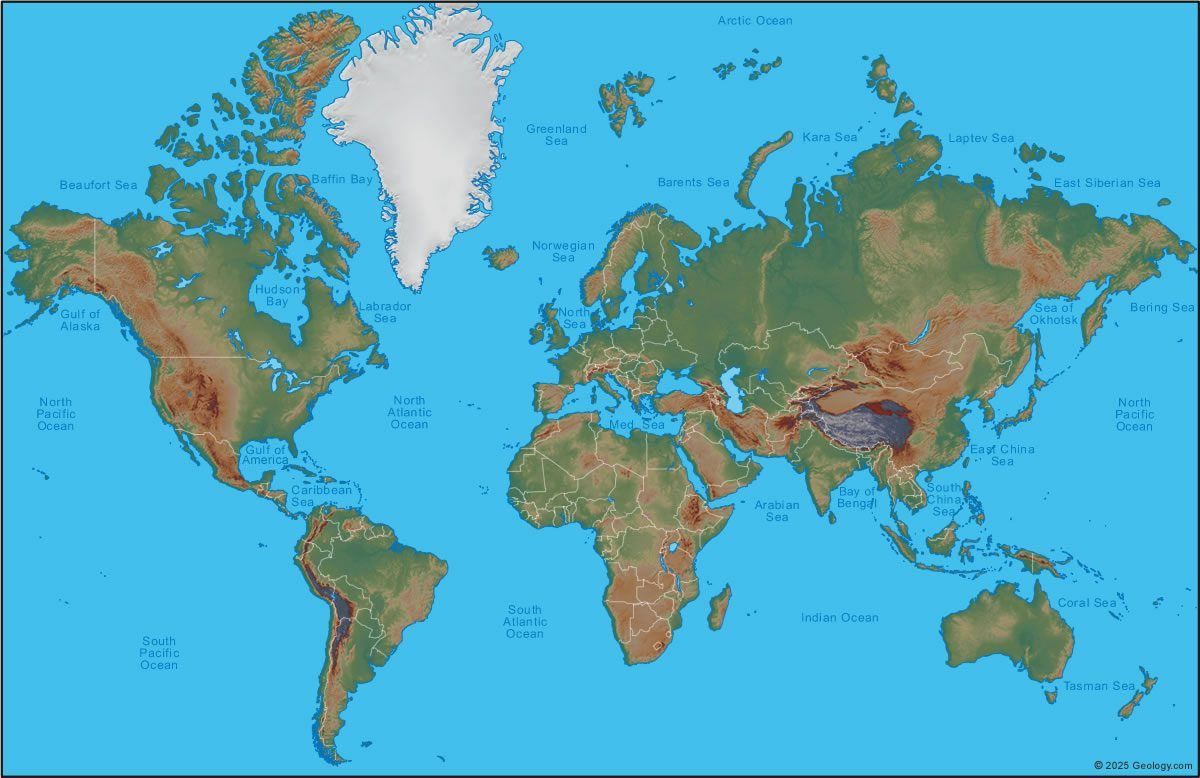 Countries Labeled on this Map



We were able to show 132 world countries on the map above. The United States Department of State
recognizes 195 independent countries. We were not able to show every one of these countries on the
political map above because many of them were too small. You can find a complete list of countries
recognized by the State Department on their "Independent States in the World" webpage. A list of
the 132 labeled countries on our map is shown below.
Afghanistan
Algeria
Angola
Argentina
Australia
Azerbijan
Bangladesh
Belarus
Bhutan
Bolivia
Botswana
Brazil
Bulgaria
Burma
Cambodia
Cammaroon
Canada
Central African Republic
Chad
Chile
China
Colombia
Costa Rica
Cote d' Ivoire
Democratic Republic of the Congo
Denmark
Dijbouti
Ecuador
Egypt
Eritrea
Estonia
Ethiopia
Fiji
Finland
France
French Guiana
Gabon
Georgia
Germany
Ghana
Greece
Greenland
Guatemala
Guinea-Bissau
Guyana
Honduras
Iceland
India
Indonesia
Iran
Iraq
Ireland
Israel
Italy
Japan
Jordan
Kazakhstan
Kenya
Kuwait
Kyrgyzstan
Laos
Latvia
Lebanon
Lesotho
Libya
Madagascar
Malawi
Malaysia
Mali
Mauritania
Mexico
Mongolia
Morocco
Mozambique
Namibia
Nepal
Netherlands
New Zealand
Nicaragua
Niger
Nigeria
North Korea
Norway
Oman
Pakistan
Panama
Papua New Guinea
Paraguay
Peru
Philippines
Poland
Portugal
Republic of the Congo
Romania
Russia
Saudi Arabia
Senegal
Sierra Leone
Solomon Islands
Somalia
South Africa
South Korea
Spain
Sri Lanka
Sudan
Suriname
Svalbard (Norway)
Swaziland
Sweden
Syria
Taiwan
Tajikistan
Tanzania
Thailand
Togo
Tunisia
Turkey
Turkmenistan
U.A.E.
Uganda
Ukraine
United Kingdon
United States
Uruguay
Uzbekistan
Venezuela
Vietnam
Western Sahara
Yemen
Zambia
Zimbabwe